Gun Slicker Waterproof Gun and Scope Cover – SHOT Show 2016
Russ Chastain 01.24.16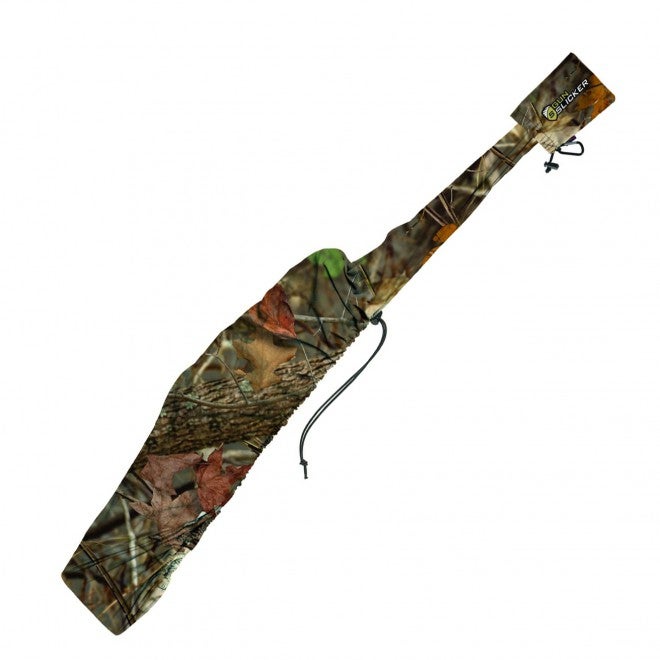 One of my favorite things about the SHOT Show is finding products I've never seen before from small companies rather than large conglomerates. Tucked away against a wall near the back corner of one of the big expo halls, I spotted the Gun Slicker.
I walked past it at first, and then turned around and asked the young man behind the counter to tell me about it. He swiftly pitched me the product: a stretchy waterproof cover that can protect your rifle or shotgun and scope from rain, sleet, or snow.
Because it's so flexible, it's easy to stretch the butt end off of the stock and swiftly remove Gun Slicker so you can get your gun into play.
You can even use a sling with this cover if you want to.
I've spent hours hunting in deer stands, sitting in the rain with my body mostly protected with a rain suit and my rifle's scope mostly covered up. Eventually my gun gets soaked, and that makes it tough to see through the scope. And I really hate it when a monsoon catches me out turkey hunting and drenches my old scattergun.
I really could have used a Gun Slicker on those days.
I've seen it called a gun case, but to me, that's a stretch. It's more of a thin, non-padded protective cover with an opening that lies along the bottom of your long gun. It's closed at both muzzle and butt ends, and a small stuff sack is attached at the muzzle end.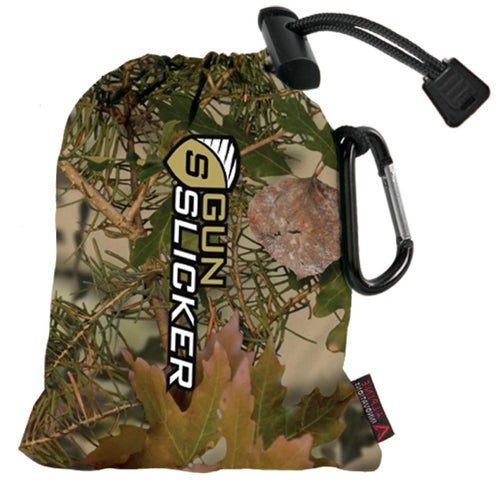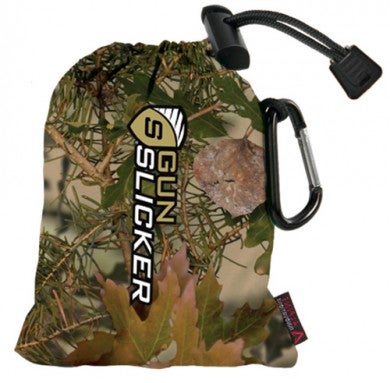 To store the Gun Slicker, simply cram it into the stuff sack and cinch the drawstring. The sack has a small carabiner clip so you can easily hang it from your pack or a belt loop.
It's light, weighing less than 5 ounces. Specs say it will fit any long gun, with or without a scope, with an overall length 38 to 56 inches long.
Besides rain, my guns often get dusty when I transport them in an overhead gun rack in a Jeep or UTV. The Gun Slicker would go a long way toward keeping the dust out of all the nooks & crannies in my rifle, and cleaning out all that dust and grit is a real pain. Because the Gun Slicker is so thin, you can leave it on your gun when you put it in a rack.
There are a couple things I don't love about the Gun Slicker: It takes a fairly large movement to remove this cover (and movement attracts attention from game), and the interior of the Gun Slicker is not camo and is very light in color (which makes it easier for a critter to see it while you're taking it off).
That said, I still think the Gun Slicker is a great product, and I'd love to have one or two to use during soggy hunts and to block out some of the dust during dry weather. Some practice could very likely minimize the movement required to uncover your gun when you need to take a shot. And a dry scope is a happy scope.