Hunter SMART Takes Electronic Earmuffs to the Next Level – SHOT Show 2016
Russ Chastain 01.26.16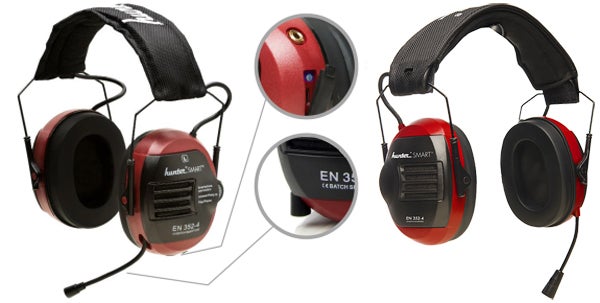 At the 2016 SHOT Show range day, I met with a guy who has some interesting products. The main one, which caught my eye as well as my interest, was the Hunter SMART headset.
By now, many shooters have tried electronic ear muffs. They can amplify ambient sounds, but will block out loud noises that might permanently damage our hearing. These headsets can be a great tool for amplifying sounds to help hunters hear what's coming. The SMART headset goes beyond that, though.
Hunter SMART is active hearing protection with hunting radio and mobile phone connections. Perfect for modern hunters and professionals using the headset during work.
Like some others, Hunter SMART has a 1/8″ (3mm) jack for connecting it to a radio or, I presume, to any audio source. But it also has Bluetooth capability so you can wirelessly connect it to your smart phone. They say you can get more than 50 hours of music streaming on one set of batteries.
Say you're listening to something via Bluetooth and a call comes over the radio. The SMART headset will let you hear that radio input, which may be an important piece of communication. Heck, the radio input will even be heard if your headset batteries go dead.
This headset also has a retractable noise-canceling boom microphone, so you can communicate with the radio (Hunter also offers two-way radios) or talk on the phone while wearing it. In fact, the company rep I spoke with (CEO of the US distributor) said that he can use this headset to make phone calls while driving his tractor at home and the person on the other end can't even hear his tractor. This means that folks should be able to hear and receive phone calls even during noisy outdoor activities, like ATV riding or driving a loud boat.
Individual volume controls for right and left allow you to tailor it to your needs.
The SMART headset takes AAA batteries, or you can use rechargeable batteries that can be charged in the headset. Perhaps best of all, it's easy to open the battery compartment. I've dealt with other brands that made it pretty tough to get to the batteries.
MSRP is $249 and it will be available at that price at the SRO Hunter USA site–once the store is set up, which should happen "any day now." The street price may be lower once it hits dealers' shelves.
The fellow who showed me this headset was pretty excited about it. I'm told he formerly worked with a competitor (whose name starts with "p") and that the Hunter SMART is better.
Time will tell. I'm certainly looking forward to trying it for myself.