The Ammo-Up Brass Picker-Upper at the 2016 SHOT Show
Rob Reed 01.27.16

As every shooter knows picking up spent brass is a chore, and the Ammo-Up company has come up with a great solution in their line of machines designed to pick up brass from indoor and outdoor ranges.
The roller based Ammo-Up machines work by rolling over the brass, scooping it up in the plastic fingers, and depositing it in the attached basket. While this basic design has been out for a few years now, the company has made some improvements, such as adding a front wheel so the units can roll backwards, and tweaking the design of the ejector fingers.
The main complaint has been the price. The most popular model, the 18″ Ammo-Up, retails for $495. While this may be acceptable for a gun shop with a range, it is generally priced out of reach for the individual shooter. The large size also makes it impractical to transport to and from the range. (Both smaller and larger size units are also available).
The newest product, just released, is the Compact Ammo-Up. Instead of mounting the ejector fingers on a roller they are instead mounted on the head of a pole. While not as effortless as the larger, roller based machines, it still allows users to pick up brass without bending or kneeling. The Compact Ammo-Up normally retails for $99 and is currently on sale for $59.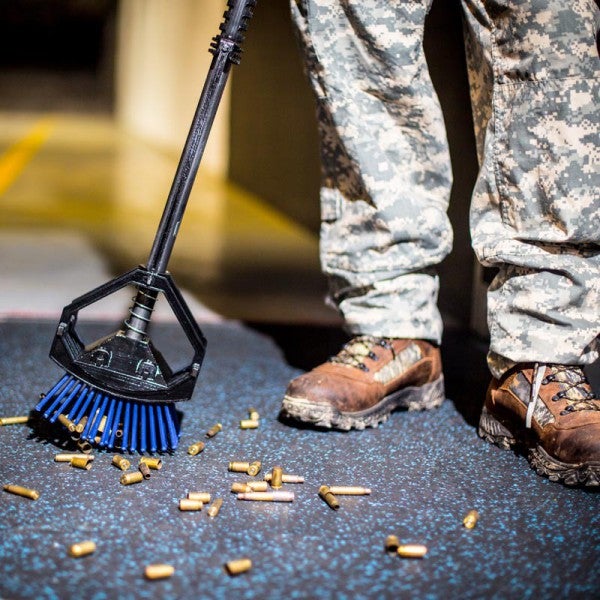 I was able to try both the 18″ Ammo-Up and the Compact Ammo-Up at the company's booth at the 2016 SHOT Show. The Compact Ammo-Up works best when you poke it at the brass at an angle. When you push it straight down the brass does not adhere as well. Once the technique is mastered it worked well on the flat surface. The manufacturer claims it will work on any flat surface and grass up to 4″ tall and warns that it will not work on gravel as it tends to pick up the stones as well as the brass.
Watch the video for a demo of both the 18″ Ammo-Up roller based unit at the Compact Ammo-Up pole based unit.