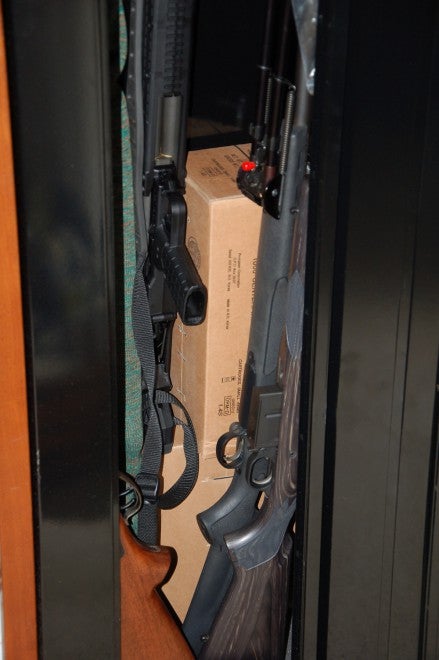 The latest trend in neighborhood crime is active home invasions. Preppers thinking and planning about bugging out should also prepare for the option to bug in, but also to safeguard valuable weapons at home in the meantime. There are many options to consider, but this is a must-do prep activity.
When home break-ins occur, the perps are mainly looking for fast-to-grab goodies that can be sold on the local street corners or at a pawn shops that don't ask questions. Of course, the best quick grab stuff is jewelry, electronics, small appliances, tools, and guns. Anything out in the open or easy to handle will be out the door faster than a poodle with an urge.
Most gun owners these days know better than to put their valuable firearms whether hunting guns, collectibles, personal protection firearms, and such in plain sight in a glass-cased gun cabinet. Those are a prime smash and dash favorites. The same goes for an open gun rack hanging on the wall or even a good shotgun hanging on display over the fireplace mantel. Forget this practice in favor of secure gun hides and lock-down safes.
Naturally, a first choice would be a sure-enough steel gun safe one that is ideally fire rated to handle a high rate of heat for a long period of time. These are not cheap. Otherwise go with a real safe that you can afford and have the out of sight floor space to store one. Get one (or two) that is big enough to handle your collection without them all being jammed in together.
Another good option is to buy a locked metal gun cabinet that you can bolt to the floor and or a wall stud. These are even better placed in the back of a walk in closet behind hanging clothes or in another inconspicuous place in the house. A temperature controlled area is best, so avoid a hot garage or attic. Also avoid a place that might flood or have difficult access like a basement.
One more security idea is to put the bolted in safe into a closet and change out the regular door opening knob with a keyed lock set. Remember, for thieves time is of essence. Any deterrent that can slow them down or cause them trouble to access will likely be passed on. Consider these security measures, too, for locations where you might eventually escape to bug out.