LMT Mars L Rifle at the 2016 SHOT Show
Rob Reed 02.08.16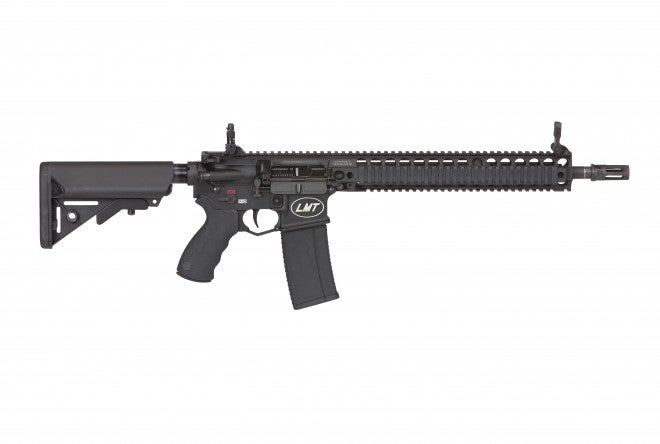 Lewis Machine & Tool (LMT) had an example of their new MARS L ambidextrous rifle on hand at the 2016 SHOT Show Industry Range Day.
The MARS L is available in 5.56 or .300 Blackout. The main feature is the fully ambi control setup. All controls, including the selector, bolt release, and mag release are mirrored on the right side of the rifle. The final production charging handle will also be fully ambidextrous, although the one on the demo rifle at the range was not. The 5.56 version has a 16″ chrome lined barrel with a 1/7 twist. Both versions feature the SOPMOD stock.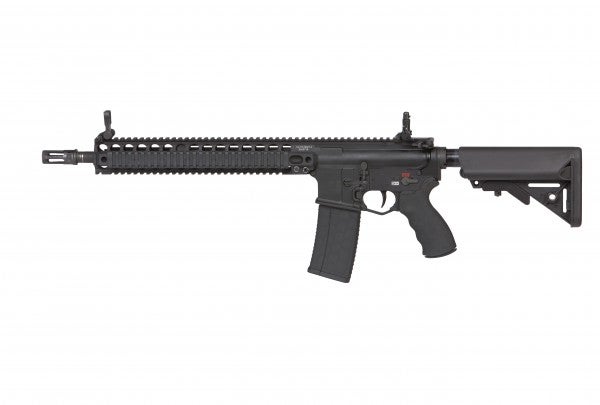 This setup offers several advantages. In addition to the obvious utility for left handed shooters, it also gives right handed shooters different ways to manipulate the controls that may be more efficient. For example, when I tried the rifle at the range, it only took a few tries before releasing the bolt release with my right hand became quicker than the normal left-handed method. Of course, the more training reps you've built up on "typical" procedures before this, the more you'll have to work to retrain yourself on an ambi system.
The New Zealand Defense Force recently ordered 9,000 MARS L rifles to replace their existing Steyr Aug 5.56 bullpup rifles.
The MARS L at the range day was equipped with the Leupold Dual-Enhanced View Optic (D-EVO) The D-EVO pairs a 6x20mm sight with a Leupold Carbine Optic (LCO) or other red dot sight in an "over/under" arrangement. This allows the shooter to switch from the non-magnified red dot sight to the telescopic sight by simply moving their eye. Once I found the correct eye placement, I found this to be quicker than transitioning to a 45 degree offset sight.
For more info on the LMT Mars L, watch the short video of an LMT rep discussing the rifle at the 2016 SHOT Show Industry Range Day.