CZ USA New Firearms at the 2016 SHOT Show
Rob Reed 02.09.16

CZ-USA had their new firearms on display at the 2016 SHOT Show.
New rifles include the CZ Scorpion EVO 3 S1 Carbine chambered in 9mm. This pistol caliber carbine was originally introduced as a pistol designed to be used with the infamous "Sig Arm Brace." Now that the ATF has said that shouldering a pistol outfitted with an arm brace is "manufacturing," a Short Barreled Rifle the design has been update to include a stock.
From the CZ-USA Website:
"Available in two variants, the Scorpion Carbine is a whole new animal. Building on the lauded submachinegun platform that first hit the US civilian market in pistol form in 2015, the Carbine has a 16.2″ barrel fitted with either a compensating muzzle brake or a faux suppressor built specifically for CZ-USA by SilencerCo.
Fit with the factory's folding adjustable stock, the Carbine features a number of US-made parts to make it fully 922(r) compliant. One of the nicest features of the firearm is the newly-designed forend, covered in M-LOK attachment points to keep the profile slim while still being big enough to swallow most pistol-caliber suppressors should the owner decide down the road to convert it into an SBR for use with a suppressor.
Low-profile aluminum adjustable sights round out the platform, and a top Picatinny rail allows the mounting of a wide number of optics. Simple and reliable, the Scorpion not only has ambidextrous controls, but its non-reciprocating charging handle is also swappable and reach to the trigger is adjustable.
Carrying on the Scorpion's reputation as a reliable pistol-caliber plinker without breaking the bank, the Carbine starts at just $999."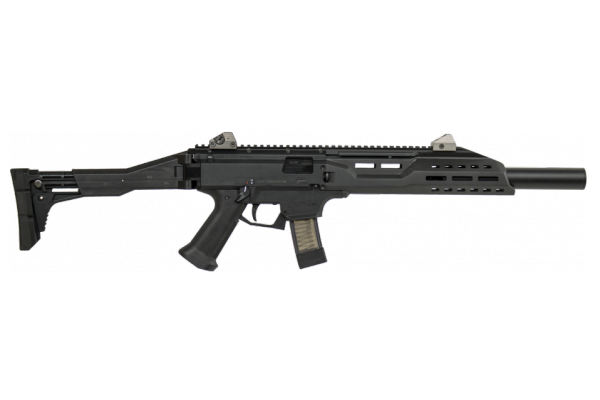 Another new rifle introduced at SHOT is the updated version of the CZ-USA 805 Bren S1 Carbine. This is another firearm first introduced as a pistol redesigned with a factory stock. The Bren feeds 5.56 ammo from NATO STANAG magazines.
From the CZ-USA site:
"For those who would prefer to own a Bren in rifle form without having to jump through all the hoops of converting our pistol version into an SBR, the Bren is now available in carbine form with a 16.2″ barrel. Equipped with the factory's folding adjustable stock, it also has a new set of flip-up adjustable iron sights.
Chambered in .223/5.56×45 and using the ubiquitous STANAG magazine from the AR15/M16, it easily accepts optics and lights on its top and bottom Picatinny rails. An effective two-port muzzle brake helps keep the Bren solidly on target and reduces recoil and muzzle flip."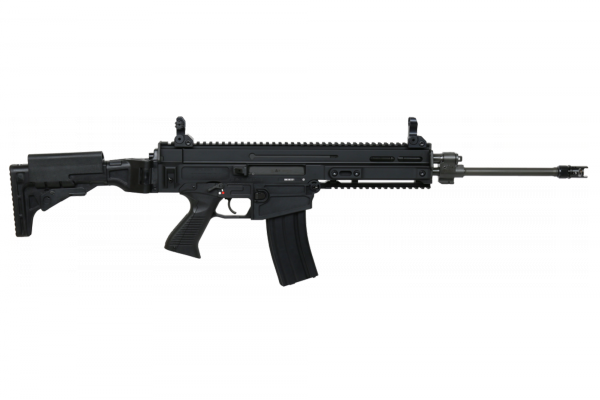 New pistols from CZ-USA include the Urban Gray Suppressor Ready versions of the CZ-75B (Omega), the CZ-75 SP-01, the CZ-P01 (Omega), and the single-action competition grade CZ-75 Tactical Sport Orange.