Sailfishing Time in Southeast Florida
Bob McNally 02.15.16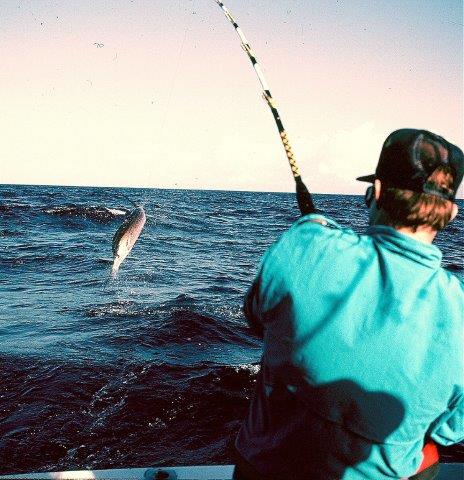 On a cold and blustery February morning, most captains of even the largest southeast Florida sportfishing boats never considered leaving dock. A full-blown northern cold front with 40-degree temperatures, overcast sky, and howling wind had slammed into the Sunshine State.
Off Palm Beach the seas were running at nearly 12 feet–hurricane seas in the middle of winter.
But the thought of huge schools of feeding sailfish was too tempting for the captains of two large Palm Beach boats to resist. So the "Elbo Seven" with captain Al Johnston and the "No Problem" with captain Jack Morrow battened down the hatches and ran offshore. At day's end, the "No Problem" had tallied a remarkable 49 sailfish, while the "Elbo Seven" had caught and released an astounding 83 sails.
"Elbo Seven's" catch still remains the single-day sailfish record in South Florida. But every winter huge numbers of sailfish are caught off Florida's southeast coast, in an area affectionately known as "Sailfish Alley." Biologists estimate that during favorable winter weather conditions (like right now), nearly one million sailfish are found off South Florida.
It's this kind of world-class angling that makes Florida winter fishing so special. It's not that other places don't offer equally great action for sails and other highly-touted fish. Costa Rica, Mexico, Panama, Guatemala, Venezuela, the Bahamas, and other foreign spots all have outstanding sailfishing. But where else but Florida can a fisherman who wants red-hot sailfishing still return to good ol' U.S.A. soil every night?
No travel visas or passports to mess with; no foreign customs officials; no language barriers. Just plan a few days off work and head to Southeast Florida.
Sailfish can be caught out of many Florida ports, and plenty of them are boated in Northeast Florida, chiefly in summer and a long boat run off Jacksonville, St. Augustine, and Daytona Beach.
But for the best chance at sails and good opportunities for multiple-fish-catches on a given day, Southeast Florida is where you should head, and from now through spring is the time. Best of all, the boat run is often just a few miles offshore. In fact, many sailfish are caught well within sight of the beach.
Catches of 10 to 15 sailfish from a single boat in a single day are not unusual with a good skipper at the helm and competent anglers on board. One recent January day, for example, a record 636 sailfish were caught and released from 60 boats during the three-day Silver Sailfish Derby sponsored by the West Palm Beach Fishing Club. First place finish by Miami Captain Ray Rosher and his team aboard the boat "Get Lit" accounted for 45 released sails, including 26 by Miami angler Peter Miller.
Much of the best sailfishing is had out of Fort Pierce, St. Lucie (Stuart), Jupiter and Palm Beach inlets, where charter boats are ready for hire at such famed places as Sailfish Marina in Palm Beach.
Abundant bait and ideal water temperature draws sails to southeast Florida in winter. Cooling autumn ocean water temperature prompts bait schools and sailfish (as well as many other pelagic gamefish species) to begin mass migrations south along the East Coast. Sails generally travel the Gulf Stream current during their southern trek.
In southeast Florida, the Gulf Stream swings in close to shore, at times less than one mile off Palm Beach, for example. The drop-off of the continental shelf swings in close to shore in Southeast Florida, too, which provides abundant nutrients and attracts huge schools of baitfish.
This combination of nutrients and abundant bait and ideal water temperature close to the southeast Florida shore during a time when giant schools of sailfish are massed and migrating south are the perfect set of conditions that provides legions of anglers with outstanding fishing every winter in "Sailfish Alley."
Plenty of Sunshine State anglers trailer their boats to Southeast Florida and catch sailfish on their own. It's not especially difficult to do, and a core group of First Coast fishermen often work the area out of Fort Pierce. But there are boat, travel, and gear logistics for such own-your-own fishing, which is why many anglers simply pool their resources and book a charter captain for a couple days when they want sailfish.
A number of listings for active sailfish guides in Southeast Florida are available. One of the best is the Coastal Conservation Association's (CCA) listing on its website, www.ccaflorida.org. The website has a drop-down menu listing many of the state's fishing guides by region.
Some of the better known sailfish guides and booking centers in Southeast Florida include:
Capt. Greg Bogdan, Riviera Beach, www.permittedcharters.com; 561-758-4812; [email protected].
Capt. Glenn Cameron, Fort Pierce, www.fishingftpierce.com; 772-332-1155; [email protected].
Capt. John Dudas, Miami, www.woundupfishing.com; 305-986-8874; [email protected].
Capt. Scott Fawcett, Jensen Beach, www.jensenbeachfishingcharters.com; 772-285-1055; [email protected].
Capt. Scott Leon, Fort Lauderdale, www.sandmanfishing.com; 954-803-1348; [email protected].
Capt. Ray Rosher, Miami, www.missbritt.com; phone 305-788-3474; email [email protected].
Capt. Jeff Scott, Pompano Beach, 954-695-5073.
Sailfish Marina, Palm Beach, www.sailfishmarina.com; 561-844-1724.
Finest Kind Marina, Stuart, www.finestkind.com; 772-223-4110.