Business Owner Buys Guns For His Employees, Requires Them to be Armed
Russ Chastain 02.23.16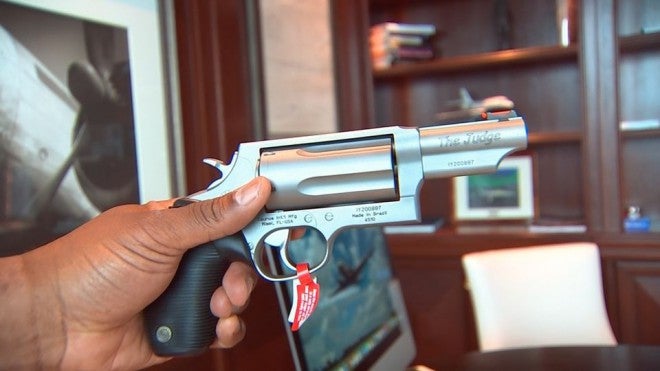 This is a great idea, if you ask me.
Lance Toland, owner of Lance Toland Associates Aviation Insurance Management, reportedly requires every employee to get a Georgia concealed carry license. Once they get that license, the boss gives them a Taurus Judge of their very own.
The Taurus Judge is a 5-shot double action revolver, which shoots 45 Colt metallic cartridges and/or 410 shotgun shells. Says Toland, "Everybody in my office has one of these in their drawer."
His decision was spurred by violent crime in areas near his offices, especially armed invasions. Out of concern for his employees' safety, he decided to ensure that they were well-equipped to defend themselves.
One factor? "Most of my employees are women."
Employee Andrea Van Buren, wearing a holstered pistol on her right hip, said, "I love it." She added that each person must be "willing to commit to training, commit to becoming an expert on the firearm, and also you have to commit to being ready to use it if you have to."
Some will probably consider this job requirement to be overbearing, but I say that if you don't like it, find a job elsewhere. Any business owner has the right to set requirements for employees.
What do you think? Great idea, or going too far?