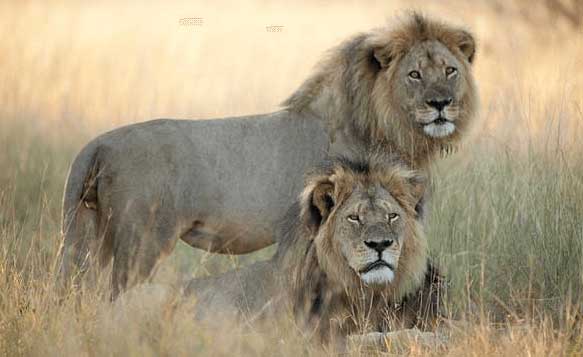 The largest wildlife area in Zimbabwe has way, way too many lions. And it's all Cecil's fault.
To be fair, it's not Cecil's fault at all; it's the fault of every holier-than-thou crybaby who made such a big deal out of that lion's death. Because all that turmoil supposedly struck fear into the hearts of lion hunters, who have apparently stopped hunting lions in Zimbabwe.
Before anyone begins cheering about this lack of hunting, here's the bad news: With no hunting to control the population, lion numbers are growing far too quickly. Other wildlife populations are falling as a result, and the result is unsustainable.
[I]n what is being described as a side effect of the affair, Zimbabwe's largest wildlife area says it now finds itself suffering from an overpopulation of lions.

Bubye Valley Conservancy has more than 500 lions, the largest number in Zimbabwe's diminishing wildlife areas.

It has warned that its lion population has become unsustainable and that it may even have to cull around 200 as a result of what is being called 'the Cecil effect.'
Okay, they're not yet using the word "kill," but there's really no other option.
Conservationists estimate about half of Zimbabwe's wildlife has disappeared since President Robert Mugabe's seizure of white-owned land began in 2000, but Bubye has held on by attracting wealthy hunters whose fees support its wildlife work.

But last year's shooting of Cecil in a conservancy bordering Hwange National Park sparked a huge backlash against big-game hunting and bolstered a U.S. plan to ban trophy hunting imports.
…
Bubye's lions are decimating populations of antelope, along with other animals such as giraffe, cheetah, leopards, and wild dogs…
Some call for contraception, which to me is asinine when applied to any wildlife. It is not practicable in this case anyhow:
Paul Bartels, a wildlife scientist from South Africa's Tshwane University of Technology, said female contraceptive implants used in smaller reserves would be impractical for Matilda's clan.

'There are a lot of lions on that (Bubye) conservancy. It would cost hundreds of thousands of dollars for contraception to make any real difference,' he said.
Properly-managed hunting on the reserve–an enormous 5,000-acre area surrounded by an electrified fence–has made it a rare success in the preservation and management of African game. Lack of hunting threatens its very existence.
Oxford's lion research project in Zimbabwe, which monitored Cecil, said that the Bubye conservancy was 'a huge success story' in a region blighted by a lack of governmental help for its struggling wildlife sector.

Leathem [general manager of Bubye Valley Conservancy] insisted he was not a hunter but a conservationist, and had no option but to maintain 'sustainable' hunting to safeguard Bubye's future.