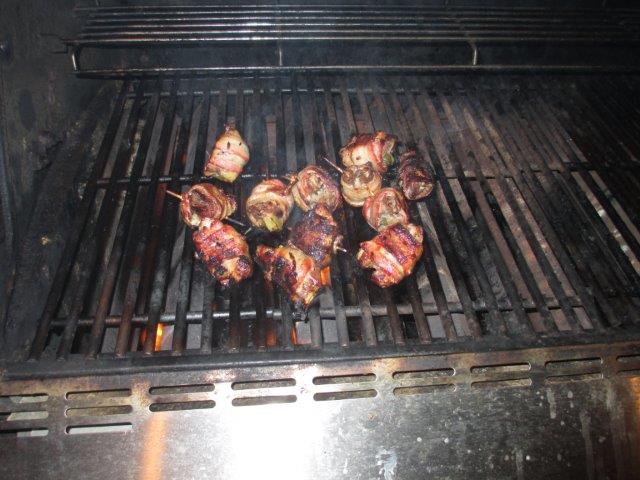 4 wild ducks
seasoned salt
pepper
garlic powder
bacon
toothpicks
A.J. McClane, the late, great angling editor of Field And Stream Magazine also was a world-class game cook.  This recipe was one of his favorites, which I first tasted when he visited my family home during one duck season in Montana years ago.
Teal are ideal, larger ducks like mallards, pintails, and gadwalls can be used but larger duck breast meat should be cut in half, possibly thirds. I've also made this recipe with strong-flavored ducks, like scaup, but marinating overnight in Italian dressing is advised to tame the game. Whole duck legs also can be included, especially large birds like mallards.
Skin four ducks, then cut out the breast meat using a thin-blade fillet knife. Each side of the breast should be removed in one whole section. Remove the whole legs (including thighs) if you decide to use those.
Dust the meat liberally with seasoned salt, pepper, and garlic powder. If you marinated the pieces, pat them dry with paper towns, then season.
Next wrap each duck piece so it's completely covered with a strip of bacon, then toothpick the bacon in place around the duck.
Over a hot charcoal fire–the kind you'd grill a steak on–place the duck pieces wrapped in bacon. Almost immediately they begin to flame and you'll believe it's burning, but the bacon protects and bastes the duck. Allow meat to cook for 7 minutes, turn pieces over, cook 7 more minutes. You're now ready for a scrumptious treat that was one of A.J. McClane's favorite and quickest ways of preparing duck.