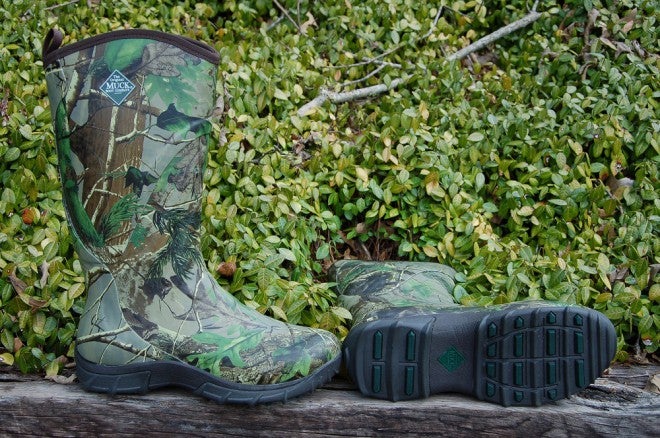 Early season hunting can find snakes everywhere. As I came down my ladder stand after an opening morning deer hunt, I just happened to look to the ground before placing my last step. Good thing I looked. There coiled on the ground right at the base of the stand was a copperhead snake. I just wondered if it had been there when I first climbed into the stand in the pre-dawn light.
When I first moved to Mississippi in 1983, everyone advised me to buy some snake chaps because of the rattlesnakes. I have yet to see one, and long ago tossed the chaps. I have seen some cottonmouth moccasins though as big as my arm. I just learned to watch where I walk, but even so, I admit I have had some close calls. Now I am ready for them.
Muck Boots has brought out their new Pursuit Snake Boots so I am a lot more confident to walk in the woods on early season deer hunting days. I may wear them all season long because here in the Deep South a warm winter day can still bring out the snakes. I have seen them out in the dead of winter right under our cabin.
The Muck Pursuit Boots are a full rubber construction boot. This is from the foot bed sole all the way up the boot top. This boot is made with a full 5mm thick flex material, making them snake proof. They seem heavy to wear, but this is due to the thick material.
The inside has a comfortable foam bootie with their new "Xpress Cool" evaporative cooling liner. This means when the foot gets hot and starts to sweat from walking, the liner pulls the moisture away from the skin. The moisture is captured by the liner and is spread throughout so it will dry faster. This liner also has anti-microbial properties, which protect against bacteria, fungus, and other micro-organisms.
The sole is an EVA midsole with rubber outsole pods. The mud gripping traction power is characteristic of the Muck boot mission. The boot comes in Realtree APG camouflage so it blends in well with woods and field for all types of hunting applications.
One thing I note in reading the material tags that these boots are temperature rated from 40 degrees to 95 degrees on the box label, but subfreezing to 95 F on the hang tag. I suspect with the 5mm material they are good for pretty darn cold weather hopefully when snakes are not out, but just in case.


SHOP NOW