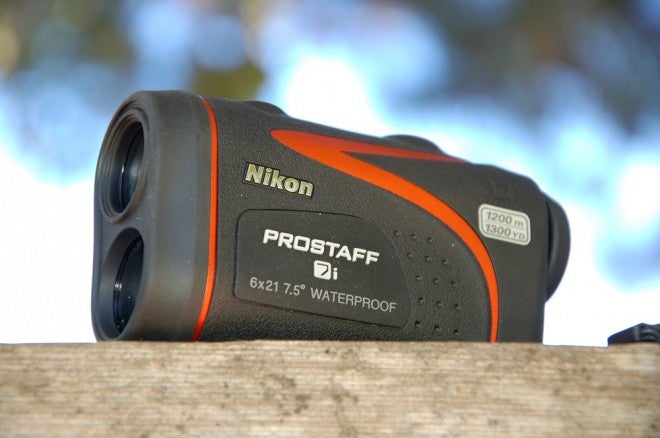 When I get asked why buy a rangefinder, my immediate comment is, "duh." I mean, unless you have an innate skill for judging distances coupled with super 20-20 vision, then it is a no-brainer to have an electronic rangefinder with you every time you hunt.
Over the years I have tested several brands and types of rangefinders, and there are some really good ones on the market these days. One of the better ones is the new Nikon Prostaff 7i. Its effective range is out to 1300 yards. Yeah, I know nobody should shoot that far, but this is not what an ultimate rangefinder is all about. It is about precision ranging at distances most game hunters can really use like 50-300 yards or maybe a bit further for some pursuits.
The Nikon 7i is super lightweight. It is easy enough to carry right in a shirt pocket or tethered around the neck. You'll often forget you even have it with you, so you have to get into the practice of using it regularly. Over time this will become automatic.
This rangefinder incorporates Nikon's Tru-Target Technology, which includes measuring distances on the incline and decline. This helps the hunter compensate for variations in elevation. I sure could have used this on an elk hunt ten years ago. Now this technology can be used high up in a whitetail deer hunting tree stand. It does make a difference.
Other technical specifications include fully coated optics, waterproof/fog proof seal, a rugged electronic package, pocket-sized portability as mentioned, and a long eye relief. The user directions are simple and straight forward. The rangefinder comes with a carry case and a CR2 lithium battery. The retail pricing is around $299, but shop around for sales and seasonal deals.
So, why use a rangefinder? Let's say you are bow hunting and that record book deer is standing out in the food plot. You are 20 feet up in a lock on stand. You never ranged the plot ahead of time and put sticks out to know the distances from the base of the stand. Is that buck at 40 yards or fifty? You want to risk this shot without knowing the exact range?
Or, you're sitting in a shooting house. The bruiser is way out there. Is it 250 yards or 300? You better know before you pull the trigger. Like I said, using a rangefinder is a no-brainer.


SHOP NOW