Ron Shuffield: Find Creek Channels with Cover for Pre-Spawn Bass
Bob McNally 03.18.16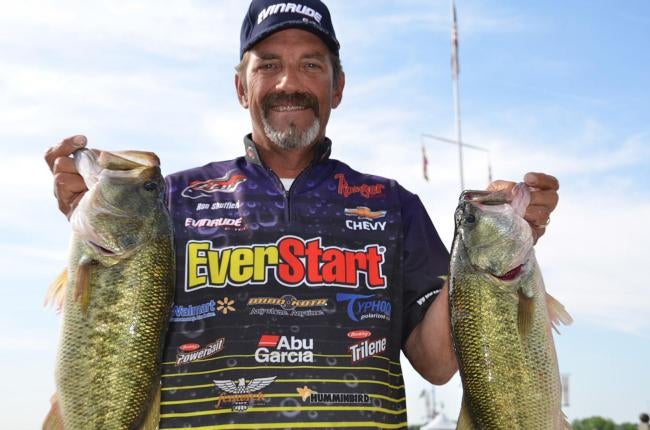 A second place FLW tourney finish on Arkansas' Table Rock Reservoir one March showed that long-time pro angler Ron Shuffield not only knows how to catch pre-spawn largemouth bass, but smallmouths and spotted bass, too. Here are some of the important elements to Ron's hot pre-spawn fishing on that mid-South reservoir.
1) "Bass were staging and holding along the edges of flooded creek channels, with about a 60 degree drop-off edge," says the Bismark, Arkansas former steelworker. "The best places were where a creek channel swung in close to a the bank, often in stretches of 100 yards or so."
2) While bass were holding along the entire creek channel edge, the very best spots in this clear-water reservoir were the head and tail portions of a creek swing near a bank.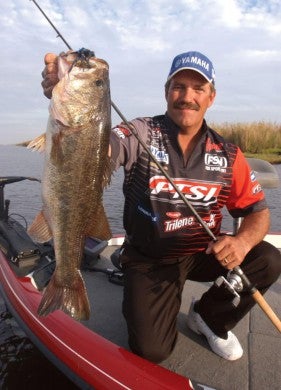 3) Flooded timber  was also important to this deadly pre-spawn bass pattern. In the clear water, Ron saw the tops of flooded timber down 7 to 8 feet, which is how he located some of the key pre-spawn holding areas, because bass were suspended in flooded timber clusters along creek channel edges near banks.
4) Water temperature was cold at only 41 to 45 degrees so slow, deliberate lure presentations were needed to tempt fish. Often several casts with a shad-color suspending jerk bait was needed to trigger a strike. He'd crank the lure down, stop the retrieve to suspend the lure–sometimes for as long as 8 seconds–then start the retrieve on 8-pound test line, and he'd get a strike.
5) Ron caught a mixed bag of bass (largemouths, smallmouths, and spots) daily following this pre-spawn pattern, with the fish preferring chunk rock areas near flooded timber creek channel edges, ranging from 28 to 42 feet deep.