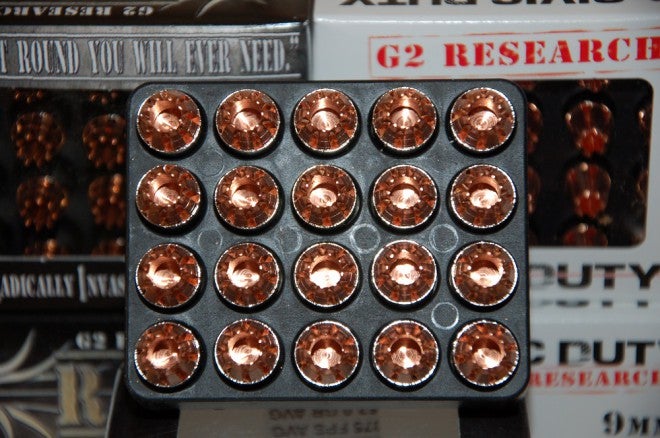 Radical: Favoring drastic or extreme change.
That definition definitely reflects the attitude that G2 Research wants to project with its new R.I.P., or Radically Invasive Projectile pistol ammunition. Though relatively new to the ammo marketplace, G2's offerings of several varieties of high impact bullet designs have caught on like wildfire.
"The last round you will ever need." "I've been in the ammunition business for many years and I wanted to create a round that would work well against a home intruder," says Cliff Brown, president of the Windsor, Georgia company. "There are so many stories out there about a woman trying to defend her home and having to shoot someone five or six times and they'd still come after her, we wanted to create an effective one-shot man-stopper," Brown reported recently to the Kansas State Collegian.
The R.I.P. ammo features a unique bullet that is a 100% copper design described as a "petaled-trocar" design. The bullet has the ability to penetrate deep into a target but also fragment in fluid. When the bullet enters the targeted gel or fluid (read animal body/human) the bullet petals break from the base and create individual wound channels as the base continues to push on course.
This penetration factor and petal separation not only delivers a maximum shock wave on/in the target, but an invasive wound pathway as well. For example, their 9mm, 92 grain R.I.P. projectile bullet is designed to create eight copper shards that come from three different angles as they taper to the bullet point. These bullets intend to splinter into eight eviscerating shards. One can only imagine the destructive wound creation upon impact.
R.I.P. pistol ammo is currently available in .380 ACP, 62 grain, 9mm, 92 grain, .357 SIG, 92 grain, .40 S&W, 115 grain, 10mm, 115 grain, and .45 ACP, 162 grain. The ammo is sold in 20 round boxes. Complete ballistics information can be found at www.G2Rammo.com.
Also available from G2R Ammo is their Civic Duty Extreme Expansion ammo in 9mm. This ammo offers "exceptional knock down power by delivering an intense energy dump on the intended target while limiting the depth of penetration, thus maximizing take down ability with quick and decisive blunt force." The 100 grain load has a velocity of 1230 fps creating a bullet expansion diameter of 1-inch.
Check out G2 Research Ammo on line today, then get your dealer to order some. I will do a more detailed range report on this ammo in the near future.