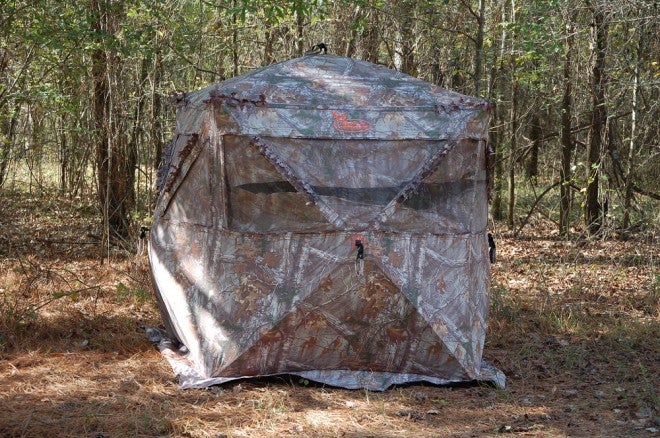 With turkey hunting season looming on the horizon, one of the tactics questions that hunters ponder every year is whether to use a pop up blind to hide behind, or just prop up against a big tree in a natural state. Which way do you hunt turkeys?
I admit I have always been a fidgety turkey hunter. From time to time back in the early days my inability to sit still in the woods has cost me a gobbler or two that picked up on my shift of legs, or seat. One thing for sure, if a turkey has his eye on your location, then moving even bit is risky.
For that reason I have used a lightweight, portable blind screen for 20+ years now. My old blind is probably some kind of a collector's item (if there was such a thing for hunting blinds). It was made by Brell Mar Products in Mississippi now long out of business. The blind consists of five steel posts or sticks with a 36-inch high piece of die cut camo fabric pull tie attached to each post.
I can wrap the blind up in a minute or so and use the carry strap with a pull cord tightening device on each end. Years ago I cut 5-6 small, thin saplings with a "Y" branching on the end to prop up the slack material between the posts. This little trick really works well to adjust the top of the blind cover more precisely to my shooting eye level.
Behind this blind I can slowly move around, change my seating, cross my legs, relax, and even take a nap if I need to, which I usually do. When I hide behind this turkey blind (or for deer hunting, too) I have never spooked a turkey once. In fact I have had gobblers walk past my blind less than ten feet away, too close to shoot. For me, a portable blind works well.
The alternative is just to prop up against a big tree and try to sit still. I admit it takes some real talent to remain motionless in the turkey woods, and it is really tricky trying to raise a shotgun into shooting position. Always chose a tree that is wider than you are to hide you better.
Most turkeys are killed at ranges from 20-30 yards, which is darn close. Turkey eyes are keen and they don't miss much. If a gobbler has hens with him then all those extra eyes makes it nearly impossible to shoot the tom. Take your choice, use a blind or go natural.