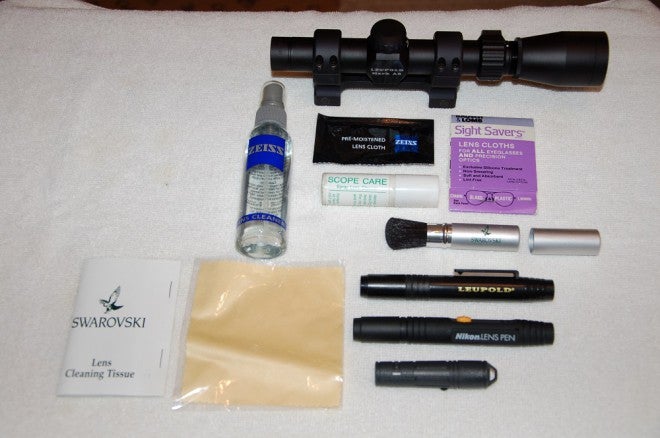 Okay, okay, forgive the reference or not, but if you can't see through that smudged up riflescope or binocular, then why have them? Maintaining clean optics is one of the easiest things to do now with all kinds of glass cleaning products for hunters on the market, so why put up with dirty glass?
Glass optics in the forms of riflescopes, binoculars, spotting scopes, and even rangefinders are designed to enhance the human eyesight experience and provide an elevated level of visual clarity to the target being viewed. If the glass is nasty dirty, then you are only defeating the design function of that device. How smart is that? This includes cameras and trail cams, too.
The week before I go deer hunting, I line up all the optics that will be in the field with me for a complete inspection and cleaning. I happen to use a variety of products to accomplish this. First I have a zip lock bag that I call my "optics cleaning kit." This goes to deer camp with me just like all essential gear.
Inside the kit is a little book of camera lens cleaning tissue paper, a small spray bottle of eyeglass cleaner, some clean cotton patches, a couple of computer screen cleaning cloths, and one of the lens cleaning pens by Leupold. Used properly, these items will clean and shine any optical glass to a spotless glean. Keep the kit handy for when you get back to camp after a hunt to remove dust and smudges again.
Attached to a loop on my hunting pack back is one of those handy optics cleaning cloths that stuff up into a holding sleeve. These are cool and I often use them in the field while in my hunting stand if there is a misting rain or other conditions to dirty my optics. With aging eyes like I have, I want my scopes and binoculars to be crystal clear all the time.
As a sidebar, I have seen some of the anti-fog products on the market but have yet to find one that works. One was a little tub of a saddle soap looking goo. Don't use that stuff. It is like putty glue and smears around forever. I had to use rubbing alcohol to get it off. It is easy as pie to keep your hunting optics clean, so do it.