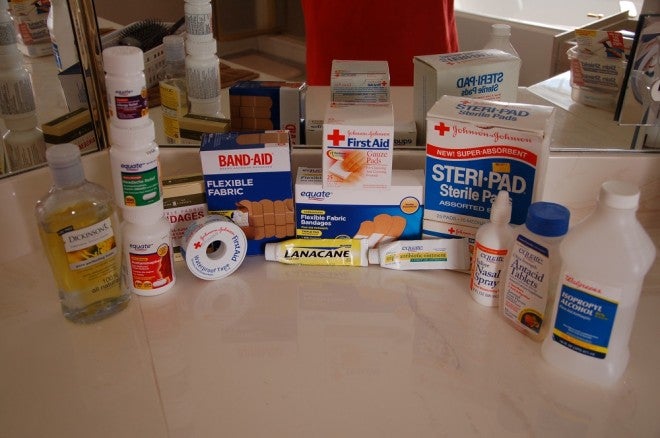 It is not always necessary to have a full bore first aid kit. In fact, preppers and survivalists may want to consider having several of the mini-tin can first aid kits stored in various locations ready for use. Thankfully, many of the day-to-day little cuts and bruises need only some very basic supplies to treat. Having these small kits on hand is a smart idea.
You can shop a variety of camping supply stores or pharmacies to find these commercially sold, self-contained kits ready to go. Most of them are fairly inexpensive and take up a small space no matter where they are stored, so buy several.
The contents varies for these kits, which usually come sealed, so be sure to read the labels to see exactly what you are buying. Most of the ones I have looked at come with the very basics, including band aides, small wrap bandages, first aid ointments, perhaps an elastic wrap. They usually do not have any kind of a pain reliever so I recommend adding some small packages of aspirin or whatever reliever works for you.
A classic example of this type of kit is the small Coleman kit. This metal tin holds five different kinds of bandages of various sizes, including some 1×3 inch types. This kit includes a sting relief wipe for bug bites or wasp stings. There are safety pins for binding wound wraps or other uses. There is also an antiseptic wipe for cleaning a wound, abrasion, or cut. The tin holder keeps the supplies dry and contained in the snap closed container.
Of course, other sizes of even small first aid kits will contain more items, so you have to shop to decide how comprehensive you want a small tote first aid kit to be. Again, I recommend you buy several.
Where to have them ready to use? First, have one inside the glove compartment of all of your vehicles. Put one in your purse, brief case, or other bag you might carry out of the house or to work. Have one in your desk drawer at work. Put one on the workbench at home, in the hobby shop or work room, sewing room, or even the kitchen at home, too. Have several packed in bug out bags in multiple places. Have them ready for use at all times.