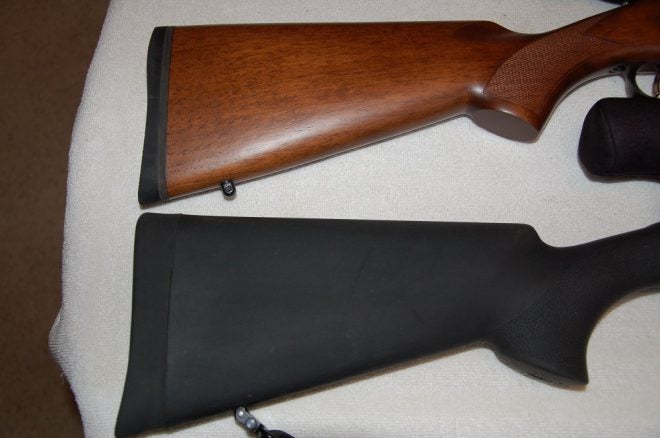 There is nothing more beautiful in the world than a fine figured wood rifle stock made from English Circassion walnut. The burl and the swirl of the veins of wood fibers delight even the dullest characters, well some of them anyway. A great piece of walnut on a hunting rifle is just a special joy to take afield.
Now, contrast that with a black, subdued rifle stock fabricated in a manufacturing molding machine. It is stark, hard, cold, and unflattering to the barreled action mounted within its clutches. It gets slick when wet, and scratches or gouges cannot be repaired with any decent success. Why would anybody want a synthetic rifle stock?
Why a black piece of ABS or some kind of thermoplastic for a rifle stock? One word: durability. And to be completely fair, the new modern stock compositions and constructions have come a long way, baby. Take the new-fangled stocks by Hogue that are soft to the touch and entirely graspable. Even when wet, you can hold on to this stock.
Wood stocks do scratch, dent, warp, and even break, though I have never broken one. A high gloss finish is slippery and can even reflect light. Many of today's walnut stocks are finished in a matte exterior. If you take care of a good wood stock, they will last most hunters many lifetimes of use. Abuse them and they will look like an old 1949 GMC log truck. Maybe that is a badge of honor of some sort.
Synthetic stocks do resonate a ding sound when bumped on something metal like a deer stand. That can alert deer of course, but it is a minor infraction. Some of the older plastic stocks have a rather hollow buttstock, but newer ones don't seem to have that issue. Barreled actions fit into these stock channels pretty precisely and are usually free floated. Most factory synthetically stocked rifles are quite accurate out of the box.
Inclement weather can impact wood stocks, especially the ones that are not sealed properly under the action and barrel. This is not an issue at all with synthetic stocks. After hunting in a rain, I have actually pointed the muzzle to the ground to have water pour out the end of a synthetic stock. But this never seems to change anything in terms of rifle performance.
So, make your choice. Wood is beautiful, synthetic is practical. Or have some of both.