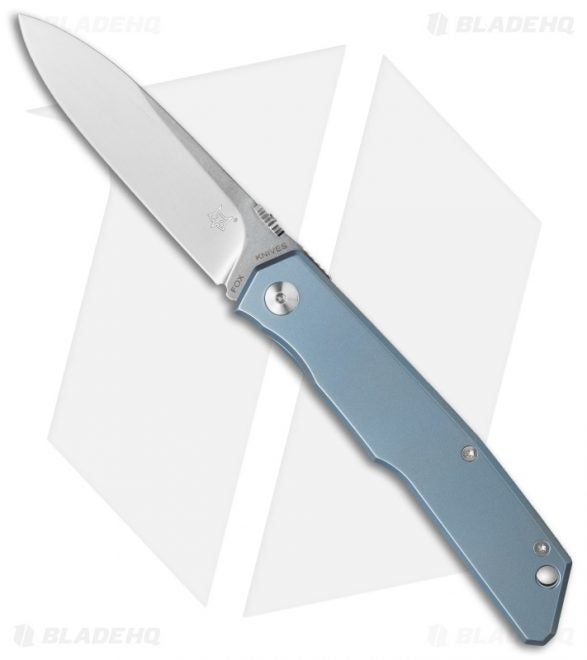 When you hunt the web for the custom page of Bob Terzuola's site, you find the following message: "Sorry, Bob Terzuola is no longer taking custom knife orders." It is sad, because Terzuola is such a great maker with an amazing history and a unique design sense.
When you see a Terzuola, even if it is a collaboration, you call always tell that it came from Terzuola's creative mind. The long blades, the thumb discs, fullers, and blade shapes are all distinctively his. Whether it is the value priced knife from CRKT or a pricier uber-limited collab with Three Rivers Manufacturing, every knife he touched is unmistakably his.
Many of the collabs have been very good, very interesting knives. In particular, his Spyderco Slipit design is one of those knives that I regret not grabbing when I had the chance. Since then, none of the knives he has released as collaborations have been all that exciting. In part, it's because they are all so heavy. This is something that I thought was inherent in a Terzuola design. After all, he made the first tactical folders and so they are all naturally a bit beefy. But when I first saw the Fox Terzuola Framelock and checked the specs, I was stunned. This wasn't 7.6 ounce behemoth that is the CKRT BT-70 (a design commemorating Bob's 70th birthday). In fact the Fox knife looked downright great on the specs sheet with a weight of 3.12 ounces. This is a knife that speaks to me.
But the appeal of the knife doesn't stop with the nice weight. It had a very Terzuola looking drop point blade shape, something with a nice tip, a bit of belly and lots of straight cutting edge length. The thumb disc is low profile and appropriately textured around the edge. The slim handles are also a nice plus. Many Terzuola collabs try to mimic his customs and end up replacing his refined and complex handle and bolster arrangements with heavy bulky materials. Instead of going that facsimile route, Fox went with simple, slim, titanium slabs.
Finally, there is the lock side. This is a framelock with a sculpted titanium clip. I am not the biggest fan of these style clips, but here it's discrete and rounded over, hopefully not causing a ton of hotspots. The lock also has an internal overtravel stop and lock interface, which is user replaceable (Though I have yet to ever see a company sell this part, I assume they have them in stock and provide them when requested).
This is an Italian made knife, and like with a lot of blades from Italy, it runs the very good Bohler N690Co steel. In my experience this is one of the better non-PM steels, ranking above the likes of AUS-8 and VG-10 and about the same place as Sandvik's 14C28N. This is a steel I really, really like. All of this is great, of course, but it is the price that snagged my attention after the weight. This is a clean design by a famous maker produced by a very good company and they managed to get it out the door for around $215.  If you have been waiting for a Terzuola production collab you can EDC, this might be it.