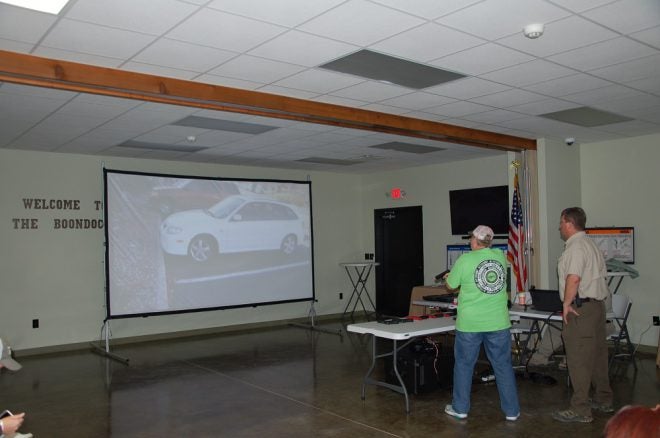 This past weekend I was fortunate enough to participate in a conference of women shooters belonging to The Well-Armed Woman organization. This was a regional group of about 70 women shooters from several different states surrounding the host chapter in Raymond, Mississippi.
The local Clinton-Raymond (Mississippi) Chapter, Kim Condon and Miranda Blanton were hostesses for the get together meeting at Eagle Ridge Conference Center part of Hinds Community College in Raymond.
The Boondocks Firearms Shooting Academy hosted the group for seminars, shooting demonstrations and practice on their new virtual training system called the Use of Force Scenarios. During one of the VT training sessions I was able to observe some 20 TWAW members process through the computer driven scenarios projected live time on a huge screen in the training classroom at Boondocks FTA.
This virtual training system displays real motion events in full color and utilizes various types of "electronic" firearms, pistols and an AR to "shoot" back in response to real threats portrayed on the screen. Trust me, it is very realistic.
There were many types of scenarios where bad guys and gals posed different kinds of threats to the person in training standing back from the screen. Observing this is as real as being right there as one can imagine. There are various kinds of live threats, guns pointed, shots fired, and so forth. The trainee has to determine when or if to initiate offensive fire or return defensive fire to threats. Sometimes the trainee is killed, too.
The trainer or coach working the system encourages the trainee to issue commands, return verbal directions or orders to cease or desist. Again, it is very real. This you can easily see by the observable stress the trainee is under especially after the scenario has ended successfully or not.
The system allows for an immediate feedback playback so the trainee as well as the class of trainees can observe the whole process over again. Coaching, constructive training points and instruction comes from reviewing the virtual training scenarios. The trainee just completing the scenario can see again where their shots hit on the perp if indeed they initiated a defensive shooting sequence. Trainees can repeat the same scenario to rework their option choices or have the coach run a different one.
Virtual training teaches readiness, judgement calls, stress management, close quarters shooting skills, breathing control, and overall threat response. Make VT part of your training plans.