I have a big Fat Boy Liberty Safe and a couple of wall safes, but after much discussion and a "reshuffling" of high value items, my wife and I wanted another small-to-mid-sized higher security safe in our bedroom to store our home defense AR 15s, concealed carry handguns and a few other items we wanted out of reach of the kids. We thought about adding another in-wall safe, but we simply had too much crap to stuff into another wall safe.


I looked to Liberty Safe for a slim heavy-duty safe to slip into the closet and found that their Centurion series of safes fit our needs well. Centurion series safes are available in 12-, 14-, and 24-gun sizes; we chose the 12-gun model for around $550 delivered.
What is the Centurion Line?
The Centurion line is a lower-cost line of Liberty safes. They have a good fire rating, but are a bit more spartan than many other Liberty safes; interiors are plain and interior shelving is fixed rather than customizable.
The Centurion's finish, wall thickness, combination lock, locking mechanism, and door locking bolt count is also a step down from their higher-end safes. At $520, it is still a good quality safe, but Liberty wanted to provide a solid and secure, lower-priced option and needed to cut costs somewhere. Based on the four months I have owned and used the safe, I believe they struck a great balance between the prices and features of the the Centurion Series.
One thing I would like to add to the safe is a light kit to assure that firearms could be accessed quickly, even in the dark.
Taking Delivery
The delivery was similar to my Fat Boy safe, but this time I chose curbside delivery rather than in-home placement. Delivery took about six weeks due to a mixup, but my new Liberty Centurion safe was dropped off in my driveway ready for me to unbox and unbolt from the delivery and shipping pallet.
Once the new safe was freed from its packaging, I secured it to a two-wheeled hand cart with ratcheting straps to give us something to grip and make the move and placement infinitely easier. Despite the weight of the safe, the move up two flights of stairs was surprisingly quick and uneventful (though exhausting), with a light assist from Mrs. Pandemic. Once I had it in place, I slipped a 1/2″ spacer under the front of the safe to level it and then secured it to the wall and floor with bolts to prevent movement or tampering.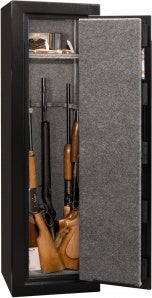 Unlike the rest of the the safes in the house, we do not have the new one loaded down yet. I say "yet" because I am sure the contents will grow over time, but at the moment we have plenty of room in the safe and can easily and rapidly access the contents.
Notable Features
Although this is a less-exotic model than some others, it still has a couple of notable internal features. The inside surface of the left, right, and rear walls have the standard wavy gun "racks" for propping up a dozen guns. There is a single solid shelf, which is high enough to allow most rifles and shotguns to be loaded into the safe without the shelf getting in the way. For most homeowners, this is an economical solution to store guns and other valuables in a small and unobtrusive footprint within the closet.
Final Thoughts
Folks have a tendency to go gaga over the newest firearm, but neglect to securely store those that they have. I advise gun owners to set aside some of your "fun money" to purchase a safe to secure your firearms from thieves and overly curious youngsters.
I know of a father who came home to find that his son had "loaded" a grilled cheese sandwich into the father's unloaded and cable-locked Remington 870. Oops! A safe can prevent such things, while still allowing fast access in an emergency.
Although this safe has a standard dial-type combination lock instead of a digital one, my wife and I work the combination–all but the last number–each night before we go to bed, to speed up access just in case.
The Liberty Centurion safe does the job of securing your firearms and valuables in a small space without breaking the bank. I just wonder if I need another one for guests in the extra bedroom in case this one gets too full.
Specifications:
Security Rating: Non-UL
Door Type: Composite
Door Thickness: 1″ composite door
Door Bolt: Sides 2-Sided Military Style locking bars
Body Steel Thickness: 14 Gauge
Total Body Thickness: .75″
Lock: Combination/Key, Sargent & Greenleaf™
Lock Type: S&G UL Listed Combination lock (no key)
Relocker Type: Fail-Safe™, Punch and Drill
Bolt Locking Type: Direct Cam Drive
Bolt Diameter: 4″ Military Style Locking Bars
Bolt Protector Type: Triple Hardplates
Fire Minutes: 30 Minutes
Fire Rating: 1200°/30 Minutes
Layers: 3 in ceiling and door, 1 on sides and doorjambs
Door Seal: Heat-Activated, Expanding Palusol™
Upholstery: Fully Upholstered
Interior: Lighting optional
Door Panel: None; Accessory Door Panel Available
Bolt Count: 10
Long-Gun Storage (Approx): 12
Interior Type: Gun Only
Dimensions: H x W x D (Depth includes handle spokes installed; Add 1.5″ for optional
outlet kit) 59.5″ x 18.25″ x 18″
MIN. DOORWAY WIDTH CLEARANCE TO DELIVER SAFE* 18″
Exterior Height: 59.5″
Exterior Width: 18.25″
Exterior Depth (Includes handle spokes installed; Add 1.5″ for optional outlet kit): 18″
FOOTPRINT (Width x Depth): 18.25″ x 16″
Exterior Cubic Feet (safe body only): 10.1
Interior Height: 57.4″
Interior Width: 16.7″
Interior Depth: 11.6″
Interior Cubic Feet: 6.4
Weight: 247 lbs.
Country of Origin: United States
MSRP $579
Starting Price $519