Mossberg's ATR Deer Thugs Rifle Review
Pat Cascio 05.16.16

Contrary to popular belief, we writers don't make a lot of money, and we don't get free guns. After testing, new guns must be returned or purchased, and most of the time I can't afford to buy them. In other words, I'm a bargain hunter just like everyone else.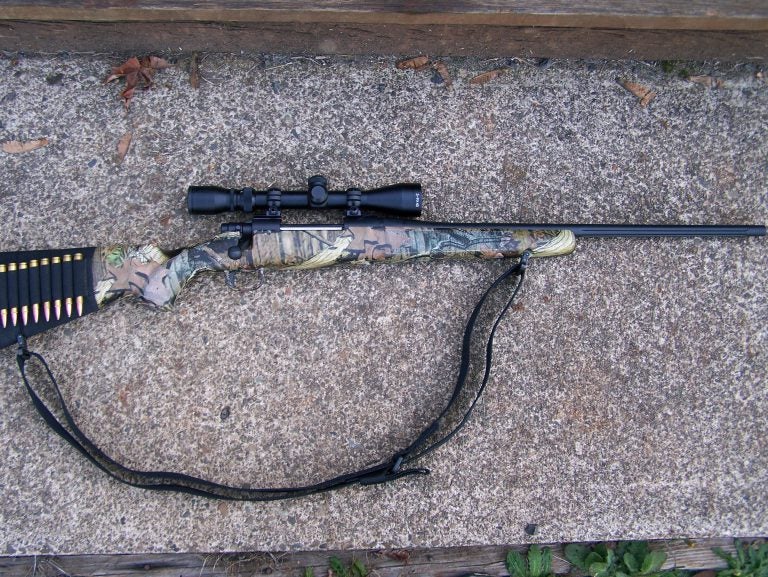 Enter the Mossberg ATR "Deer Thugs" high-powered rifle in 30-06. It does come in other calibers, but it's hard to go wrong with 30-06 for most big game hunting. Even though I don't hunt much these days, I do enjoy practicing my shooting on a paper target. I ran across this slightly-used (about 98% condition) "Deer Thugs" rifle at my local FFL dealer. It also came with a no-name 3x-9x 30mm scope on it–and when I say no-name, I mean there was no maker's name on the scope period! However, the scope gives a nice clear sight picture, so who am I to judge?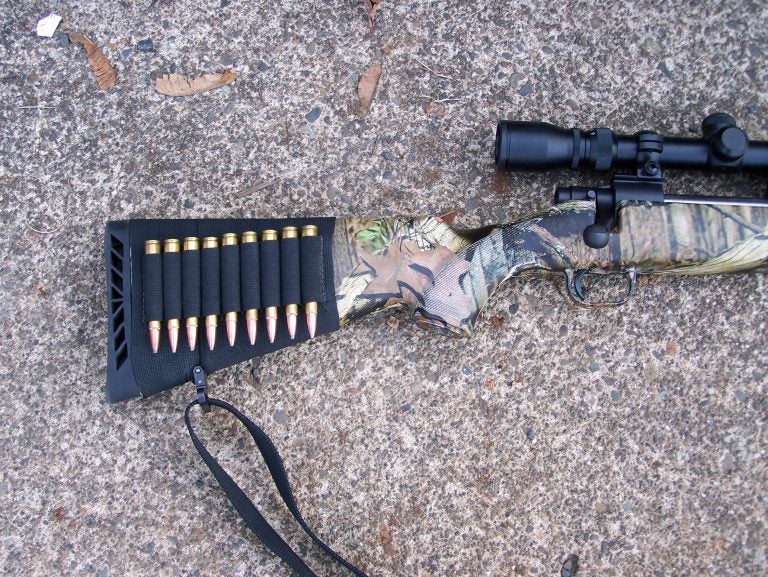 A quick look at the ATR model is in order. It is a 4+1 shot rifle, with no magazine floor plate. That means that you have to unload it by working each round through the action by cycling the bolt. Easy enough, but I would have liked a floor plate to ease unloading. The barrel is 22 inches long and partially fluted. Fluting makes the barrel lighter and stiffer, and in theory it can help make the gun more accurate.
Length of pull is 13.25″ (perfect for me) and there is a nice recoil pad on the butt stock. The left side of the stock has a raised cheek rest, and I can take or leave them these days. The receiver and barrel are matte blue and the synthetic stock is covered with Mossy Oak Break Up camo–very cool-looking. On the right side of the butt stock is "Deer Thugs" in big bold black lettering.
The rifle weighs in at only 7 pounds and I'm sure the synthetic stock accounts for keeping the weight down. One great feature is the LBA (Lightning Bolt Action) adjustable trigger pull. My sample ATR had a perfect 3 1/2 pound trigger pull, and I didn't see any need to adjust it up or down. It was perfect for my needs. There are also Weaver-style bases on the receiver where the no-name scope was mounted.
All in all, not a bad rifle. Full retail is $476.00 (without a scope) but I've seen the ATR brand-new in big box stores for around $300.00 with wood stocks. I paid $299.00 for my used Deer Thugs with the no-name scope and synthetic stock (which has sling attachment points built in). Overall length of my ATR is 42 inches and brand-new guns come with a two-year warranty.
My local FFL dealer threw in a partial box of 30-06 Winchester 150 grain Power Point Soft Point ammo that he had in the back room. I ran right out to my usual shooting spot to see what kind of a shooter this gun would be. I set up a target at 25 yards and unleashed three rounds. When I checked the target, I was surprised to see that the rounds were all over the place. After firing two more three-round groups, one thing was clear: my gun just didn't want to group very well.
I took the rifle home and I gave it a good cleaning with Italian Gun Grease's "Copper Eliminator," which gets any copper fouling out of a barrel. I also took the stock off to look things over and examine the adjustable trigger, and everything looked fine. I then checked the scope rings and found the problem. Whoever had mounted the scope hadn't tightened the scope rings at all. I added some blue LocTite to the screws and snugged them down before even thinking about heading back out to shoot my new toy.
Heavy rain delayed my next outing, but that gave me time to get some premium ammo so I contacted Black Hills Ammunition and Buffalo Bore Ammunition for some of their 30-06 fodder. Due to low inventory, Black Hills only had 155 grain Hornady A-Max ammo, and Buffalo Bore only had 150 grain Spitzer Super Charged ammo. I'm one of these guys who believes that certain types of calibers in rifles are designed to fire a certain type/weight of bullet in order to get the most out of the caliber. In this case, I believe that the grand ol' 30-06 works best with 165 grain bullets–just me, I guess.
Before my ammo arrived, I took the ATR out on my front deck, and set up the Laserlyte "Six Pack" laser bore sighter target on a tree that is 25 yards from my front deck. This is a special reflective target, and when you place the Laserlyte laser in the barrel of your rifle and then look through your scope, it will show you whether the barrel is aligned with the scope. Easier to do than to explain. Basically, you place the laser into the end of the rifle barrel, turn it on, and aim your gun at the center of the target. The laser shines where your bore is pointed, and you adjust your scope's crosshairs to coincide with that spot. In this case, my no-name scope was off quite a bit.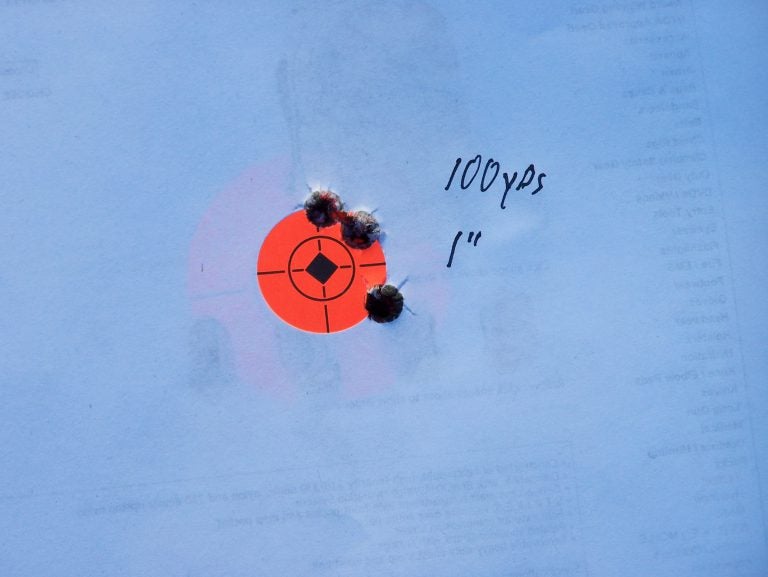 Without making any further adjustments, I headed out to the range. I set up my target at 100 yards, and using the hood of my SUV and a rolled-up sleeping bag as a rest, I started my testing. First up was the Buffalo Bore Super Charged 150 garin Spitzer round, which gave me a nice 3-shot group that measured just shy of an inch and a half. Another three shots produced the same results.
I should say that the groups were both a little high and to the right, but this was actually pretty impressive since I'd only boresighted it before firing it at 100 yards.
Next up was the Black Hills 155 grain Hornady A-Max round, which surprised me when I examined the target. To my surprise, two shots were touching and the other was just below them for a 3-shot group of one inch!
A good writer knows when to put a gun down and grab the camera. I brought the target back to my car and took a picture of the group before doing any more firing. Alas, I wasn't able to duplicate that first group with the Black Hills ammo, although I came close. Most 3-shot groups measured 1.25 to 1.50 inches, right in there with the Buffalo Bore ammo. In my book, that is great accuracy from a "budget" high-powered rifle.
I haven't tried any other 30-06 loads, but I plan on getting out there with a different variety ammo as soon as I can get hold of some. I believe that with the right ammo (all guns have a preference when it comes to which ammo will shoot the best in it), I ought to be able to keep 100-yard groups within one inch… maybe even a little better if I can do my part.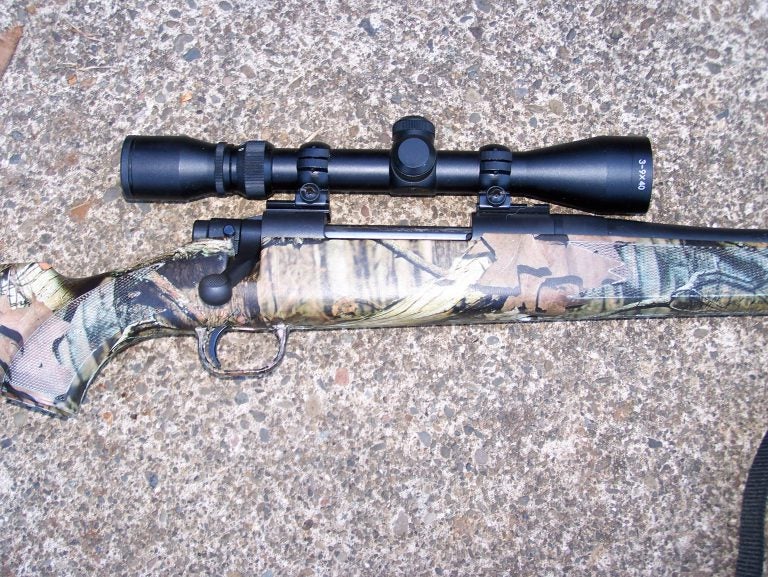 At some point, I'll probably replace the no-name scope with a better one, although the no-name scope did the job it was supposed to do. Still, I'd rather have a better 3x-9x 40mm scope on this ATR. Other than adding a sling and an ammo sleeve on the butt stock, I haven't changed anything on this rifle, and I don't see any need to make any more changes other than the scope.
You don't have to spend a lot of money to get a lot of gun these days, and this ATR Deer Thugs proves that. I've had other "bargain" high-powered rifles do just as well as this Mossberg ATR, one brand in particular is Savage. They are well-known in the industry for producing good accuracy at reasonable prices.
Sure, it's nice to have an expensive big-name firearm with a beautiful wood stock and a thousand-dollar scope. But in reality, if you are on a limited budget and you find a good deal on a gun that can shoot well, I have to question: Why spend more money when you may not get more gun for that money?