Review: Blackhawk Diversion Line of Packs and Bags
Major Pandemic 05.17.16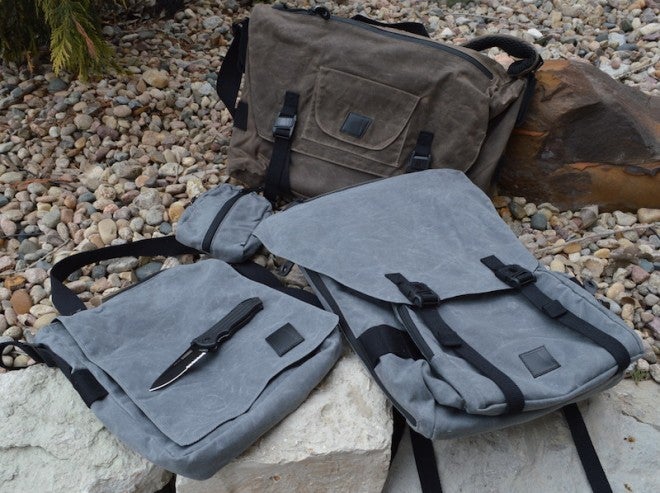 Sometimes I am not the first guy on the block to find something new, but I usually take a different spin on articles than most other writers. What makes my job easier is when a product is so unique that articles almost seem to write themselves. This was the case with the Blackhawk Diversion line of packs and bags.
I spent a considerable amount of time at Blackhawk's 2015 SHOT Show booth ogling their stunning new line of Martexin waxed canvas bags which represented quality, fit, and finish usually only found on premium designer bags. My wife, who can usually be found carrying a Coach or Dooney & Bourke bag, was absolutely nuts over the style, design, and look of these Blackhawk bags. This is saying something, considering she pretty much hated every other CCW bag she saw at the show.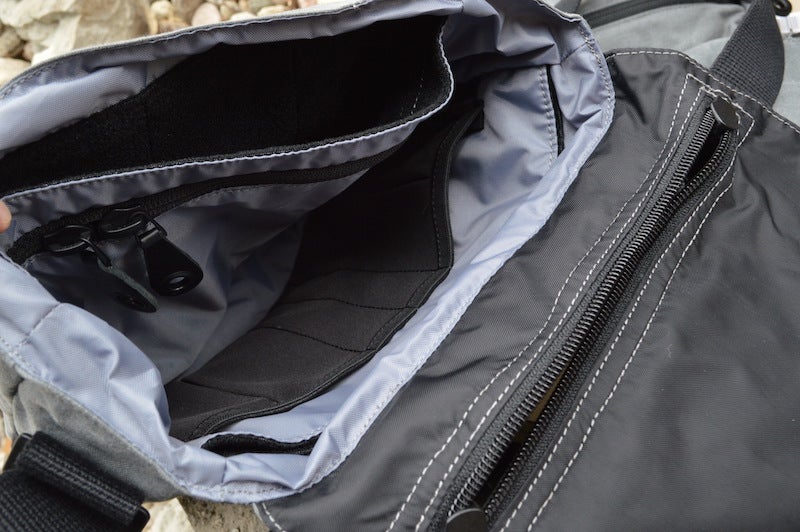 There was obviously more to the story, and I told the chief designer, Christopher Laack, that I would follow up with an interview to better understand exactly what he had accomplished. The sample bags arrived and I started using and testing them during my 120 days of travel per year. Suspiciously, my wife kept commandeering the Satchel, noting that she just needed something to carry her Glock 19 in that day. She now has the bag in strong rotation for daily carry.
Once I had a grasp on what the bags offered, I followed up with Christopher for the interview.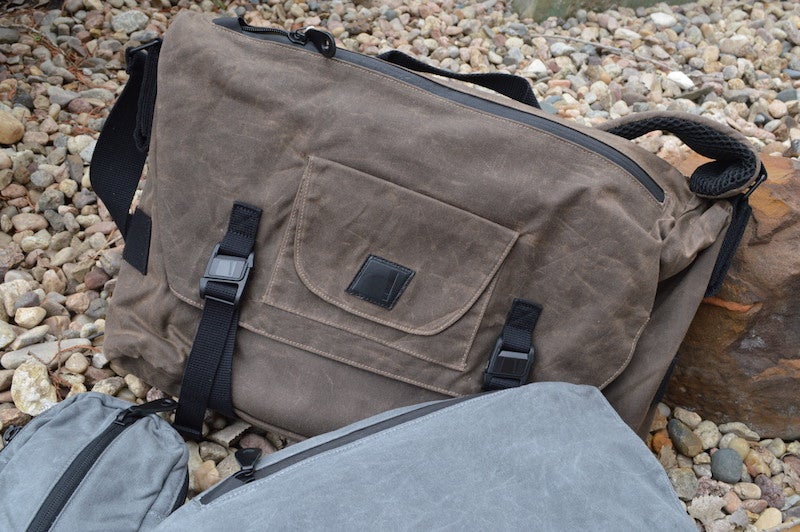 Christopher explained that the concept of the Blackhawk Diversion line is not particularly new, but the line has drastically expanded. Blackhawk had received many requests for less-conspicuous bags to carry all manner of firearms and tactical gear "without looking like a tactical bag." The requests were coming from police, military, security, and even civilians who wanted all the features of a tactical bag in a low-key bag that wouldn't give them away during clandestine, undercover, or concealed carry situations. They wanted to just blend in and disappear.
Christopher and his design team went to work toning down several bags and packs. The first product of the line was the Racquet Bag, but it was far harder than they originally thought. What they found was that a standard racquet case was not big enough to contain typical SBRs (Short Barreled Rifles) or submachine guns, so they had to start scaling it up. He noted that "we had to do a lot of focus group testing and public street testing to get the proportions and look right. It became obvious to people when the bag was proportionally too big or moved on the body wrong and would get a second look."
In some cases, a design was big enough to accommodate a firearm, but the appearance was still not correct or the weapon would print through the bag. "It's not often a design goal is to make something less-cool-looking. We had to use a certain type of closed cell foam and fabric, a more standard-looking YKK zipper, and materials which were durable but had the look of a typical racquet case… we had to create a design which the eye would pass right by."
Christopher explained that although it was a tough design to get right, the bag has been a hit with  customers.
Where the Racquet Bag toned down the cool factor, the waxed canvas Diversion line allowed his team to offer very cool timeless designs that were designed to get a second look. "Through our research, we noted that covert carry of firearms was also possible in plain and obvious sight. We could also deliver bags which would turn heads–not because they looked tactical or odd but because they looked so cool. After all, who would suspect a beautiful waxed canvas messenger bag would be housing a submachine gun?"
He went on to note that, "The waxed canvas bags moved Blackhawk's line beyond black, coyote brown, flat dark earth, foliage green, and multicam into something totally unique for a tactical company."
Christopher started by evaluating a lot of fabric options in the US and international marketplace, but after much testing they decided this line would feature top-tier components, including Martexin fabric, considered to be the best waxed canvas. "Nothing performed, looked, or felt like the original U.S.made Martexin canvas–plus is has a great storied history which dates back to its first production in the 1930s."
The waterproof Martexin fabric was the original waxed canvas used on military packs in WWII. The fabric takes no more care than an occasional hosing off and has a very nice look and feel.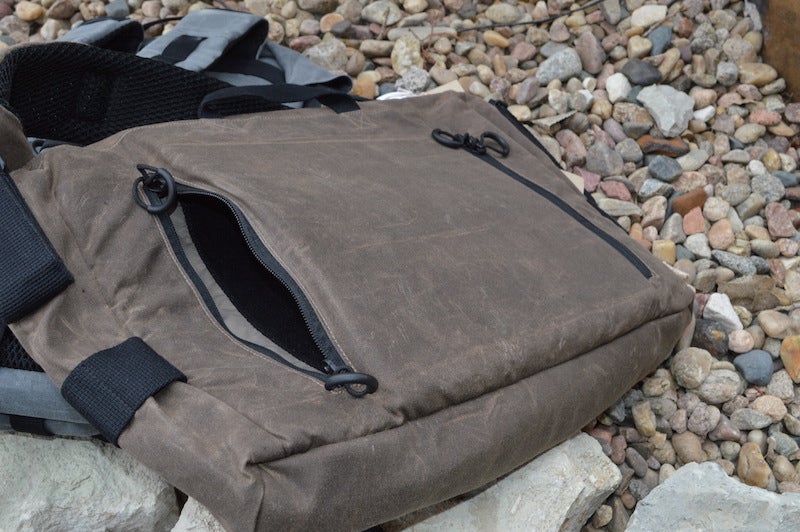 Blackhawk did not stop with just a high end fabric. They used also used quality Fit Lock magnetic slide lock buckles for the clasps on the flaps, and the messenger bag uses an AustriAlpin shoulder buckle (also used on safety equipment).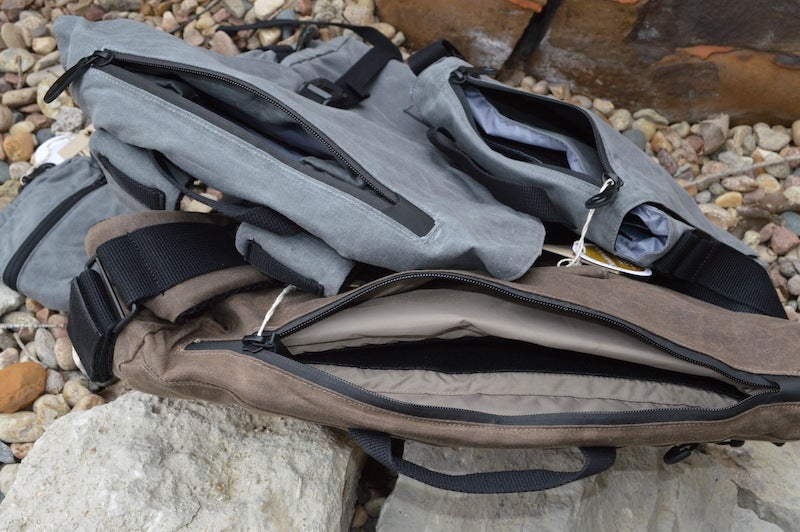 Some closures are magnetic for speed of access. On the Blackhawk Diversion Satchel, a unique integrated magnet closure keeps the flap closed but allows for overstuffing the bag without adjustable straps. The quick-access zipper pockets have waterproof zipper seals and all the CCW pockets have double zippers and are lockable to comply with some school and business requirements.
The Messenger Bag is ambidextrous and includes both a standard briefcase strap and traditional close body style padded strap. If you look closely at the strapping and webbing on the bags, it appears and feels like a soft cotton, but it is actually a buffed heavy duty nylon, offering strength with the appearance of cotton.
Strategic MOLLE compatible webbing is provided for extra configuration flexibility, but without really looking at it you would never know it was there. Internally a field of hook-and-loop is integrated into all the CCW compartments of the bags, as is padding for laptops and other personal electronics.
These bags are exceptionally well-thought-out for everything from business use and travel to everyday CCW. While traveling I carry a small pistol, and the CCW pockets provide quick access should I need it.
Christopher noted that "Although we wanted to assure the bags were affordable, we realized that we could not be half-committed to quality when the design and look mandated all top grade components. The results were a premium tier of bags unlike anything we thought Blackhawk would produce."
That goal drove the design team to look beyond just materials to test and re-test the design. "The designs are no more complex than they need to be–there are no senseless features on these bags. Every detail has a purpose."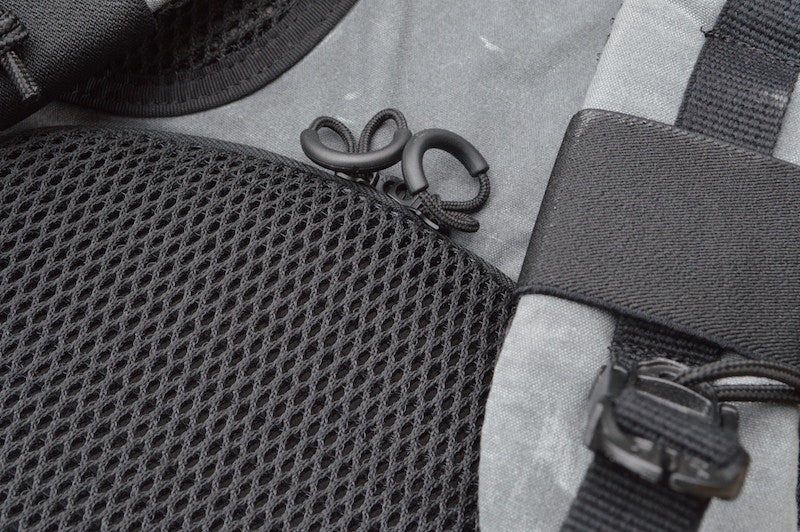 These bags exhibit a level of refinement and detail that I would typically see in third- or fourth-generation bags. Some of those details you notice immediately, others you discover as you start using the bag. Blackhawk even created a new logo that would not give away the tactical nature of the bag.
One of the things I particularly love about these bags is that they are not black inside, which would typically mean that you'd need a light to find anything inside of the bag. The Earth and Slate still fall within an urban camo color range if you needed said compatibility, and the light-colored interior makes it easy to find things inside the bag.
Many companies are struggling to produce a CCW bag, purse, or backpack that appeals to non-tactical concealed carriers. Blackhawk has produced something unique, which only they offer: Style paired with usable performance.
There are few things in the tactical gear industry that could be called stylish and handsome from a fashion perspective, but Blackhawk did it with these Diversion packs. The company has delivered an excellent-looking solution that performs well and gains admiration in the boardroom or coffee bar, all without the suspicion of what lies within.