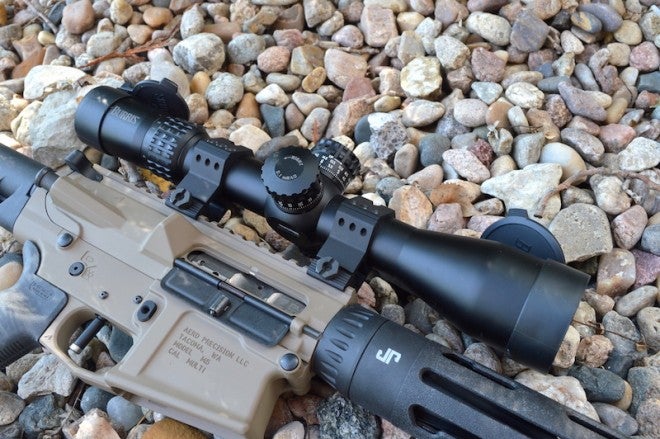 One of the shooting market trends I am seeing is optics manufacturers really starting to push themselves again to deliver exponential jumps in quality. Burris' premier XTR II lineup represents one of those optics that is pushing the limits within Burris and is the company's new flagship optic line.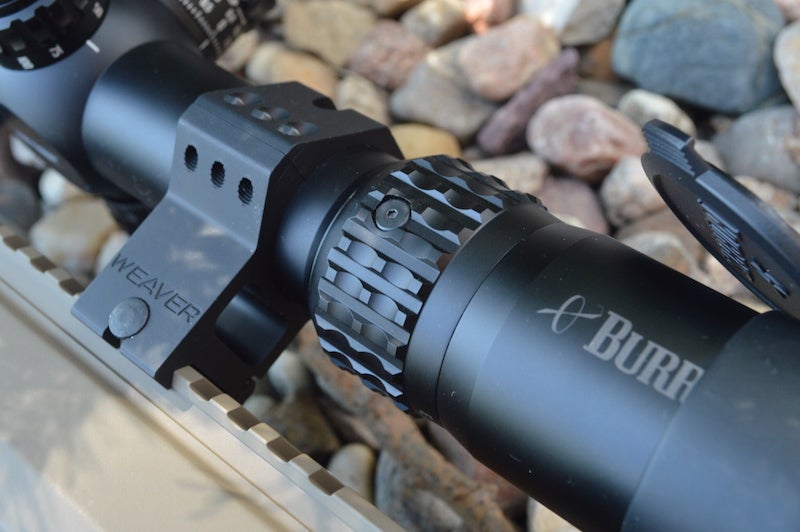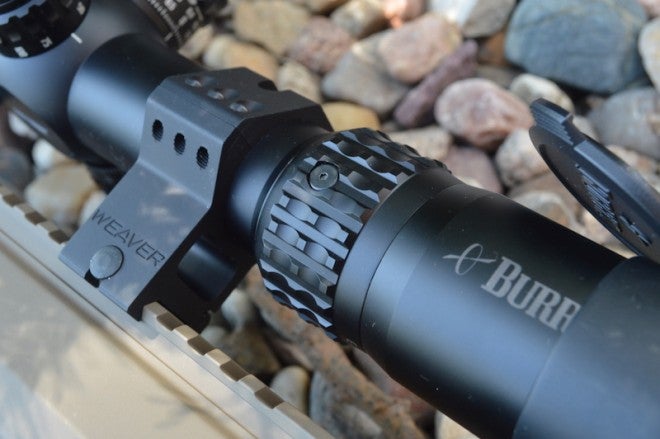 The original XTR v1 line of scopes was a huge success for Burris, but customers were asking for even more. Not only did Burris create a crystal clear 5-time zoom range on this XTR II 3x-15x 50mm optic, but they upped the tube thickness by 25% over the original.
Burris also configured the optic design as a FFP (First Focal Plane) scope. FFP is the hot feature among precision and sniper rifle shooters the last few years, and in essence it zooms the reticle as the magnification changes. The result is that whatever holdover you have on the BDC or Mil-dot is the same at any magnification–in this case from 3x all the way through 15x.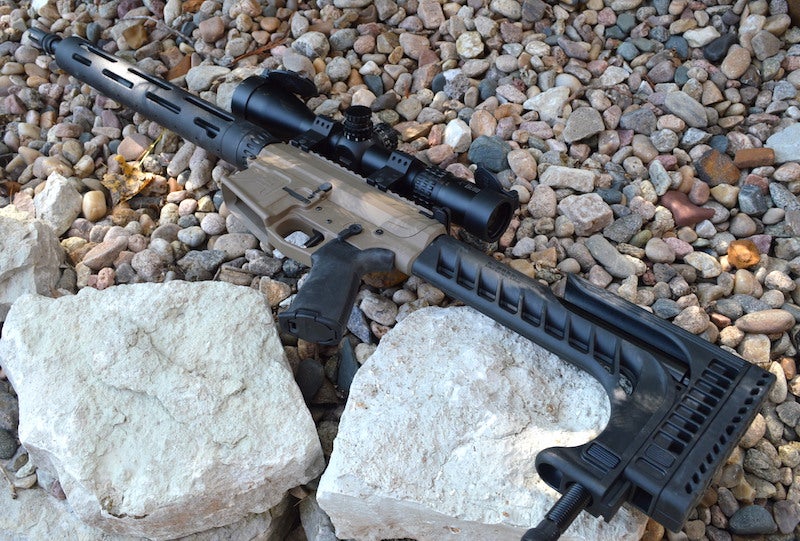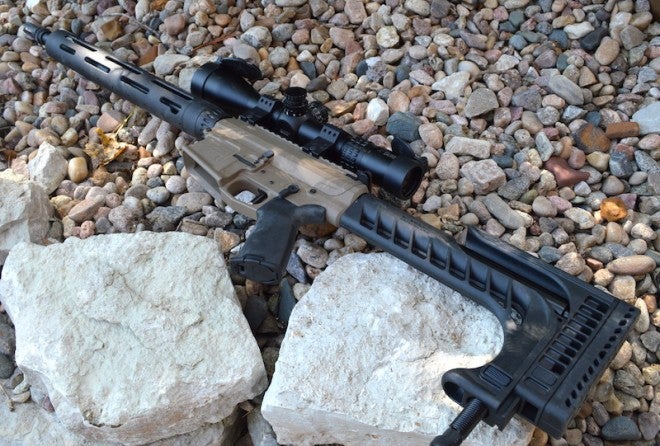 The big thing with FFP reticles is that this design makes elevation and wind adjustments simple and easy without having to think about what magnification you are on. If you have a 300-yard target and that is the second dot down based on your zero, then you can use that same point of aim no matter what magnification you are. Pretty cool.
When comparing this to a BDC equipped standard second focal plane scope, the reticle does not zoom, so your hold at the maximum magnification is not the same at the minimum magnification.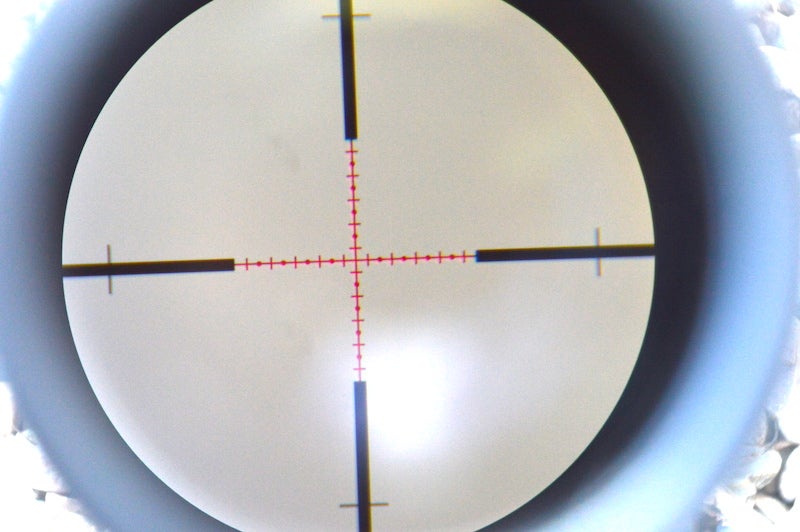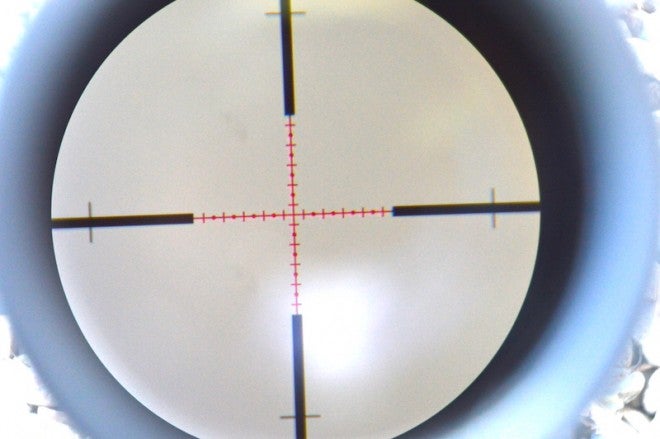 I choose the G2B Mil-Dot reticle for my custom AR 308 build. The G2B Mil-Dot reticle has hash marks in between the mil dots for more precise aiming, distance measurement, holdover, and hold-off for wind. The adjustment is calibrated in mRADs (typically known as "mils"), which matches the mil-dot reticle gradient.
If you see your shot splatter 1 mil to the left, you can make that adjustment without doing laborious math to convert what you read in the reticle. Burris notes that this G2B reticle is a "versatile, combat proven reticle that is ideal for mid-to-long-range tactical shooting," but I think it offers a lot even for the less competitive shooter.
Fit, Feel, Features, and Functions
There is a lot to love about this high tier optic. At around $1000 street price, this scope is not for everyone and it's up there with premium Japanese and German optics. For the quality, it is a great deal and considerably less expensive than many competitors with similarly featured $1500-$2200 priced optics.
The glass is just unbelievably crisp and clear. Let's not forget that Burris and Steiner are owned by the same parent company, so I don't think it's a stretch of the imagination that Steiner engineering and technology had a hand in Burris upping its already-exceptional game a bit more.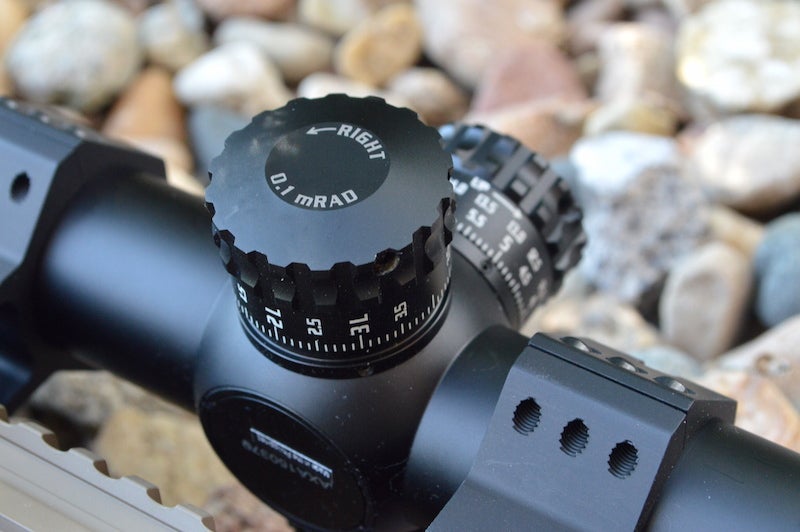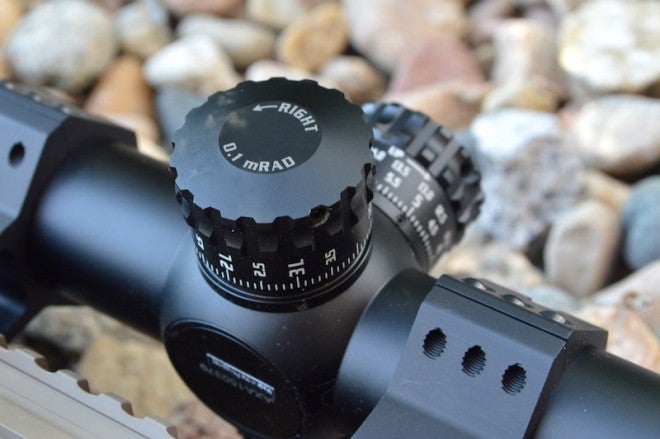 With the XTR II, Burris sets the bar for the rest of the market, outside of maybe Vortex. They have everything packed into this optic with the exception of laser ranging. You have the new style thicker and heavier-duty (and allegedly brighter) 34mm tube, and big audible-click turrets. The turrets' mRAD adjustments are matched to the mil-dot reticle (as they always should be), are zero-able, and even feature a resettable stop. There is that cool FFP design everyone is asking for, and the reticle is even illuminated.
Now I generally have some serious gripes about illuminated reticles because most companies try to make them too bright, but in this case Burris delivered perfection. Too many times, manufacturers make illuminated reticles for daytime use (and thus far too bright for the night work they were originally developed for).
The illumination on this 3x-15x 50mm XTR II has eleven settings from "I can barely see a hint of the reticle in a dark closet in the basement with the lights off" to something brighter and usable at dusk. Burris has also included off positions between each illumination setting, so you don't need to cycle through all the brightness settings just to turn the reticle illumination on or off.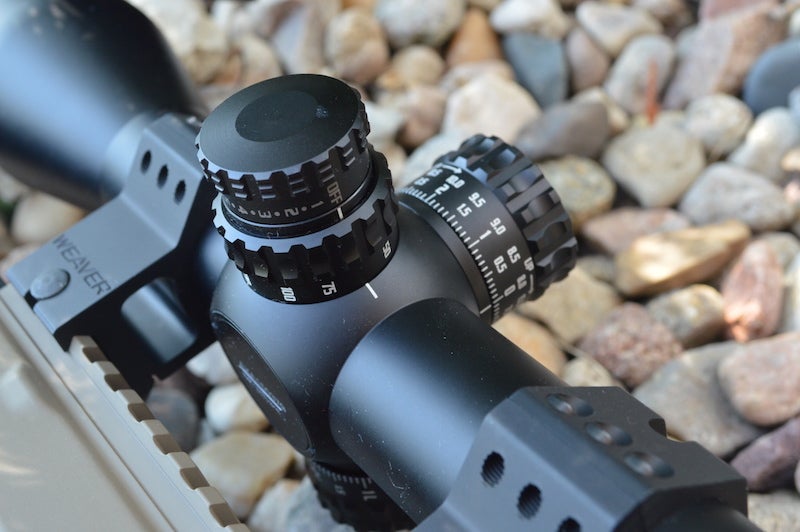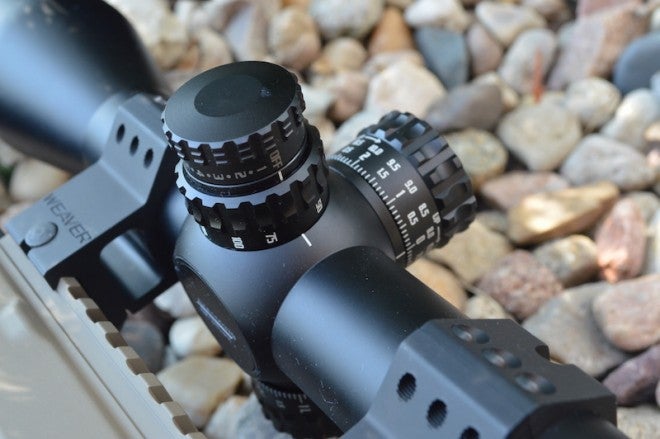 Burris even has a well-thought-out side focus knob, which is neither interfered with by the illumination knob, nor interferes with it. And then there is the huge magnification range. Normally you would see a 3x-10x or 3x-14x, but here we have a scope that can give you everything you might need on very close targets all the way out to the distant capabilities of the shooter with a 15x magnification.
This is a nice setup, affording the shooter lots of flexibility. The range is also one of the widest magnification ranges on the market. Bushnell, Nikon, and Vortex top-tier models are almost there with similar features and arguably similar optic quality, but from a price and quality perspective the XTR II is an attractive option when you add in all the features. Burris has simply put it all into an exceptional package that just works.
Final Thoughts
I initially had this optic on my FN SPR and then on a Remington 700 Sniper build with a fancy KRG chassis, but I felt its abilities were outrunning the speed of a bolt action. On 3x this is a fast optic, and I felt this scope was best placed on a semi-auto that could use the wide magnification range and the user friendly FFP reticle.
Some may read that previous sentence and say that I needed a semi-auto for the fast follow up shot I missed the first time, Maybe so, but this scope makes it easy to zoom in a bit and still use the same hold.
I am not one of those guys who likes or enjoys figuring out the math on a reticle calibrated for 15x when I need to be at 3x of magnification. For me, simpler is better and I like the FFP concept both in theory and in use. Literally just print out a ballistics card noting all the holdover points for your pet round and you are good to go at any magnification.
This is a great scope that deserves to be on a rifle that can deliver accuracy and do it quickly. There is a lot to love about this scope and not much to hate, and that's probably the reason I mounted it on one of my most expensive and accurate AR30 builds to date.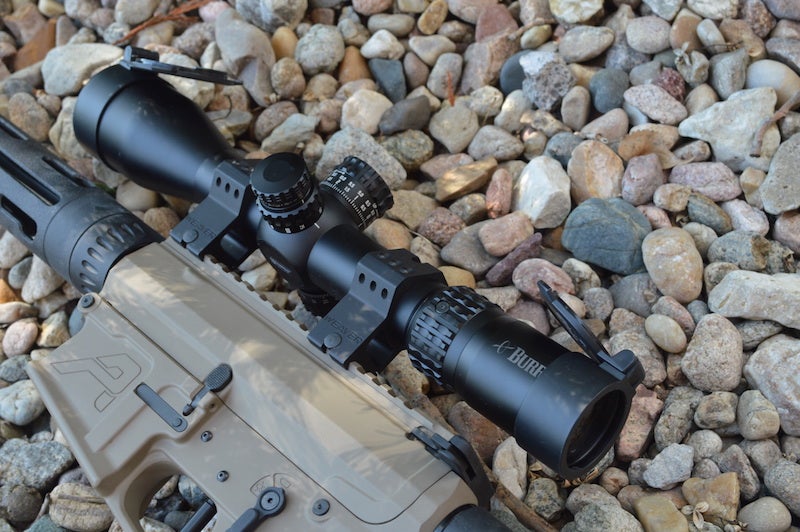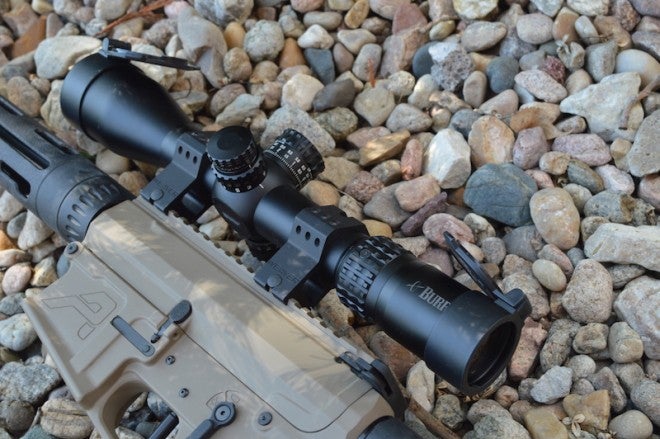 Manufacturer Specs
XTR II™ Riflescope 3x-15x 50mm

All hand-fitted internal assemblies are triple spring-tensioned for absolute shockproofing, even under severe recoil. They are vibration resistant, even on extended vehicular patrols.

Zero Click Stop adjustment knobs let you quickly and easily revert back to the original yardage setting without counting clicks

Advanced windage and elevation adjustments are fast and easy; accurate and repeatable reticle adjustments match the measurement system of the reticle

High-grade optical glass provides excellent brightness and clarity with lasting durability

Index-matched Hi-Lume® multicoating aids in low-light performance and glare elimination, increasing your success rate

Double internal spring-tension system allows the scope to hold zero through shock, recoil, and vibrations

Waterproof

Nitrogen-filled body tubes prevent internal fogging in the cold and rain

Precision-gauged and hand-fitted internal assemblies maintain a consistent point of impact through the magnification range, regardless of shock and vibration

Solid, 1-piece outer tube is stress-free and durable; withstands shock and vibration from even the heaviest-recoiling calibers

Covered by the Burris Forever Warranty™

Item Number:

201031, 201032, 201030

Magnification:

3x-15x

Objective Lens Diameter:

58 mm

Clear Objective Lens Diameter:

50 mm

Ocular Lens Diameter:

44.25 mm

Finish:

Matte

Focal Plane:

FFP

Main Tube Size:

34 mm

Field of View:

36 low – 7.5 high (ft. @ 100 yds.)

Eye Relief:

3.50 – 4.25 in.

Exit Pupil:

11 low – 3.3 high (mm)

Click Value:

1/10 mil; 100-Click Knob (201031)

1/4 MOA; 100-Click Knob (201032)

1/10 mil; 80-Click Knob (201030)

Elevation Adjustment, Total Capability:

110 MOA

Example: 50 MOA is roughly 25 MOA from center.

Windage Adjustment:

55 MOA

Example: 50 MOA is roughly 25 MOA in any direction from center.

Parallax/Focus:

Side focus/PA

Adjustable Parallax:

50 yds. – infinity

Length:

14.13 in.

Weight:

30.90 oz.

Illumination Control:

Rotary dial; intermediate "battery saver" stops

Illumination Settings:

11 brightness settings

Battery:

CR2032

MSRP $1200-$1260