Review: Primary Arms 4x-14x 44mm Mil Dot FFP Scope
Major Pandemic 05.24.16

As I marched through a quest to find and review as many "quality" FFP (First Focal Plane) scopes, I initially discounted Primary Arms. I mean how in the world could a $230 retail scope compare with the mid- and higher-tier optics in the $800-$1200 range? I am here to tell you that it gets you about 80%-90% there for a third to a quarter of the price.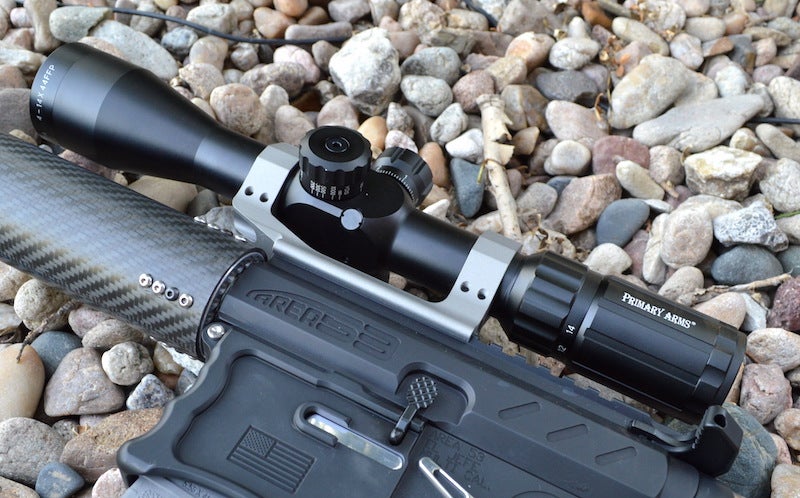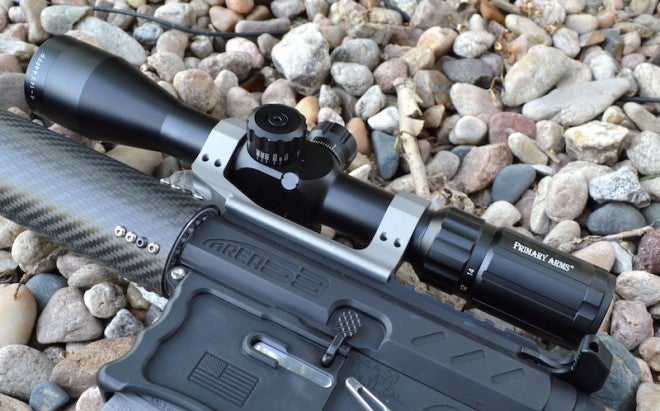 FFP scopes, whose crosshairs zoom in proportion to the magnification, are popular because they simplify ballistic reticle shooting systems. Your ballistic reticle tick mark at 200 yards will be the same whether you are at minimum or maximum magnification.
There are MOA (minute of angle) and mil dot reticles that have some type of hash mark on the reticle with the intent that you can use these hash marks to calculate a shooting "hold" solution and even measure distance and/or target size.
In this, case Primary Arms' 4x-14x 44mm FFP scope features a Mil Dot reticle. There is a learning curve to any ballistic or graduated reticle, but what makes most of them tough to use on regular second focal plane optics is that they are typically calibrated only at their highest magnification.
This means that the reticle will not change its size in relation to your eye as you adjust the magnification on standard scopes. For example, the first tick down on the reticle may be calibrated for 300 yards at 14x magnification, but on 4x magnification that same tick mark will not deliver a 300 yard shot.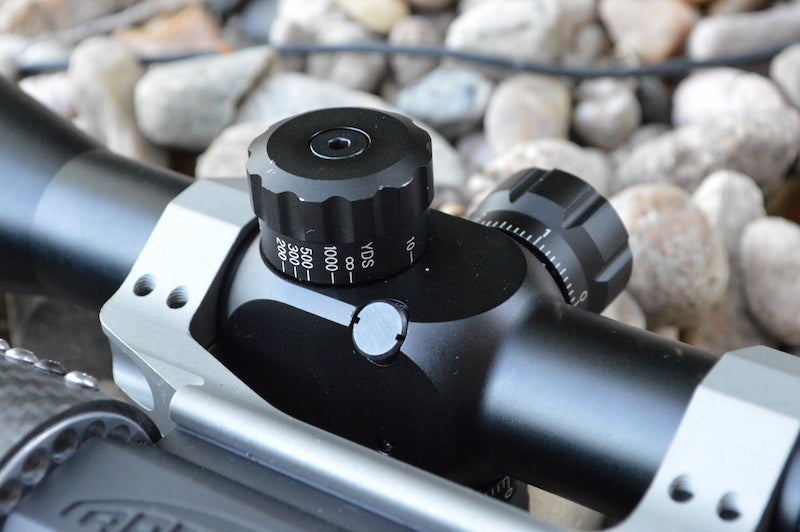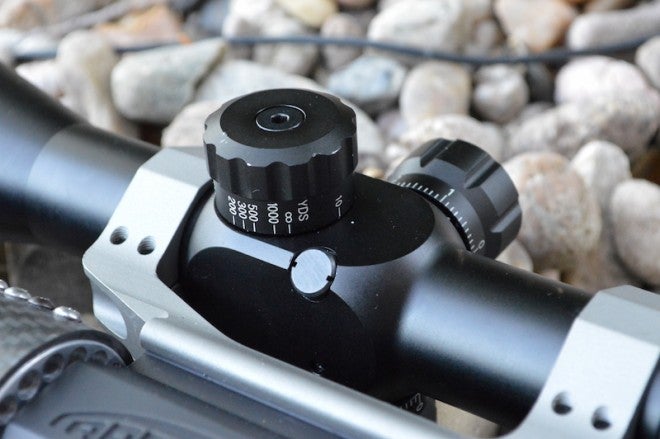 Some people like this fixed-reticle configuration because it allows your 14x 300-yard zero to be a 600-yard zero at 4x, but this math makes my head hurt. FFP optics make shooting solutions consistent at any magnification, and therefore simpler to calculate as you are learning the ballistic system of your scope.
If you know your 10/22 or AR15 will hit at the top of the first mil dot at 125 yards, rest assured that it will also hit there at 4x and 125 yards. The problem is that this cool FFP system is usually reserved exclusively for more expensive $800+ optics.
On my last cruise through PA's site, dropping things in my cart for my latest AR15 build, I took a hard look at the Primary Arms 4x-14x 44mm FFP scope. I have to admit that my plan was to bolt it on a custom 10/22 just to spend more time practicing my mil-dot ranging, but after I received the scope, I changed my mind about the quality a sub-$300 optic can provide and instead dropped it right on my custom AR15 build.
Considering the PA 4x-14x 44mm also delivers the FFP feature usually only found on expensive optics, this scope is an amazing deal.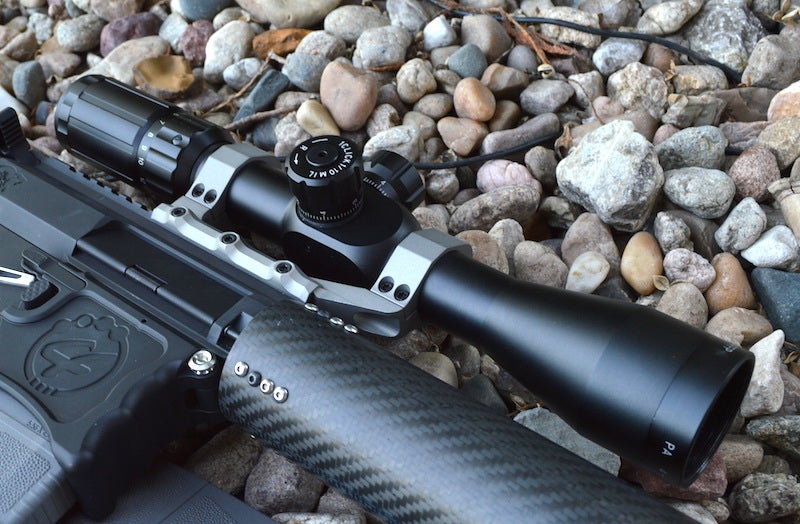 About Primary Arms
Primary Arms is a firearms parts and products retailer founded on offering high quality firearms products at a competitive price. What makes Primary Arms unique is that they started offering their own line of optics and red dot sights, which are now widely regarded as "best buys" in the industry.
Generally, Primary Arms optics are affordable equivalents of well-known, brand name optics. Their $90 Micro Dot design and mounting holes match up to the $400 Aimpoint Micro, so you can mount it to Aimpoint Micro pattern mounts. Their $90 Reflex recoil proof sight compares very closely to $300+ reflex sights from Burris, Vortex, and others, which makes it an attractive option for both handguns and rifles.
There is a difference in quality between the high-dollar optics and what Primary Arms is offering, but the quality of their stuff will really surprise you. It is impressive that Primary Arms' optics quality is not 1/4 or 1/3 of the quality, as the price would seem to indicate.
Fit, Finish, Feel, Features, and Functions
The fit is actually pretty good, with quality on par with the Lucid, Leatherwood, and other similar quality optics. The scope was solid and the finish was consistent throughout, with a good feel and heft to the optic. At 24 ounces, this scope is not light and feels substantial.
This scope features a side-mounted parallax adjustment from 10 yards to infinity, which makes this an ideal scope for guns ranging from 22 LR all the way to your 308 sniper rifle. Most FFP optics don't have parallax adjustment for such close ranges.
The 1/10 mil click adjustment turrets provide a tactile and audible click and can be easily re-zeroed. The total 35 mil of windage and elevation for each turret adjustment is not huge, but it's good enough for the applications most people will use this scope for.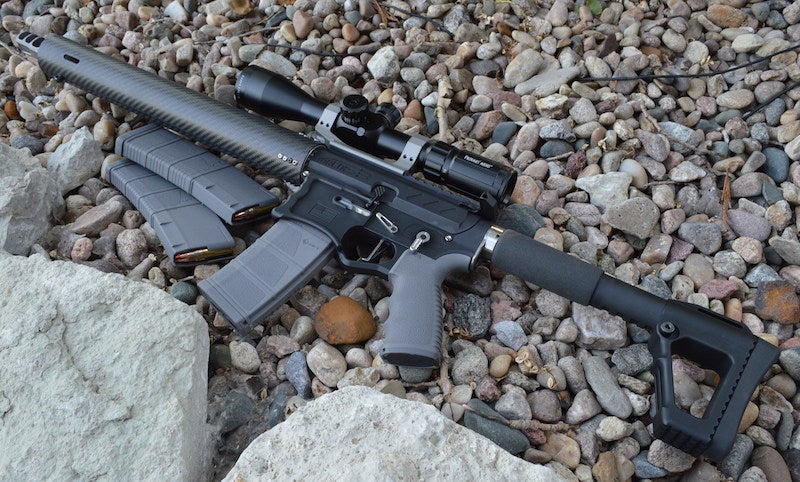 The scope is shockproof, waterproof, and nitrogen purged with a 30mm scope tube to maximize light transmission. If you have any problems, Primary Arms covers this optic with a three year warranty.
What stunned me was that this scope was more clear at mid-range 400-yard distances than my personally well regarded Lucid Crossover. I ended up sitting out on the deck for a good hour attempting to figure out if my Lucid was out of focus, but the final conclusion was that the Primary Arms scope was just more clear.
To be fair, the PA 4x-14x was more clear than a lot of my optics at that distance. When I broke out the higher-tier Burris XTR II, Vortex Viper PST, Nikon Monarch Gold, and Bushnell Elite Tactical scopes for comparison, these did have better clarity–as they should for the price difference. It was still impressive how great the PA's clarity was compared to these higher end optics.
Final Thoughts
Overall, I was positively impressed with the Primary Arms 4x-14x 44mm FFP scope. At $230 it is a deal, and considering that it's also a high-clarity 30mm-tubed FFP optic, I have to move it to a best buy status. I plan on picking up a few more for other builds as well. This is a very competitive price range for optics, and Primary Arms has done a great job delivering one hell of an optic for the price.
Manufacturer Specs
Primary Arms 4-14X44 Mil Mil FFP Scope
Model: PA4-14XFFP
Magnification: 4-14X44
Reticle: Mil-Dot (USMC)
Focus/Parallax Adjustment 10-yards to Inifinity
First focal plane
Matte anodized black finish
Exit Pupil: 11.2 mm to 3.3 mm
Eye Relief: 80 mm to 82 mm
Field of View: 27.2 to 7.85 feet at 100 yards
Click Value: .1 MIL
Total Adjustment Value: Windage: 35 MIL
Total Adjustment Value: Elevation: 35 MIL
Multicoated to prevent glare
Shockproof rating: 1000g, 20 times
Waterproof: 11°C, 0.25 m, 3 min/ 52°F, 10", 3 min
Nitrogen purged
Main material: Aluminum
Tube size: 30mm
Length: 330 mm/13 in.
Weight: 690 g/24 oz.
Three year warranty
MSRP $229