Review: Sig Sauer Model 516 Gen 2 Piston-Driven AR
Pat Cascio 05.24.16

I recently did an article for AllOutdoor.com on the Sig Sauer Model 516 piston-driven AR-style rifle, and it was a great little gun. Later on, Sig came out with new version of the 516, which became known as Gen 2. This is my review of the SIG Model 516 Gen 2 Patrol.
When I first heard about the Gen 2 model, I looked at it on the Sig website and couldn't tell much difference from the original 516 other than some of the furniture being different. I wondered whether Sig had just made some cosmetic changes to the gun. I later learned that the answer to that is a resounding "No."
It took almost four months for me to get my 516 Gen 2 sample. I was told they weren't in production during that time. When I did receive it, I noted that the quad-rail handguard was the same as that found on the Gen 1 model, as was the MagPul MOE 6-position telescoping butt stock.
The pistol grip was different. The grip on the Gen 2 516 is Sig's proprietary design, and the jury is still out on this one. While I like it better than standard A2 pistol grips found on many AR-15 style rifles, I'm not sure if I prefer it over some other designs. It's not a "bad" design, I just believe it will take a while for it to adjust to my muscle memory in the hand.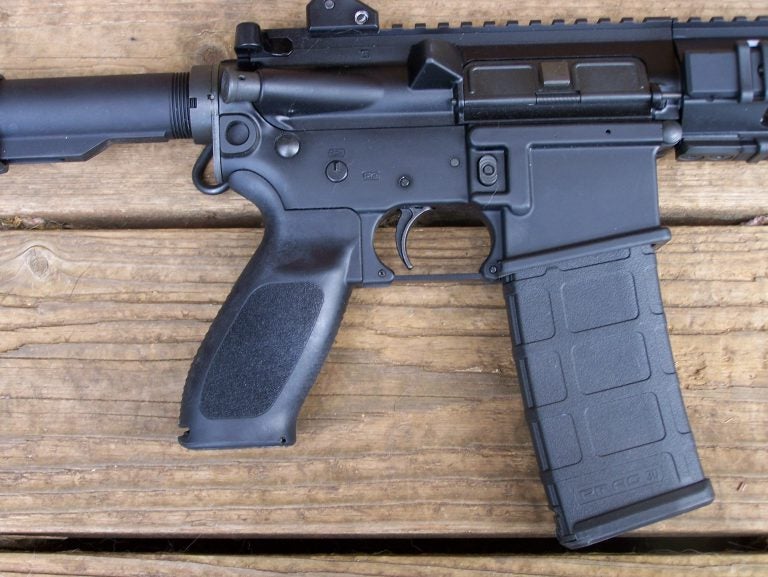 A quick rundown on the Sig 516 Gen 2 model is in order:
Piston-driven operating system instead of gas system found on most ARs
16″ barrel, 1:7 twist
Mil-spec trigger pull–a bit heavy, but it works
Weighs 7.3 pounds empty
Includes one MagPul 30-round PMag magazine (the best, in my humble opinion)
Nitride-coated forged aluminum upper and lower
Includes nice flip-up front and rear sights
Quad rail forend with "ladder-style" covers
Ambi magazine release
5.56mm / 223 Rem
Notable Features
Inside the chamber of the 516 is a spring-loaded tensioning pin, which keeps pressure on the extractor when the bolt is closed. There's a similar pin in the lower receiver, which uses spring tension to prevent rattling between the upper and lower receivers. I like it.
The bolt carrier is worth mentioning because its tail end is shaped to prevent carrier tilt when the bolt recoils back into the buffer tube. Some piston-driven ARs suffer from excessive wear in the buffer tube from the bolt carrier tilting. Sig worked it out, so there is no carrier tilt on their piston ARs.
In the front and rear of the quad rails on either the 9 o'clock or 6 o'clock positions, you will find two holes, and in the lower receiver towards the rear, you will also find a hole on either side of the lower. These holes are for attaching the sling, which is included and comes with quick-detach hardware.
Sig included a really nice sling with the Gen 2 model. Thank you, Sig. You can attach it as either a two-point or a single-point sling, and the hardware comes already on the sling. With three attachment points, you can put the sling where it works best for you. Nice!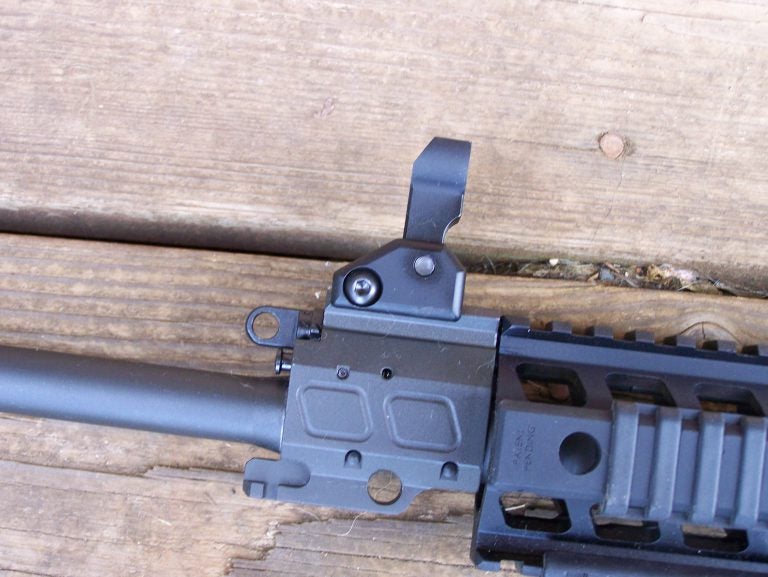 Okay, so what's the big deal with calling this 516 a Gen 2 model? Glad you asked.
The piston-driven operating system in the Gen 2 is completely new and improved. Sig changed the gas block, piston, and barrel to be more like the Sig 716 system. Some of the benefits include changing from a threaded-in valve to a quick-detachable valve and positive detent gas valve positions that vent the gas forward instead of downward.
While there was nothing "wrong" with the old 516 gas system, this one is much better in my humble opinion. It is quicker to change from one gas position to another simply by turning the gas valve by hand. I also like the fact that you don't have to thread this piston in. When you want to remove the gas valve, you simply depress a small button and turn the gas valve counterclockwise, and the piston and valve come out for easy cleaning.
During my testing, I left the gas valve on the #1 position and never changed it. I never had any functioning problems, and all brass was thrown into a nice little pile. The nice thing with an adjustable gas piston system is that if you have weak ammo or ammo that is too hot, or if the gun gets dirty, you can simply adjust the gas system so the gun will run better under those conditions.
I'm also told that Sig changed the barrel from the original, but in what way, I have no idea. My Gen 1 model shot just great, as does this Gen 2. However, I'm sure Sig changed something in the barrel design.
Thus far, I have run slightly more than 400 rounds of various 223 Remington ammo through this gun without cleaning it, and I've had zero problems.
I had this ammo on hand to test:
I loaded up four 30-round magazines with the Winchester ammo and fired them as fast as I could. There were zero problems. I immediately broke the gun down and took out the bolt carrier group, and it was cool to the touch and pretty clean. There was a little bit of soot, but that was it. Try that with any impingement system AR, and you will burn your hand.
So, there are advantages to a piston-driven AR system. It keeps the gun much cleaner, and it keeps hot gas from being vented into the bolt carrier group and lower receiver. A cleaner, cooler gun will run better than a hot dirty gun will, and that's a fact.
For my accuracy testing, I did my shooting at 100 yards with a cheap Bushnell 3x-9x 40mm scope. The Winchester white box stuff was giving me 3-inch groups if I held tight. I honestly expected better. The Black Hills 55 grain SP load gave me groups right around 2.5 inches.
The Black Hills 68 grain Heavy Match HP load gave me groups right at an inch and a half. This is always a good-shooting load for me, and it is quite often the most accurate load. However, the winner this time around was the Buffalo Bore Sniper 77 grain JHP load. It gave me a group slightly smaller than an inch and a quarter if I held tight and did my share.
I believe the 1:7 barrel twist likes the heavier bullets. I wish I could say all my groups with the Buffalo Bore Sniper load were always tight, but sad to say, I tired over several shooting sessions and I was pulling some of my shoots. It was not the fault of the ammo or the gun; it was me!
Conclusion
I was determined that I wouldn't buy this sample after my testing for this article. Full retail at that time was $1,719.00. That's a bit steep.
But we are talking about Sig Sauer quality, and we are talking about a piston-driven AR, not some cheap no-name direct impingement AR. With this Sig Sauer 516 Gen 2 piston-driven rifle, you get a lot of gun for the money so I knew that at some point I was going to have to find the funds to pay Sig for my sample, because it was not going back to them. I'm going to add some kind of red dot sight and it will be ready to go, no matter what comes my way.