Review: Paracord Survival Grenade Pocket Survival Kit
Pat Cascio 06.06.16

Over the years, I've seen a good number of pocket survival kits advertised, and most are just junk. They don't have the right things to keep you alive for a day, and the components of the kits aren't top-quality, either.
I was intrigued, then, when I first heard of the Paracord Survival Grenade. No, it's not a grenade, it's simply shaped a little like one. Turns out, this is one of the best pocket-type survival kits I've seen in quite a while, and you can hang it from your backpack or on your belt with the included carabiner.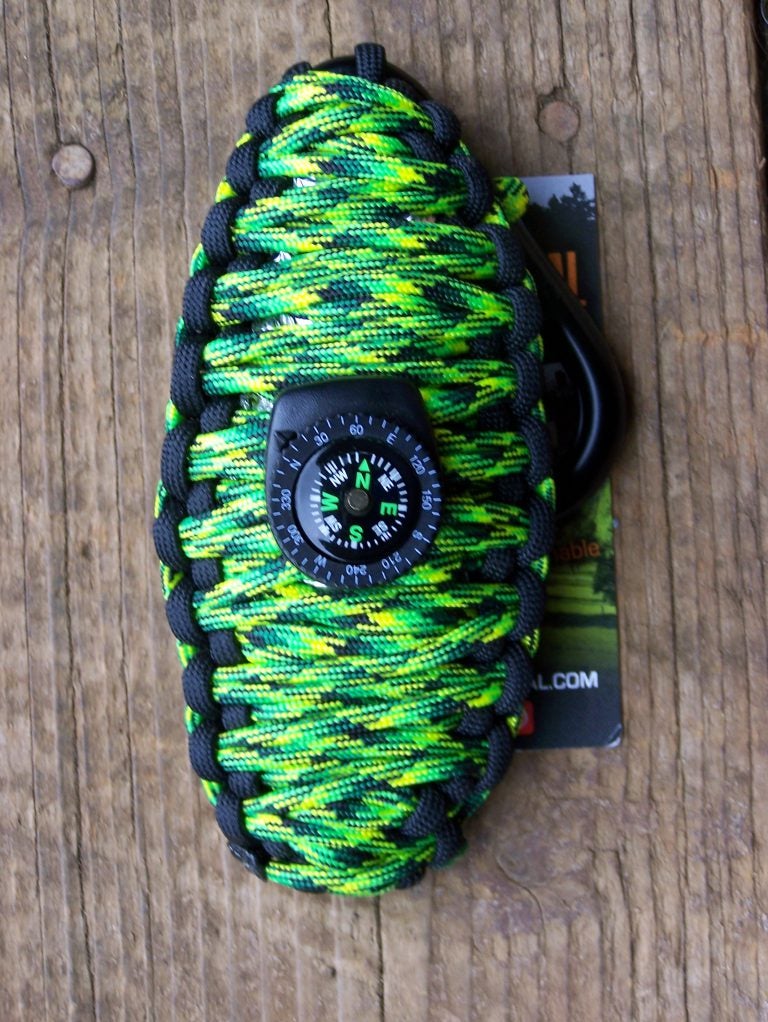 This little survival kit contains many items that can save your bacon if you happen to get lost out in the boonies. The stuff is wrapped up in mil-spec 550 paracord, with a non-load bearing carabiner attached to the top. I was amazed at all the gear in this little product.
Here is a list of the products in the kit, according to this vendor's page:
1 Metal Carabiner – supports up to 500 pounds (not for climbing or rappelling)
18+ Feet of 550-pound 7-strand commercial paracord
1 Large sterilized and pre-packaged #22 surgical blade
1 Clip-on liquid filled compass with rotating bezel
6 Strike anywhere matches with striker pad
1 Packet of water purification powder (purifies 1 liter)
1 Coffee filter (use as fire starter, filtering water, etc.)
7″x12″ sheet of aluminum foil
2"x12"strip of duct tape (cut into strips for more length)
25 feet of 30-pound test braided camo fishing line
Two small and two large fish hooks
2 Split-shot weights
2 Fishing swivels
1 Alcohol prep pad
1 Packet of triple antibiotic ointment
1 Small, 1 Medium, and 2 Large Band-Aids
1 Cotton ball
1 Sewing needle
2 Sewing buttons
2 Small safety pins
1 Bobby pin
12" of orange trail marking tape
12"of reflective trail marking tape
4 Feet of 22 gauge brass snare wire
2 Small plastic zip ties
1 P-38 military can opener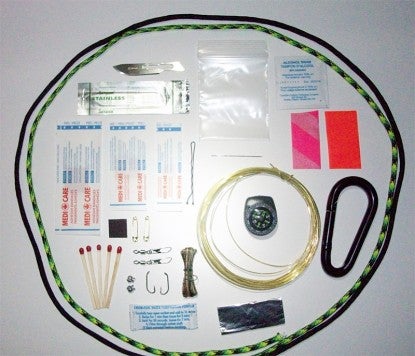 One of the most important items is the paracord itself, because it can be used to make a shelter, and if you have to spend a night or two in the wilderness, a shelter is a must, as is fire and water.
Speaking of fire, the kit comes with matches. I'd like to see this replaced with a small flint and steel, because that would last much longer and start numerous fires, unlike a few matches. Just my take on it.
I like the little clip-on button compass that is attached to the outside of the survival kit–and it even works, unlike so many other little compasses I've tried.
The water purification powder will purify a liter of water. I'd like to see another one or two packets included, because water is so important in survival situations.
The coffee filter is great for filtering murky water, or you can tear it apart to use as tinder to start a fire.
A small sheet of aluminum foil can be used for cooking over an fire or as a signal mirror. Great idea.
I'd like to see at least 50 feet of fishing line, rather than the 25 feet included. It's a bit hard to reach some fishing spots with only 25 feet of line.
Many survival kits don't include bandages or other first aid supplies, and I'm glad to see that this one does. Even small wounds should be treated and covered to guard against infection out in the wilderness.
One thing most survival kits don't include is a snare wire, and this little device can help you gather small game for food–if you know what you're doing. You really should buy several snare wires and practice setting them up, before you might need to use them in a real-life survival situation.
Do yourself a favor: DO NOT take apart the Paracord Survival Grenade until you actually need it, because, you will never be able to get it all put back together the way it came. Trust me, I know!
I was pretty impressed with all the products laced inside of the Paracord Survival Grenade, and I think it's better-thought-out than many other pocket survival kits. Plus it comes in different colors (see the bottom of the page after following the link above).