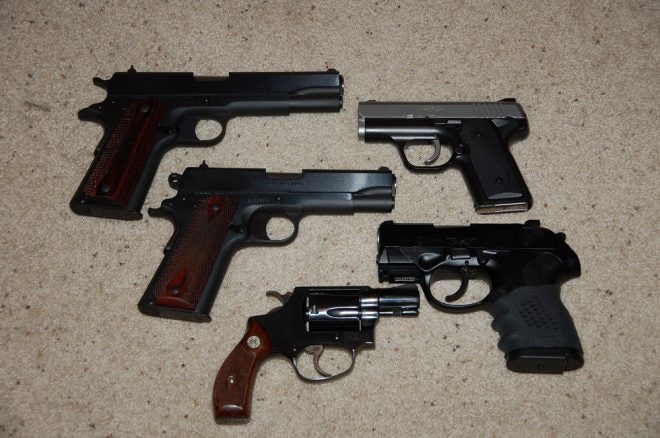 Today's world is a scary environment. For those of us born before about 1960, particularly those raised in small farm, rural communities, life was safe. We never locked our doors at home. We left vehicles unlocked as just a matter of course.
Nobody messed with our stuff. If I rode my bike to school a mile away from the house, when I came out at the end of the day the bike was still there. Same with stuff in a school locker in high school. We never locked them. Of course, back then we did not have backpacks, iPods or iPads, laptop computers, pocket calculators, or any of that common stuff today that gets stolen every few seconds now.
If we hunted, we just crossed the fence in the backyard with a pellet rifle or shotgun and went hunting. Permission was openly granted without having to ask. Try that today. For a while into high school we could keep a gun in the back seat or on a rack in the back window of the pickup truck. Try that today.
In those days, we all shotguns and had guns or family access to them for the most part. It was just the way we were brought up. Not so sure about youth in big cities or large communities. We just assumed everybody grew up with guns. Not so as I found out later going to college.
Now much later in life it has occurred to me that even though most prepper types are big on guns, self-defense, and all that it takes to get ready for a SHTF scenario, not everybody is "into" guns or shooting. Many preppers are scared of guns and don't know how to get started with learning to handle them safely and shoot them effectively.
Most preppers that pursue the survivalist course of study realize the apparent need to defend themselves and everything else that involves the use of firearms. They now begin to realize the need to "gun up." It is just part of the reality of the world we face today.
To get started, visit a full service gun store with knowledgeable personnel. Seek advice on a training course, shooting range, or personal protection course. Choose firearms carefully, then pursue hands on training to build your confidence and skill set. Practice often and continue to study.