In a previous article, I tested the Remington SPS Tactical 308 rifle, which has inappropriately been nicknamed by many as the poor man's sniper rifle. It is a good-shooting 308 bolt action, and it's durable to boot. It came equipped with Hogue rubber stock and a 1:10 twist 20" threaded barrel.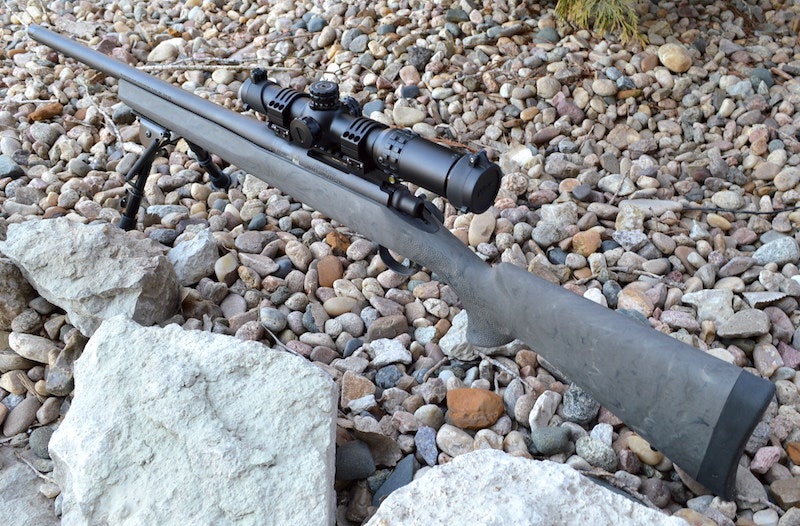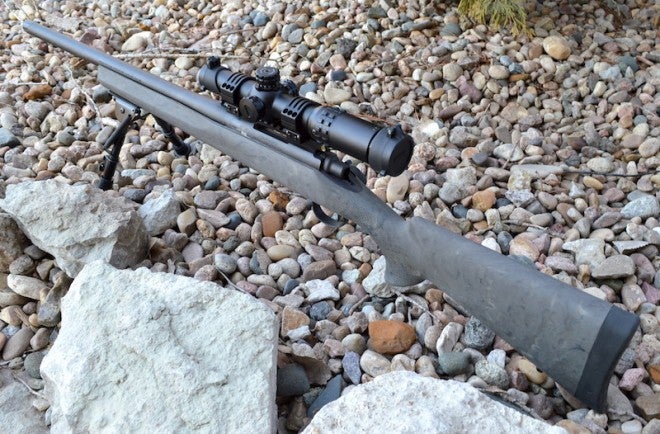 When I saw that Remington offered the AAC-SD model with similar specs, I jumped on ordering one. I was interested to see how the models varied. What was this new flavor Remington was offering under the AAC brand. I mean, it should be similar to the SPS, right?  Actually not just similar, but absolutely freaking identical in every aspect with the exception of the model name on the side of the receiver and a different catalog model number. Even the color of the Hogue stock was the same.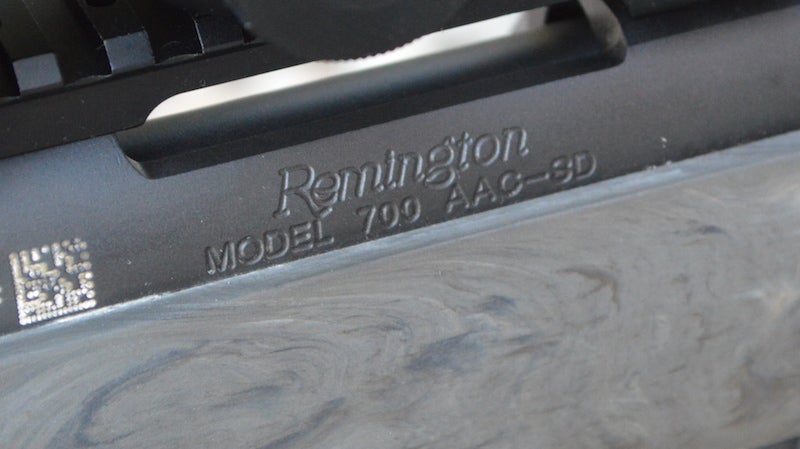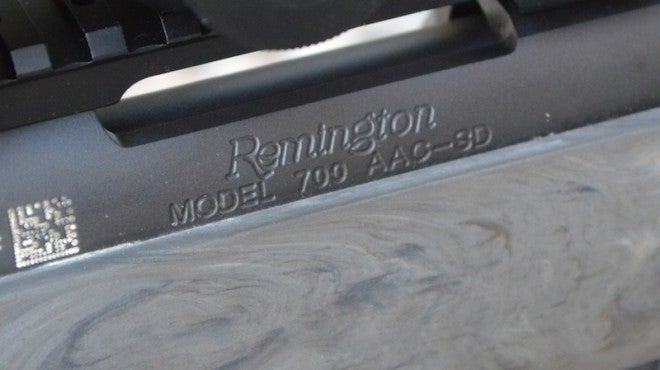 To Remington, I suppose it just made sense to relabel the threaded-barrel SPS Tactical model under the AAC moniker. After all, Remington didn't buy one of the top suppressor companies to not sell suppressors and start producing suppressor-ready firearms. This was Remington's first obvious marketing step in that direction.
I had thought there would be a twist rate change, some tweaks, something different that would have made for a really interesting side-by-side comparison. But, nope.
When shot side-by-side, the SPS Tactical and AAC-SD even delivered almost-identical groups with each type of ammo, so let's just get on with more about the SPS line. It should come as no surprise that much of my review will carry over points from my other article.
Fit, Finish, Feel, Features, and Functions
The Remington 700 SPS AAC-SD forgoes all the nice little surface treatments in favor of a fairly pedestrian black oxide finish. The finish, while plain, is extremely durable. Equally unimpressive is the Hogue style rubber stock. So on the outside, the Remington 700 SPS AAC-SD is about as understated as it comes, compared to most Remington 700s, but internally, the SPS Tactical has all the same specs as more expensive 700s.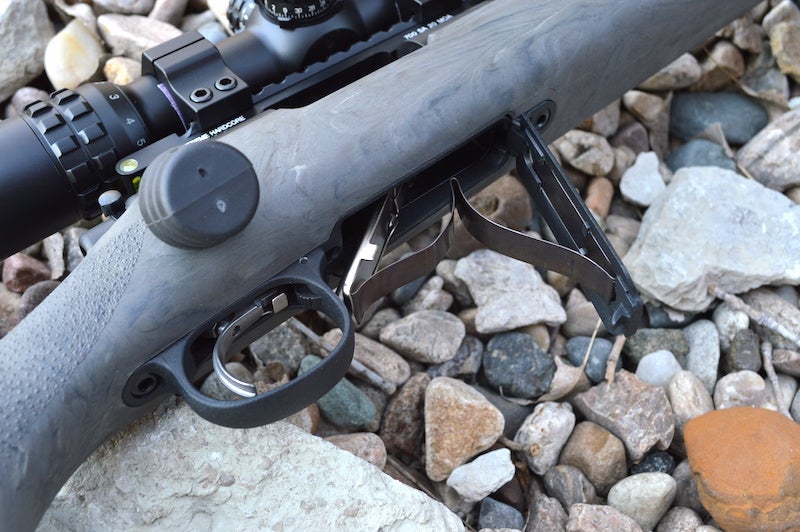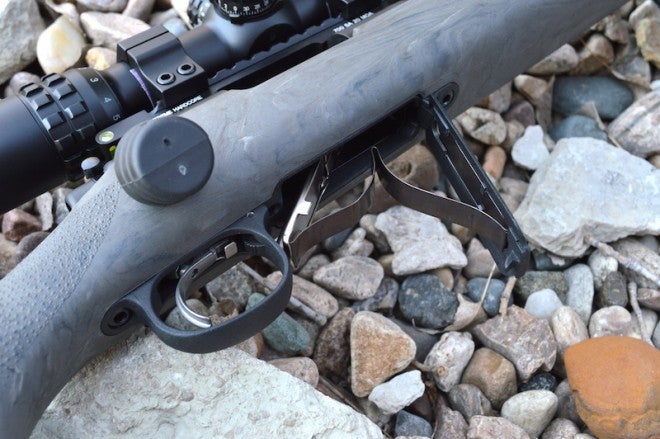 Chances are high that my Remington 700 SPS AAC-SD will end up coated with AlumaHyde II or some other coating, so I am not worried about surface finishes.
The Hogue stock features dual-point pillar bedding to increase accuracy and a SuperCell recoil pad. The stock may not be fancy, but it is weather resistant, durable, and will hold zero regardless of weather. For the price and intent, there is no better stock on the market.
The heavy-profile hammer-forged 308 barrel has all the accuracy of Remington's shiny sporting rifles. In fact, some say that the SPS Tactical is one of Remington's most accurate 700s.
The Remington 700 SPS and AAC-SD have several exclusive features that I like, namely the 20" heavy barrel, the threaded barrel, and the X-Mark Pro trigger.
A heavy barrel typically delivers better accuracy than thin sporting barrel profiles found on most 700 models, and I wanted the threaded barrel because I wanted to attach a brake or suppressor later on.
I think the X-Mark Pro trigger is one of the better factory single-stage bolt action rifle triggers on the market.
The Build
I wanted to equip the rifle with quality components that I would not have to swap around too much as I upgraded the rifle later on. This build used a Harris bipod and–initially–the same Lucid Crosso Over 4-16x44mm scope that I used on my earlier review of the SPS Tactical.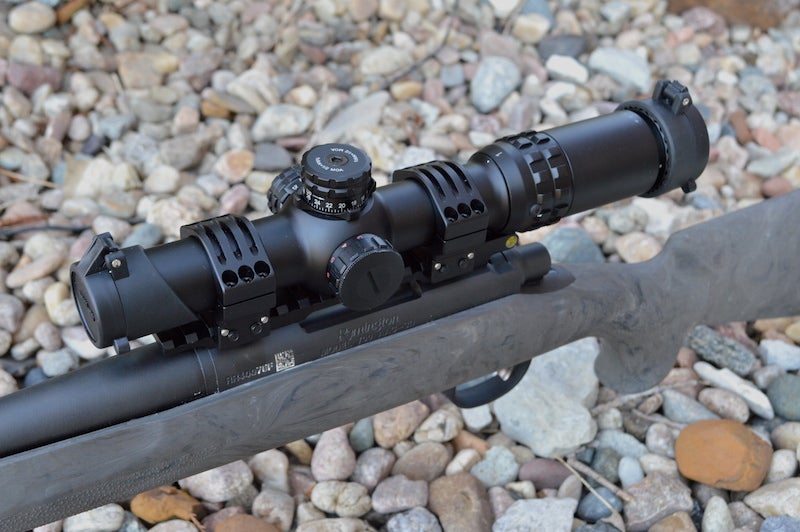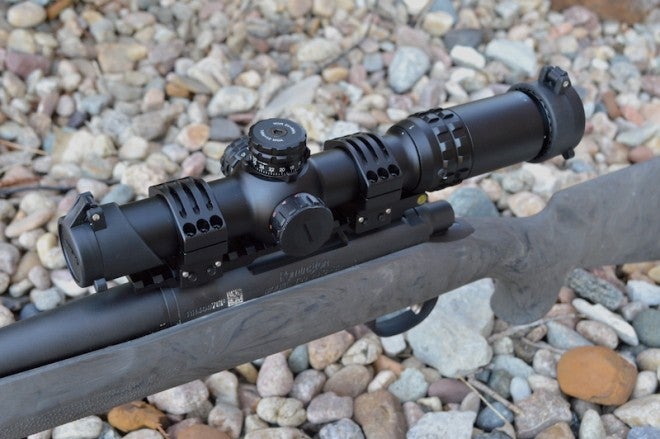 After I determined that this rifle was just as accurate as the previous one, I decided to try more of a DMR (Designated Marksman Rifle) build. I swapped the optics over to a Millet DMS-2 1x-4x scope, Xtreme Hardcore Gear picatinny base, and 30mm rings. The result is that this setup is really really fast to shoot at multiple targets at varying distances.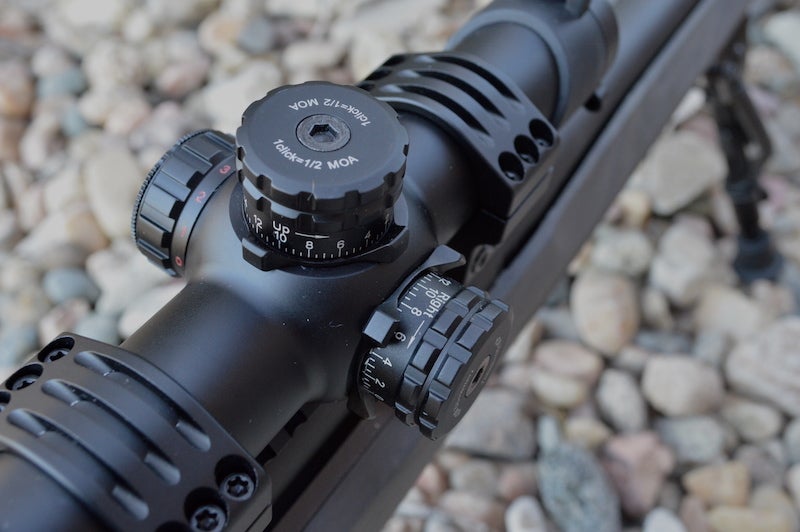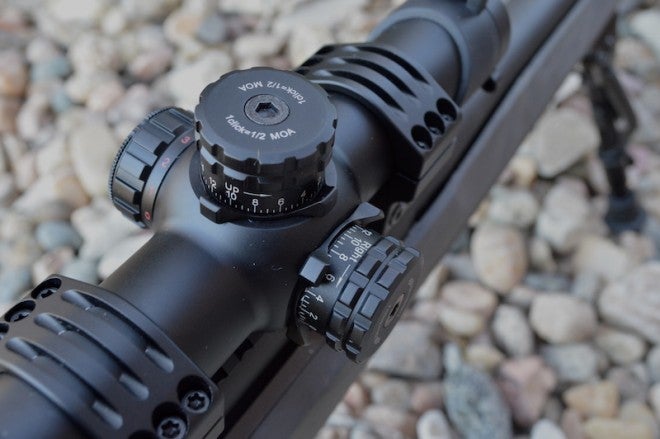 One feature this model lacks is a threaded bolt handle. One of the first upgrades "everyone" does is to have the bolt handle milled and threaded to accommodate an oversized bolt handle to make it easier to cycle the bolt quickly.
Since this model doesn't have a threaded bolt handle, I found a simple product called the Bolt Lift ($28 from KRG). It's a bolt-on extended and enlarged bolt hand knob that just clamps over your existing bolt's grasping knob.
After the KRG Bolt Lift is installed, you have a hard time telling that you didn't spend the $50-$100 for a custom threaded bolt handle.
Accuracy
Without jacking around with a variety of ammo, I decided to go right for the 168-grain rounds with proven accuracy in my other Remington 700 SPS. I loaded up Hornady 168-grain TAP, Superformance, Z-Max, and A-Max rounds, as well as some Federal Gold Match.
Using the same Lucid Cross Over 4-16x44mm Scope for accuracy testing as on the initial build, the results were identical to the previously-reviewed Remington 700 SPS model. My best group with the AAC-SD was a 5-shot 100-yard .56″ group, with every load easily shooting sub-1″ 100-yard groups. In a different day-to-day comparison, I would call the .06" group difference between the two rifles essentially the same.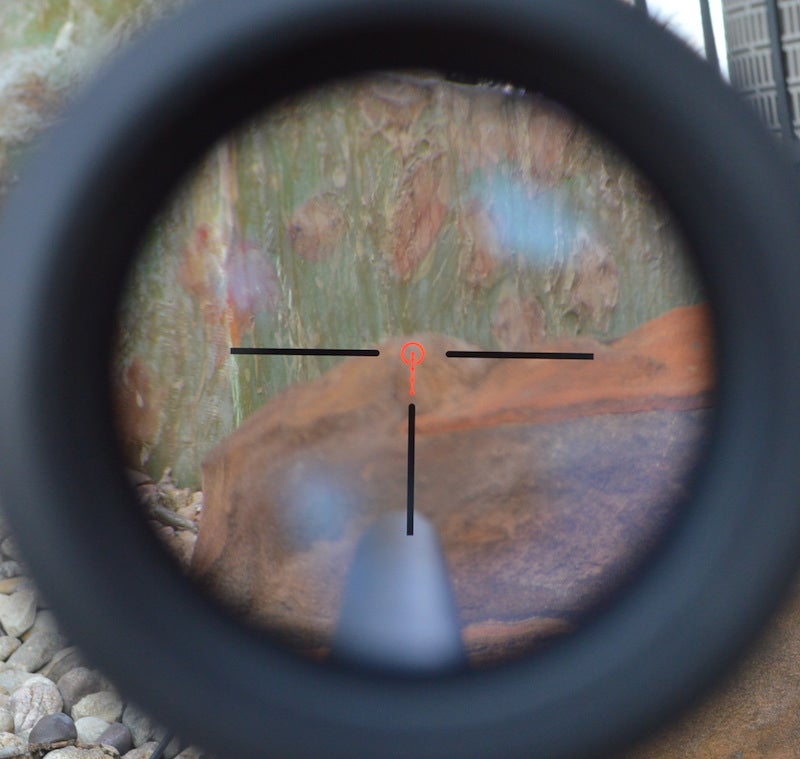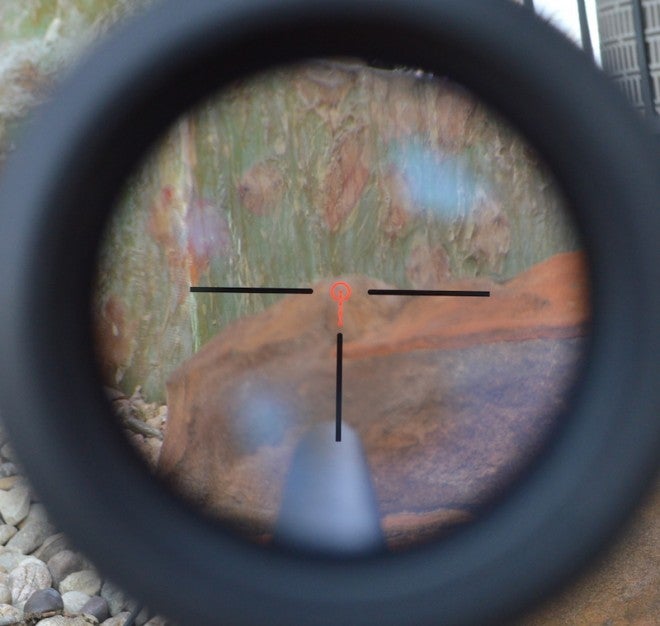 With the Millet DMS-2 1-4x scope installed, my groups did open up, though not as much as I'd expected. I was still able to hold right at 1" 100-yard groups with the same 168-grain ammo that gave me my best groups. What was fun, though, was how fast I could transition and hit the 100, 200, 300, and 500 yard steels on 1x or 2x magnification, once I'd figured out the BDC holds at those settings.
The reality is that 90%+ of the shots most shooters will use any rifle for will be under 100 yards and likely 98% of the shots will be under 200 yards, so this is a great little setup for the vast majority of shooters. Unless you have specific plans to engage at longer distances, need high magnification to examine game animals to determine legality or trophy quality, or have high-precision requirements, a lower power rifle setup is likely going to fill any need a typical shooter would have.
Final Thoughts
The Remington 700 SPS Tactical 308 is a fine rifle that spits out amazing groups even with milspec ammo. With top end target and match ammo, the AAC-SD is a good-shooting gun that some folks have reported as good as ¼" 100-yards groups with out of the box. My best group approached those groups, but realistically it might take a great aftermarket Timney trigger to squeeze that kind of performance out of it.
For the upgrade-bound buyer, the Remington 700 SPS Tactical represents a simple path for just upgrading the chassis/stock and trigger. Drop the rifle into a new free-floating chassis with a new trigger and you'll have a pretty nice long range rig. And for $650, the AAC-SD Tactical 308 is a great place to start.
Manufacturer Specs
20″ heavy barrel
X-Mark Pro Adjustable Trigger system
Hogue overmolded stock
Pillar bedded stock for accuracy
Durable satin black oxide metal finish
Hinged floorplate magazine
Caliber 308 Win
Average Weight 7.5lbs
Barrel 20″ with Threaded Muzzle
Overall Length 39 5/8″
Barrel Twist 10″
Model  AAC-SD
Build Cost
Remington 700 AAC-SD Tactical: $650
KRG Bolt Lift: $28
Millet 1-x DMS-2: $338
Xtreme Hardcore Gear Ranger Rings – 30mm: $149
Xtreme Hardcore Gear Tru Level Base – Leveling Base: $99
Total Build Price: $1264