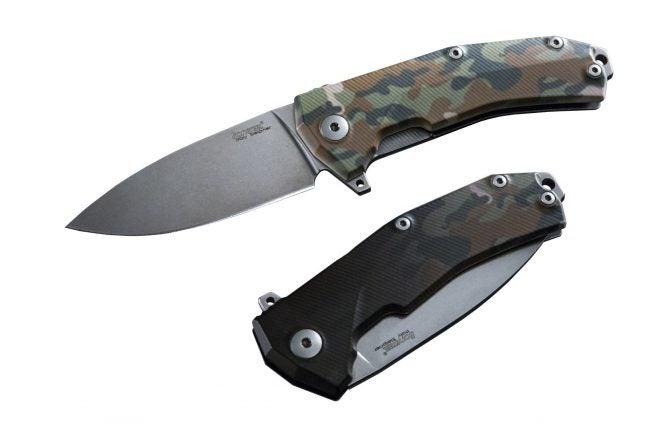 Of course I am going to get to my evaluations of the knives shown at Blade Show, but before I do, I want to take aim at something that I think has long since escaped critical analysis: the Blade Show Awards. In particular I want to tackle the big award: Overall Knife of the Year.
Blade Show Awards are voted on by folks exhibiting at Blade–production company executives, buyers, dealers (see here). This is, allegedly, an expert voting pool (like the allegedly expert voting pool for the Oscars, another farce). This year's selection is an indication that these voters have very different tastes from knife consumers and knife enthusiasts (note these two groups are not the same). But either way, these two groups don't really seem to matter.
Here are all of the winners of the Overall Knife of the Year Award for production knives (see here for a full write up of winners since 2000; here is one from 1983 until 2011):
1983: The Fightin' Rooster
1984: NONE
1985: Timberline Survival Hunter
1986: Gerber Clip Lock
1987: Fightin' Rooster 7-blade Congress Whittler
1988: Buck Titanium
1989: SOG Tomcat
1990: Bluegrass Winchester W15 1927
1991: Spyderco Endura
1992: Timberline Timberlite
1993: Gerber Multi-plier
1994: Spyderco Snap-It
1995: Buck Crosslock
1996: Spyderco Silhouette
1997: Buck BuckTool
1998: Boker Super Liner
1999: Outdoor Edge Kodi-Pak
2000: William Henry S07
2001: Master of Defense CQD Mark V ATAC
2002: Kershaw Rainbow Leek
2003: William Henry Westcliff
2004: CRKT Snap Lock
2005: Kershaw Offset
2006: William Henry GenTac CTD
2007: Kershaw Tyrade
2008: Chris Reeve Umnaamzan
2009: Lonewolf Defender
2010 Chris Reeve Ti Lock
2011: ZT 0777
2012: ZT 0888
2013: ZT 0454
2014: CRKT Hi Jinx (made by Lionsteel)
2015: Lionsteel TRE
2016: Lionsteel KUR
Going through that list isn't like perusing a cutlery Hall of Fame. It's like taking the Billboard Top 20 from a random week in 1983. There are two or three songs you remember, one or two that are great, and a bunch of stuff so terrible you forgot it.
As far as a record of predicting success is concerned, the industry insiders have done a terrible job. A lot of those companies–Timberline, Fightin' Rooster, Lonewolf–are out of business, some surviving as brands owned by other companies. Some of those companies have been on a perilous decline for a while–Gerber and SOG. And then there are few good companies with headscratching selections. Spyderco Snap It anyone? Spyderco Silhouette? There is only one truly great knife on that list, the Endura. And I wouldn't object to the Leek, except that the selection was not for the original Leek but its bespangled progeny, the Rainbow Leek.
What is clear, aside from the fact that the voters have horrible taste (see: 2001 winner from the Klingon Empire…errrr…Master of Defense), is the fact that they are voting for gee-whiz tech and not truly great design. The color changing KUR handle, the Rainbow Leek, and Ti Lock are all superficial displays of technical prowess. Things did get better when the teens rolled around. ZT had a string of hits based on true technical chops and not Vegas colorations. But as a whole these are some ugly, clunky, junky knives.  And many were sales flops. Would you rather back, from a business perspective, the Silhouette or the Delica? For being a group of insiders, these people are clueless.
It might be that these awards are like those "Best of…" awards in regional magazines. They are really paid advertisements. It could be that these awards are a result of collusion where the big companies basically agree to play hot potato with awards. Or it could be that the voters aren't very good a predicting what is good, what is well-designed, and what will sell. That is a pretty big indictment of the Blade Show award voters seeing as doing those three things are crucial to their jobs.
This year's selection, the Lionsteel KUR, is the latest in a long line of bad, gimmicky choices. In case you don't know, the KUR is a larger version of last year's winner (itself a rather gimmicky knife), the Lionsteel TRE. But the KUR lacks the deployment flexibility of the TRE and instead runs–ready yourself–a color change handle. Grab the KUR and it will change colors in response to your hand's heat. Reminds me of the color change Transformer logos from the 1980s. Also, if anyone can tell me how this makes a difference in terms of the actual job of cutting (you know, the reason we buy knives), I'd be grateful.
And it's not like this is a year of stinkers. In particular the ZT 0254 looked amazing, as did the commemorative Contego from Benchmade with its M390/Carbon Fiber laminated blade.
The ZT0254:
The Blade Show Contego:
Aside from these gems that debuted at the show we had an avalanche of great stuff in the past year: the Steelcraft Begg knives, any of the Forest series from American Knife Company, the Cold Steel 4Max. Any of those would be a good choice. But as this is essentially a popularity contest. Cold Steel will never win and small brands have very little chance. But the omission of the Steelcraft knives is stunning. Heck, the DPx HEST Urban should have won something. Its market breaking approach by being the first knife on Kickstarter is definitely worth something. In the face of all this innovation, both engineering as well as marketing, we get a knife that has a color change handle. Ugh.
I like Lionsteel knives. I have reviewed a few and they do well. But this is not a knife worthy of an award in a year with so many new and innovative blades out there. The industry is changing. Companies like Millett Knives and high end Chinese brands are making productions that rival customs. But no one that vote seems to see these trends. When Dmitri Sinkevich can release a knife from a huge US maker that is more innovative than the past ten winners combined and get not so much as a sniff of attention, you know there is a problem. There are five knives that are state of the art that didn't get an award. There are ten knives released just this year that are more interesting, more innovative, and will have a larger market impact than the KUR. What were the voters thinking?
It's time to either redo how these awards are given or for the knife community to recognize them for what they are: a popularity contest voted on by a group of out of touch people at a convention run by a magazine that sells ads first and produces good content second (please Blade, no more knife comparison articles where you merely talk to a company's PR person. Ugh). The Blade Show awards are a joke. Don't believe me? Go review that list again. History is against the Blade Show awards. They aren't picking winners. They are embarrassing themselves.
::DROPS MIC::