With my rant out of the way, I thought before the month passed I should lay out some of the new knives that were shown off at Blade Show 2016. Bear in mind two things: Blade Show is no longer the industry's premiere show. Instead SHOT Show has taken over as the place to debut new production knives. I'd argue that The Gathering is probably more important in the custom scene too, but it's no where near as big a show. Either way, Blade is more a social gathering than anything else. That said, at least one company, Spyderco, brought its A game.
Spyderco
Spyderco caught everyone's attention showing off a slew of knives that came from their mid-year catalog. A lot of them were shown off at IWA (Spyderco's premiere show, they tend to go low key at SHOT). There were also a handful of truly new blades.
One of the truly new designs was the Ed Schempp Euro Dagger.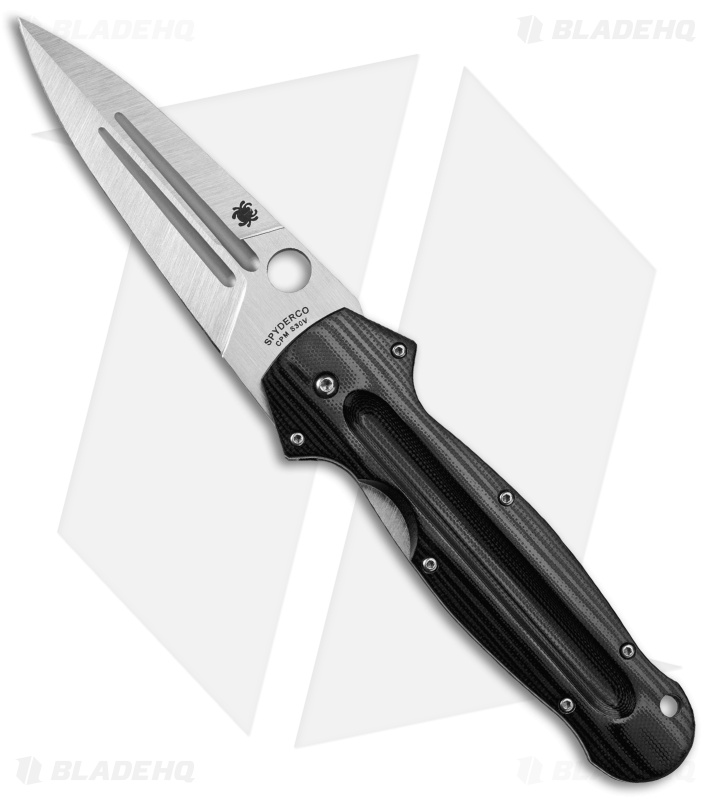 The knife looks like a fixed blade dagger with a spear point blade and hand guards on both the top and bottom of the handle. The truly innovative feature here is the asymmetric fullers. One side of the blade there are two small fullers. On the other side of the blade there is one large fuller. By alternating the size and position of the fullers, they are able to cut a lot of weight from the blade without reducing its strength by a significant amount. Aside from the structural benefits, the asymmetric fullers give the knife a truly striking look.
There is a larger brother to the Rubicon, the Spyderco Magnitude. Like the Rubicon it was designed by Peter Carey, and it is a flipper with a lot of knife specific features like an engraved pivot and some gearing on the backspacer.
The Advocate is a new collab with Gayle Bradley. It is a medium sized titanium framelock flipper that runs because it is a Gayle Bradley, M4. The handle has an orange peel look. There is a small, upswept folder, the Rhino, that is made with BD-1, runs a compression lock, and is made in Taichung Taiwan. I am normally not one to chase the upswept blades as they have thin tips, but this is a small and very unusual knife. I might have to give it a try. The Oroboros is not new, but it is so unusual looking it is probably worth mentioning again.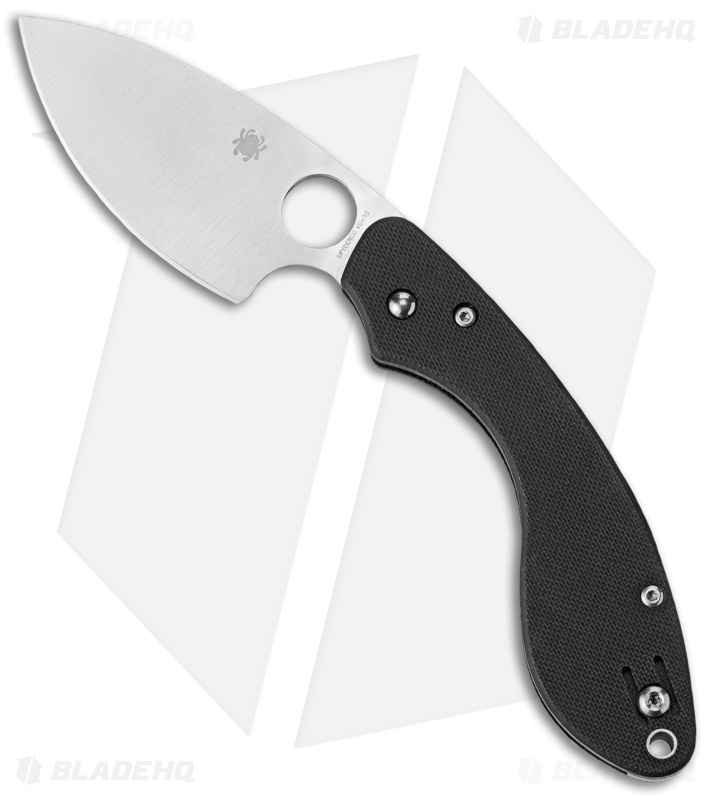 It has a very pronounced guard and thin hand. It is something like a combination between the Spyderco Lava and the Spyderco Junior, one of the more underrated Spydercos from the past five years. The Spyderco that got the online community most excited was the Spyderco Spydie Chef.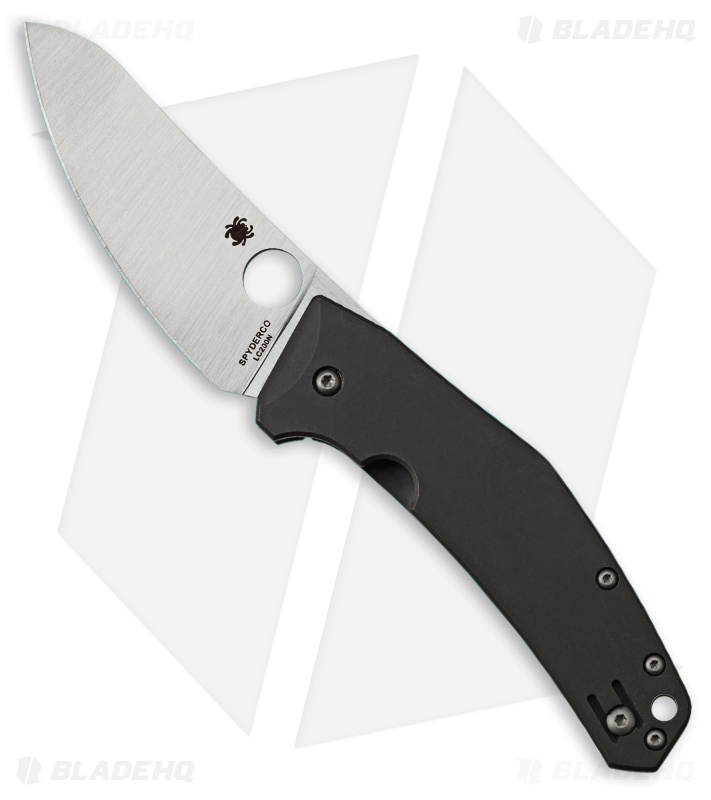 It has a very unusual blade steel LC200N (previously seen only on the Spyderco Tusk) designed to be rustproof and, unlike H1, good at holding an edge. The knife itself has an unusual, almost Santuko blade shape and is a framelock. It looks big, but promising. There is a Gayle Bradley fixed blade that looks nice, though a bit plain. I can't see why you'd opt for it over a Bark River unless the MSRP is under $150. They have a very large fixed blade, the Sustain, that is billed as doing a lot of different survival tasks. For me, I dislike the swedge as it makes batonning harder. It looks well made, but again, I don't see any reason why to opt for it over a Bark River. They also announced that they would be doing a small Jess Horn sprint run. Unfortunately, they are not making it in exotic steel. Instead it is just a VG10 knife with G10 handles. Blah.
Overall, Spyderco brought a metric ton of awesome. The Bradley flipper, in particular, looks awesome. All of his collabs have been great high performance tools and now they are pairing that approach with a style of knife–titanium framelock flipper–that the market is craving. I also like the Rhino, though it definitely falls into the "weird Spyderco" category. The Spydie Chef looks sweet too, I just don't know what I'd use it for on a regular basis.
KAI
Kershaw had nothing truly new and ZT was running light on quantity of new stuff, but what they lacked there they made up for in quality. They debuted the latest uber ZT, the ZT0427.
This is a Dmitri Sinkevich design and one of the coolest knives at the show. It has a composite blade, an integral backspacer, a floating lockbar onlay, a unique blade shape, bronze PVD titanium handles, and a detent upgrade called the Tuned Detent System. In all, this is yet another in a long line of uber ZT–the limited edition blades that collectors go crazy for and all of which quadruple in price after release. We are still waiting on last year's insane pair of the 999 and the RJ Martin pivotless pivot knife, so I imagine the 427 is well beyond 2016. The decision to switch the detent to the side opposite the lockbar eliminates the one drawback all ZTs have had over the years: fussy lockbars that make flipping hard unless you hold your knife JUST right. It's a little thing, but something a company as proficient at design as KAI could easily fix. And now they did. For my money, this, not the silly color changing KUR from Lionsteel, was the knife the show.
Benchmade
Benchmade had precious little (read: nothing) to show off that would go to retailers, but the one thing they had that was new was, frankly, the coolest thing the Butterfly has made in probably a decade. Honoring the passing of Warren Osborne, one of Benchmade's best and most frequent designers, they released the 810-1601, a very limited run of the Contego.
But these weren't just the normal Benchmade special edition where they take a knife and slather it in barely precious materials, a la the Gold Class knives. Nope, this was a Benchmade that rivals the uber ZTs (777, 888, 999, 600, 454 etc…). This Contegos barely tipped 2 ounces thanks to an insane amount of carbon fiber. The blade was steel (D2, I think) laminated in carbon fiber. The pocket clip was 3D machined carbon fiber. And of course the handle was all carbon fiber. The result of all this CF was a truly stunning blade. Accounts at Blade Show indicate that the fit and finish was off the charts as well. The only issue with the knife is that it is basically impossible to get. They made only 30 and the ones that made it to the secondary market were already going for four figures, roughly five times the original sale price.
I have said many times that Benchmade needs to revamp the Gold Class and release knives that are as interesting and complex as ZT's uber blade or as exciting as TAD's collaborations. It would be a way to spruce up the brand's image to mainstream knife buyers and it would be a way to engage the enthusiasts, many of whom have long since left the brand for more exciting and innovative companies, like KAI and some of the higher end Chinese brands. The Blade 2016 Contegos is proof that Benchmade can do radical and awesome stuff. Here is hoping they see the response and change their direction. They have world class capabilities, but an utterly boring vision of high end production knives. Now we know that is just a function of their limited market insight and not truly a lack of talent. Let me put this more bluntly: BENCHMADE THIS IS THE KIND OF KNIFE YOU NEED TO BE MAKING MORE OF IF YOU WANT ENTHUSIASTS TO CARE.
The Big Three all brought exciting stuff–Spyderco in volume, Benchmade in brand-altering design, and KAI in engineering prowess. But they had to bring good stuff. Other companies like CRKT and Kizer are all gunning for them.