Watch: Agent Pants for Non-Typical Concealed Carry
Russ Chastain 06.28.16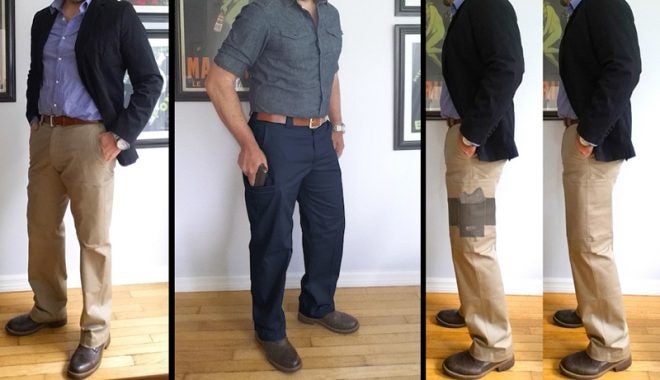 This looks pretty cool, but I'm not sure how well it will actually work in real life. These concealed-carry britches by STRYKR, being sold as "Agent Pants," allow you to carry a concealed handgun in a "tactical" thigh position–inside of the pants, but not in a typical pocket.
The STRYKR Covert Carry line is a new and innovative conceal-carry holster system that features a low profile drop-down tactical holster system covertly integrated into our rugged pants and shorts that can accommodate virtually all pistol platforms from small to large with great comfort, while providing a one-hand snag-resistant draw.

The "AGENT" Covert Carry Holster System Pants allows an operator to easily carry up to a full-sized sidearm (from a pocket pistol up to a Glock 17 or Beretta 92 size equivalent) without visual detection or imprint, that can be quickly accessed one-handed, with one-motion, and virtually snag-free–more effective than any other conceal-carry method.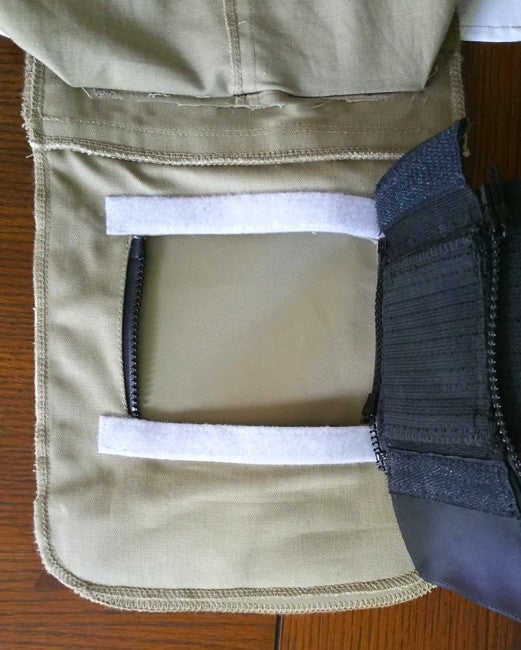 Let's look at the construction of these pants. The gun carry pocket on each side has a hole built into its inside surface. That hole has a pair of vertical zippers. On your gun carry side, you zip a "holster" panel to the pocket. That panel has an elastic area for retaining the gun against the panel, which itself is pulled against your leg by a garter-like elastic band (they call it a "brace") that goes around your thigh.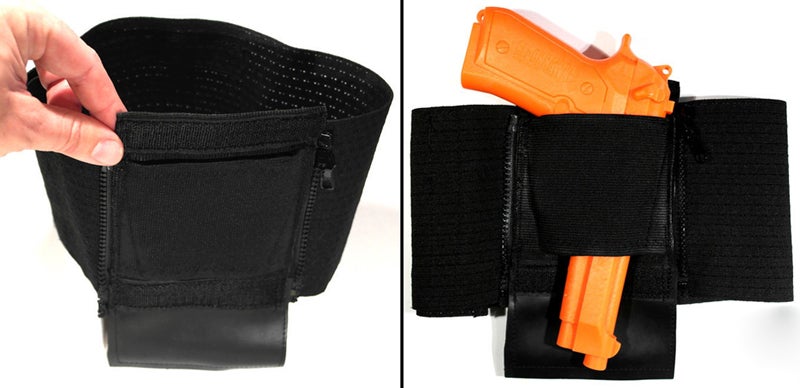 Each pair of agent pants includes another panel (sans garter) with two elastic bands for carrying one or two spare magazines, a baton, light, pepper spray, or whatever. Like the holster panel, this one zips into the hole in the pocket.


No more untucked shirts drawing attention to you as a possible concealed carrier or just making you look too casual for the situation.
The cloth on the outside of the pocket is extra thick to avoid "printing" of the gun, and the top of the pocket has a magnetic closure to prevent it from hanging open. They even say they've got a patent pending.
This is nifty, but it's easy to see that these aren't typical pants–so anyone who is watching closely will probably be able to identify you as carrying.
They're offering a 3-year warranty on these made-in-USA pants, and you even get a two-week trial period. If you don't like them, STRYKR will pay for return shipping and refund all your money. Not bad.
Like instant gratification? Bummer, because they're made to order. The web page says you should allow two to three weeks for delivery.
Shorts are also available with this system. Brace yourself for sticker shock: A pair of shorts will set you back $159 and the pants run $189. Pants are available in khaki, gray, and navy blue. The shorts are apparently only offered in khaki.
Here's a video showing some of the features of these pants. Don't bother to check your speakers; I couldn't detect any sound with this vid.