Review: New Crossbow Safety Harness
Bob McNally 06.30.16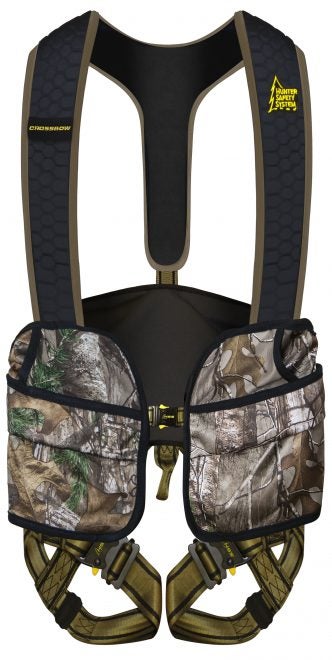 Crossbow hunting has hit such a rise in popularity that a company has designed a tree stand harness specifically for timber-top hunters using such primitive weapons.
The new Hunter Safety System (HSS) Crossbow Harness is  comfortable, easy-to-use, rugged, and–best of all–affordable.
Designing a durable harness specifically made for crossbow shooters makes perfect sense because unlike traditional compound or long bows, crossbows have issues related to cocking the bow while hunting from an elevated position.
When a crossbow is cocked, a tree stand safety harness tether strap often falls in front of a hunter, which is not only frustrating but may also tangle with a crossbow or damage a scope.
To eliminate this problem, HSS has added a Tether Stow Strap to its harness that safely secures a tether when bow cocking.
Another well-designed feature of the new harness is a deep zippered pocket designed to accommodate a cocking rope to prevent tangles with other gear.
HSS has also equipped the harness with a range finder cord to attach a range finder to keep it out of the way and safe from dropping to the ground.
Designed on the popular HSS Hybrid Flex chassis, the new HSS Crossbow Harness features a 1.25-inch upper-body webbing, shock absorbing tether, and waist buckle. The individual, padded hexagon shoulder straps provide comfort and maximum flexibility, plus plenty of pockets.
Weighing just 2.5 lbs., the new HSS Crossbow Harness meets current industry standards recognized by the Treestand Manufacturers Association and retails for $130.
SHOP NOW