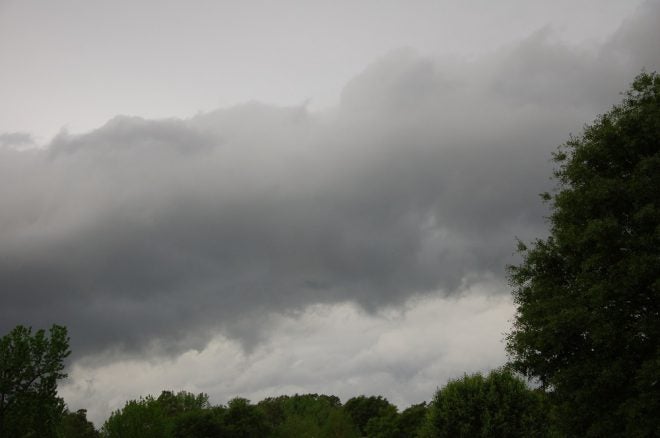 As I sit here at my desk writing this article on suggestions for storm safety, we are under a heavy thunder storm warning as a radar rotation hovers on the screen just ten miles south of my location. It is raining so hard right now I cannot see across the nearby lake and the trees are swaying wildly.
This has happened to me before, but I was at our bug out camp. I had taken a friend out to a tripod hunting stand during deer season and then climbed into mine. For the next hour I watched the sky turn a nasty black and purple. I had no radio to contact camp and the event pre-dated iPhones with weather radar capability.
It started to blow and rain. I made a management decision to get the heck out of my 16-foot stand to collect my hunting partner. He was already standing on the ground beside his stand. We started our two mile ATV ride back to camp.
It rained so hard in my face, I had to look down at the ground to keep the 4-wheeler in the road. When I parked under the cabin, I was soaking wet, literally down to my underwear. I stripped right there and ran up the stairs to collect dry clothes. Forty miles south, a tornado completely destroyed a residential community.
But what if that circular menagerie of wind and debris had hit our camp, which it did a couple years later after this incident? It went just 500 yards south of the cabins taking out 20 acres of good timber. It is still a tangled mess to this day.
If you find yourself in storm conditions like this when outdoors, what do you do? First, if you have a storm hardened structure, then get to the safest space available. If you do not, then do not get inside a vehicle or try to outrun a storm. A tornado or ultra-high winds can toss a car like a tin can.
To be smart then, pre-plan a spot to lay flat to the ground avoiding timber. We happen to have a small lake behind our cabin with a steep bank for cover. Otherwise seek a low spot out in the open that would not flash flood. Cover your head, keep low. Most such storms pass in minutes so hold tight.