iCAST Review: Berkley's New "Dredger" Digs Deep to Lure Lunkers
Bob McNally 07.12.16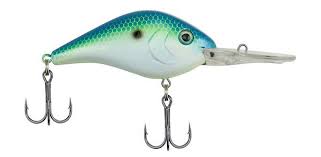 A 3.5-inch crankbait that dives to 26 feet on a cast-and-retrieve is something to crow about, and Berkley is doing just that with the introduction of their new diving plug the "Dredger" at the 2016 iCAST tackle show in Orlando.
A perfect combination of body shape and weighted plug lip allows the "Dredger" to get down fast to deep structures where heavyweight fish reside. It has a tight-wobbling action to trigger strikes and comes in five models designed for various depths: 11-, 15-, 18-, 21-, and 26-feet.
The remarkably small-profile "Dredger" had design help from bass tournament angler David Fritts, who's well-known as a crankbait fishing authority.
It comes with Berkley Fusion19 treble hooks, in 20 popular colors, and retails for $8.95.
SHOP NOW