iCAST Review: Cobra Garage Door Rod Storage is Innovative
Bob McNally 07.14.16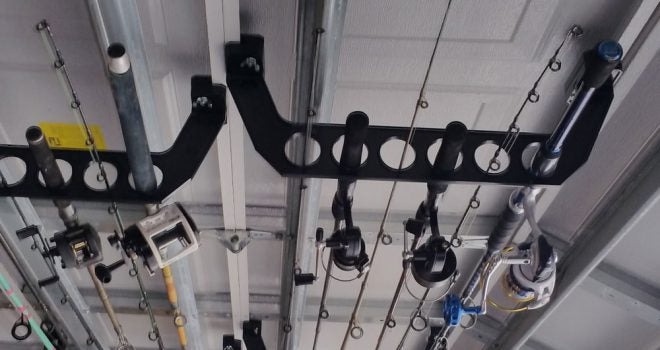 Where to safely store rigged, full-length fishing rods always is a headache to anglers who have a garage or den full of tackle and limited area to safely place items to prevent breakage or warping.
Well a pair of Florida Kennedy Space Center engineers came up with a remarkably simple design that's easy to install and loads rods in a place where they're safe, easy to access, and out of the way: the inside of a garage door.
Cobra Garage Door Storage (www.cobrastorage.com) offers easy-to-install durable racks that attach to standard 21-inch and 18-inch garage door panels, where they are horizontally bundled in the stiff sections of an accordion-type door.
Each rack can handle up to six rods.
They can be positioned to fit almost any length rod and can be installed to a garage door without tools. Hard-mounting to walls and ceilings can also be done with this innovative and well made product that costs just $30 per pair of door racks.


SHOP NOW