Review: CRKT Williams Tactical Applications Flashlight
Major Pandemic 07.21.16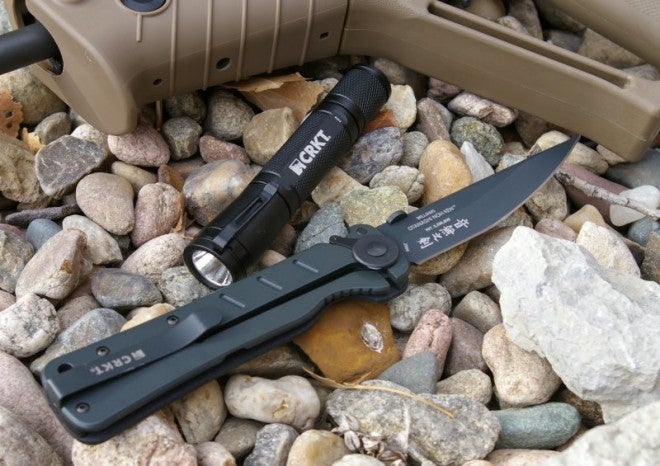 I really love flashlights, and if I ever gathered up all my lights, they'd probably fill a large bag. I am not all about how bright a light is, but rather how flexible it can be in a variety of situations. In most cases my two favorite lights are the LED Lenser F1 and Rogers Tactical Light featuring a Streamlight Micro, but CRKT really surprised me with the Williams Tactical Flashlight's features, flexibility, and ease of use.
CRKT offers something unique and flexible that easily serves both tactical and practical lighting requirements. This means that you don't need to sacrifice by carrying a light that's too bright or not bright enough.
For tactical use, you usually want full power on the first click and strobe on the second click, but for everyday utility lighting you usually want to cycle up from lowest power to highest. Obviously these are opposing features, and that usually leads to a tail button clicky sequence that requires a user manual. CRKT solved this by creating a tactical light with a bezel head that clicks forward for tactical settings and rearward for utility settings.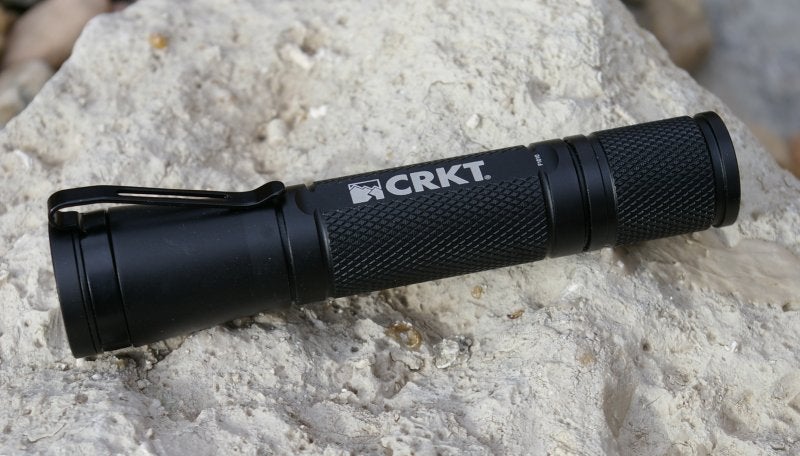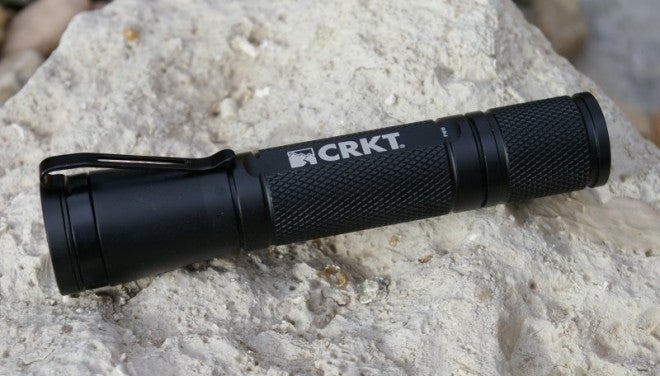 About CRKT
CRKT (Columbia River Knife and Tool) was founded in 1994 by Rod Bremer in Oregon. By working with top knife designers around the world, CRKT offers a broad line of innovative custom knife designs in affordable production knives and tools. The goal is to provide the hottest custom designs to the consumer at affordable prices.
Fit, Finish, Feel, Features, and Functions
The fit and finish of the CRKT Williams Tactical Application Flashlight is excellent. I see high quality with a tough aluminum housing, mil-spec hard anodizing, and premium LED and reflector. Unlike many tactical lights, this one is not too bulky so it rides more easily in the pocket, and the clip is removable to make it even less bulky.
The slim profile is one of my favorite things about it, and at just 3.1 ounces and 4.84″ long, it's quite easy to carry.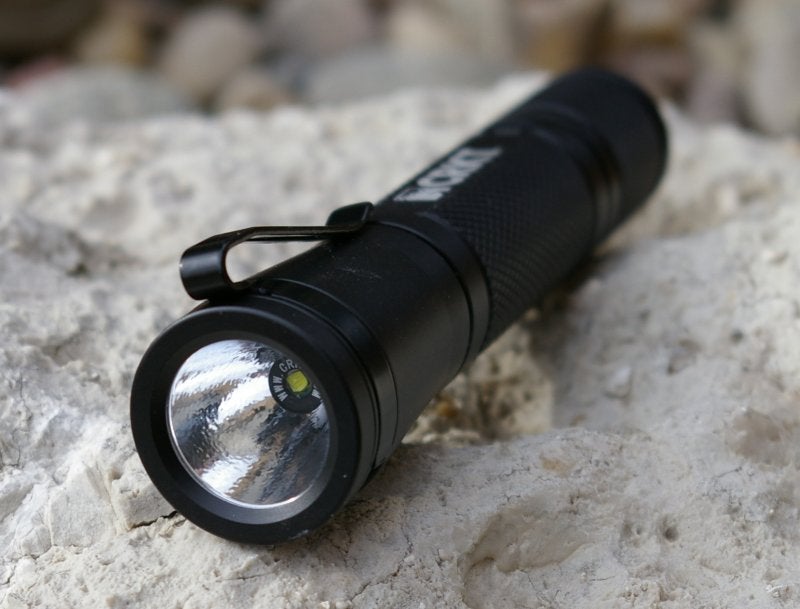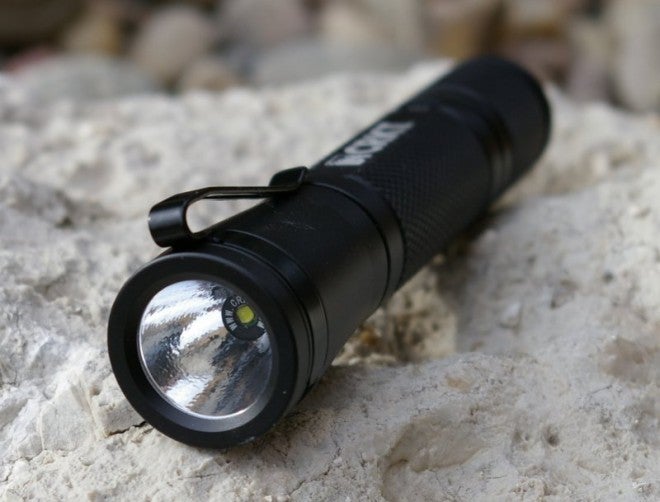 The CRKT Williams Tactical Application Flashlight is fed by two standard CR123A lithium batteries (which have become the standard battery for tactical lighting).
The light output in "Tactical Mode" with the bezel clicked forward allows the user to cycle through a blinding 320-lumen, 150 minute runtime light, to a 320-lumen strobe, to off. The "Low Mode" for utility lighting with the bezel unextended has light output of low 3 lumens (286-hour run time), 10 lumens (40-hour run time), 75 lumens (8.5-hour run time), and a 75 lumens SOS mode (26-hour run time) with "off" settings between each click so you do not have to click through all the settings to turn the light off.
Once you understand how the bezel head clicks in and out, you can easily ensure you get the right light output when needed. I personally have found the low 5- and 10-lumen settings to be useful while going easy on battery usage.
Because you can start with a low setting and cycle to get brighter, you won't kill your night vision, give away your position, or disturb anyone sleeping nearby when you need just a little light.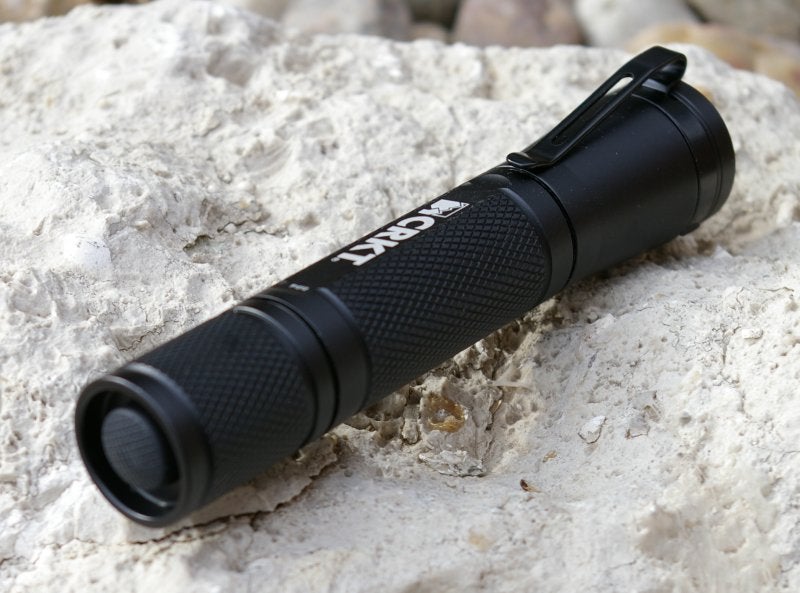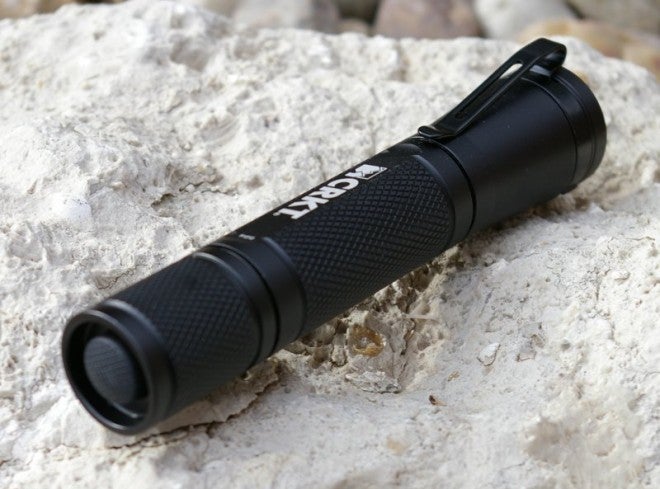 Final Thoughts
The CRKT Williams Tactical Application Flashlight has become one of my preferred tactical lights simply because it delivers such a broad array of light output options in one package. This is an excellent light that retails on the street for around $75.
Manufacturer Specs
Overall Length: 4.84 inches
Weight: 3.1 ounces
Battery: (2) CR123A Batteries
Handle Material: Aluminum
Carry System: Removable wire clip
High Mode Features –  (320 lumens; strobe) low mode (5 lumens; 10 lumens; 75 lumens; SOS)
Low Mode Functions (Bezel In)
1st click displays a low 3 lumens light with 286 hours of run time.
2nd click turns the light off.
3rd click displays a mid 10 lumens light with 40 hours of run time.
4th click turns the light off.
5th click displays a max 75 lumens light with 8.5 hours run time.
6th click turns the light off.
7th click displays (S.O.S.) with 75 lumens and 26 hours run time.
8th click turns the light off.
After the flashlight has been off for 2 seconds, it resets to the original settings.
*Run times may vary depending on batteries and conditions.
MSRP $125