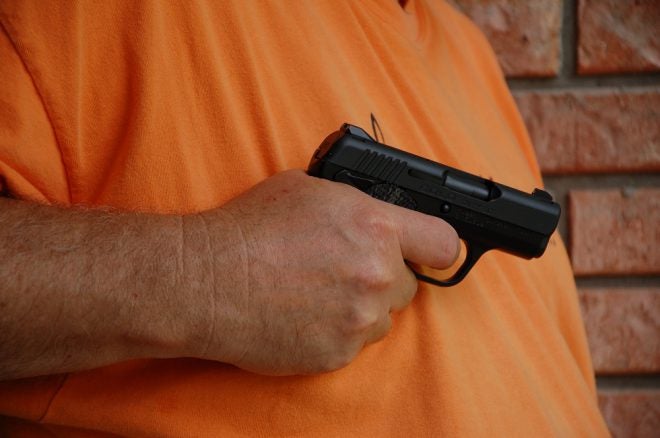 Writers tend to coin words for effect. A popular nickname for a daily carry pistol is Roscoe. You can guess all the jokes for that one. "How's your Roscoe?" "Hey, is that your Roscoe?" "Dude, keep your hands on your own Roscoe." And on and on. You get the point.
But if you had to narrow down all the choices out there to settle on a No.1 carry pistol for everyday use no matter what you do or where you go, what would it be? Lordy, the options are simply overwhelming, but you can't carry every gun in the safe or even two or three in practicality.
Now, nothing here precludes you from picking a practical "gun of the day" sort of approach. If you are going to the office to sit at a desk all day, that could require one type of gun. Maybe a desk gun like a semi-auto .380 or a .38 Special revolver. If you drive a truck to make deliveries in town that might mean a pistol in a Gum Creek holster under the steering wheel, or if you push an OTR 18-wheeler across America, you might want something else.
If you are just running to the shopping mall, grocery store, or to the hardware outlet, you might want something else. Perhaps a lightweight concealed carry 9mm of some sort. Let's say you run a logging crew out in the forest. That might mean a heavier 6-shot, .357 Magnum revolver in a hip holster. It might mean a good 30-30 lever action behind the seat for different kinds of vermin.
In making the decision what to carry on any given day, then try to map out your schedule for the day, where you intend to go, to do, even what you may have to wear. If it is a business suit, then a slide holster behind the hip or small of the back could work. Even a pocket sleeve holster for that Ruger LCP or an LC380.
Depending on your intent, philosophy on legal concealed carry, or just exercising your right not to be carried by six but judged by six, then use some judicial common sense on where you will be carrying during the day.
I highly recommend every shooter obtain an Enhanced Carry Permit or similar where they live. Then you can carry with confidence–once you choose your Roscoe for the day.