Review: Bear & Son Cutlery Boot Knife
Pat Cascio 07.23.16

Bear and Son Cutlery recently introduced
their version of a boot knife
, and it's a handy-dandy double edged knife with a 3 1/4-inch 1095 carbon steel black powder coated blade. 1095 is a staple steel for knives because it takes an edge and holds it for a good long time. It's also very strong and very easy to re-sharpen–and economical. The dagger-shaped blade comes in a nicely-fitted Kydex sheath equipped with a clip.
The Bear Boot Knife weighs in at a mere 4.8 ounces, so you don't even realize you are carrying it on your belt. The handle scales are tough, textured G10–super strong stuff, to be sure. And there is "enough" handle to hold onto the knife; many boot knives have short, skinny handles that are too small. Not so with the Bear & Son Boot Knife. The handle is long enough and thick enough for a sure grip.
I carried and used the sample boot knife for more than a month and a half and put it through its paces. I even used it as a throwing knife. The edge didn't feel all that sharp when I received it, but it was a lot sharper than I thought; I could easily slice typing paper with it. The knife was used around the kitchen, too, even though it wasn't designed for kitchen chores.
The boot knife is designed as a last-ditch self-defense weapon in my humble opinion. It wouldn't be my first choice as an offensive weapon because the blade is too short to reach vital organs, but it will easily slash with the best of 'em.
I don't consider the Bear & Son Cutlery Boot Knife to be a survival or hunting knife, either. It just comes up short for many tasks around the camp or for dressing game. But in its intended role as a last-ditch self-defense blade, it shines and sure beats throwing stones or a stick.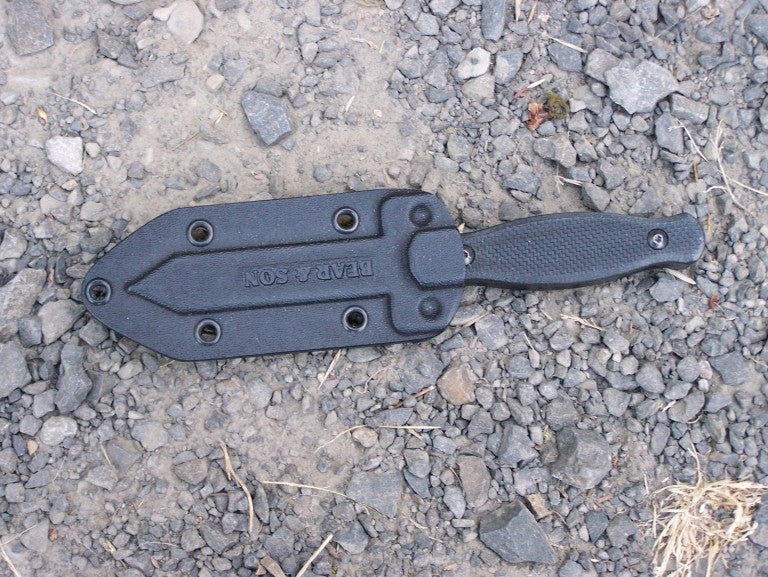 There are some unenlightened states and locales that won't allow you to have a double-edged "dagger" of any sort, so be sure to check local laws before you buy or carry a knife like this one. If you can legally carry a double-edged boot knife, take a good look at this one from Bear & Son Cutlery. It is made in the USA and comes with a limited lifetime warranty. Full retail on this handy little boot knife is $79.99.