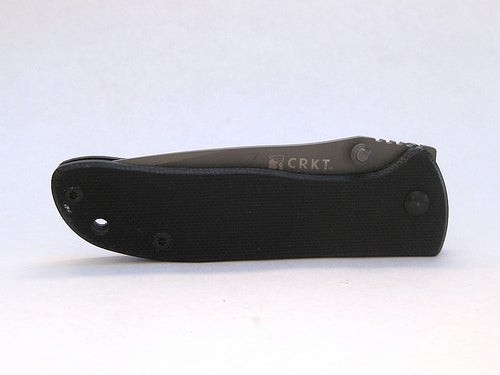 Every year around July or August, I put together my recommendations for gear. The rules are simple: make a good flashlight and knife combo for under the given price range that is readily available. Generally, I like to spread my pennies evenly, but in some cases, there are price ranges where that doesn't make sense. For knives, I am including multitools as they do sometimes make sense (usually I find them lacking in the blade department, which is my most frequently used tool). In the past I ran through a bunch of options in each price range, but I don't find that useful (or fun to write). If there are close competitors to the items I recommend I will list them and explain why they did not come out on top.
I have changed the price ranges in recognition of two facts: stuff is getting more expensive and no one is interested in the absolute bottom of the market. To that end there will be articles focusing on the following price ranges: under $50, $200, $400, $1000, and over $1000. The article on a light/knife pair under $25 was more of an exercise in finding the least worst piece of garbage, so that one is gone. The $100 article is also gone as it was too similar to the $50 price range article. The higher end price ranges–$1000 and over are finally interesting and competitive races, as the number production items in those ranges has exploded in the past year or 18 months. It is very, very difficult to choose now, whereas in the past it was basically a one or two horse race. In recognition of the smaller number of surveyed price ranges I am going to look at some of the best EDC accessories and a general Best of the Rest for stuff that doesn't fit neatly into the price ranges.
Finally, as a sort of parallel universe version of these articles, I rewrote the Top 5 lights and knives articles on my personal site, www.everydaycommentary.com, converting them from a Top 5 into a Best Of, with specific uses designating the different categories of what I recommend. It's not exactly a perfect fit for what I have chosen here (I am more willing to look at high end options when price is no limit, but that is the not the name of the game here), but it can provide additional guidance. With that out of the way, let's get to it.
Knife/Tool: CRKT Drifter (pictured at top).
I have thought about this a lot over the past year. In the past I have always recommended some kind of multi tool, and they are fine, but the vast, vast majority of the time a multitool is nothing more than a crappy knife with a bottle opener. Here are a few suggestions that aren't crappy. The Victorinox Swiss Army Knife Pioneer X is a great option. It is a Pioneer with scissors. Instead of the stubby tools you find on multitools you get a real, great blade here. The size and the grind are just perfect for effortless slicing and the inclusion of scissors, one of my top three implements on a multitool, is great. The fact that they are Victorinox's scissors, which are the best in the business, makes the piece even better.
But if you don't want a multitool, there are two other knives I'd consider. Surprisingly, I really like the uber budget San Ren Mu 605.
For around $8-10 you get a very nice, very compact knife with nice action. The choil helps a lot with grip, as this is one tiny blade.
But as good as that is, I'd prefer something a bit more conventional. For years now, the go to knife I recommend to those starting to assemble their EDC is the wonderful and cheap CRKT Drifter. It's weird to write this but of all the CRKTs I have had, this sub-$30 knife is my favorite. Skip the unnecessarily heavy steel handled model and go for the G10 version. It's just the right size, deploys fast, has okay steel, has a nice (but not reversible) clip, and has a useful blade shape. I'd love a non-recurve version to aid in sharpening, but as is, it is really good. The fact that it has a blade length under 3 inches is also a good thing. It keeps it from being scary and it might get under knife carry laws (check your local laws to be sure).


SHOP NOW
The light is easy. The
D25AAA
from Eagletac is a spec monster, checking off every box a flashoholic has and then adding in a few extra features for good measure. For around $25-27 you get a very compact 1xAAA light with a Hi CRI emitter (for more natural looking colors), a TIR optic (for a cleaner beam pattern), and a very decent 130 lumen high. This is just leagues better than the Maratac/Fenix/Klarus 1xAAA. Add to this a magnetic tail cap that is perfectly flat for standing anywhere or attaching to a ferrous metal surface, and you have a damn near perfect light. It's not actually perfect for one reason: a horrible clip. Most of the lights in this price range have junky friction fit, snap-on clips, but the D25AAA doesn't have that problem. Here the built in clip is flimsy and sticks out too far. I know more than one flashlight fan that just cut it off and smoothed out the rough bits that remain. It's really terrible. If Eagletac fixed this, the D25AAA would be an all time great. As it is, it is "merely" super awesome.
The L3 Illumination L11C is another possible choice for a light, but the spotty fit and finish in the past leads me away from recommending it. If that issue is cured or doesn't bother you, it's clearly a viable option–147 lumen high and .09 lumen super low (choose the 4 mode version) all from a 1xAA. It also happens to run a Hi CRI emitter. It's good on paper, just not so much in person. Complaints about fit and finish are rampant and I can't really recommend it over the D25AAA.
SHOP NOW