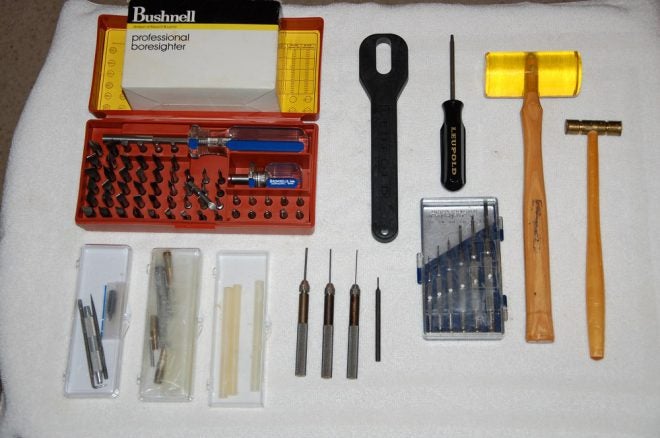 Tinkering on guns is a great hobby. Fun yes, but for a prepper or survivalist, gunsmithing can be an essential skill to have as time and exposure to the elements can mean more gun maintenance and upkeep. Sometimes this means having to perform some home gunsmith mechanics work. This demands a good set of basic gunsmith tools.
Maintaining, cleaning, and repairing guns is not like working on a car, motorcycle, or a lawn mower. Those pieces of equipment are big and bulky by firearms standards in terms of precision parts, tiny parts that can be hard to handle or see, tight tolerances, and custom fitting. Gunsmith work requires quite a few specialty tools. Just a plain ole set of household screwdrivers and a set of sockets won't do.
For "kitchen table" gunsmith work, start with a good, soft, chemical absorbent gun cleaning mat to work on. This keeps the gun from sliding around, grips parts that slip out of place, and protects the fine finishes of metal and wood. Next, buy a good armorer's vise/work platform such as a Tipton Gun Vise.
Tool wise, start with a good set of gunsmith screwdrivers made just for gun work. This will include one or two magnetic handles with multiple changeable bits, standard flat bits, Phillips, hex, and Torx bits. The better sets include handle extensions, specialty bits, and a comprehensive selection of all bits secured in a hard plastic case. A popular trend today is to get a special torque type wrench with bits as well. This permits precision tightening.
Next, get a selection of punches including brass, steel, and plastic. Get a two-sided gunsmith hammer with a brass and polymer head. A supplemental scope mounting kit is a good idea, too, including a precision bore sighting tool. A good pair of tweezers can come in real handy to pick up and hold small parts. Include some fine metal files and polishing stones.
Have a selection of brushes (brass, nylon and other types) to clean and de-gunk, including some old toothbrushes. You'll need a complete gun cleaning kit, too, for rifles, handguns, and shotguns, plus cleaning chemicals, patches, polishing/oil wipe rags. Have a good work light, too.
As you work on guns you will find the need for additional tools. Keep building your kit. Take care of it and it will last a lifetime.