Review: LED Lenser P7QC Flashlight
Pat Cascio 08.08.16

My wife is always accusing me of having too many flashlights around the house–that is, until the lights go out. Then she is happy that I have a good supply of EXCELLENT flashlights around the house. Having been a cop in another life, I could have only wished for flashlights as good as the ones we have today with LED bulbs. The lumen output of some of these lights is fantastic, not to mention the run-time of the batteries.
Today we're taking a look at the LED Lenser P7QC, which is an interestingly-updated version of their P7 model. First of all, this is not a focused flashlight; it has a diffused light so it doesn't reach nearly as far as the regular P7 models. But perhaps the best part about the P7QC is that, in addition to a 220-lumen white light, it also has green, blue, and red lights–all available at the twist of the flashlight's head. And for the life of me, I can't figure out how they did it.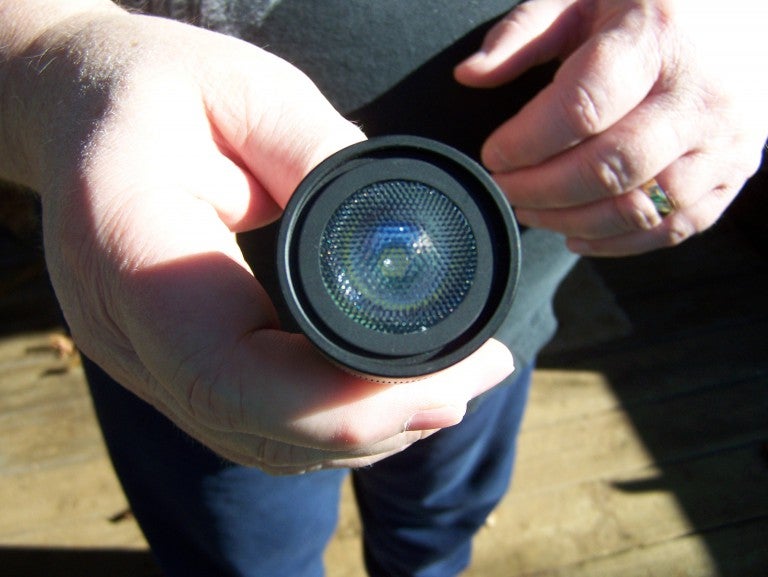 Features and Function
The P7QC is a smallish light, just a touch over 5 inches in length. It weighs only 6.2 ounces and takes 4 AAA batteries. Included is a lanyard as well as a nylon holster to carry the P7QC on your pants belt. And you forget you are carrying it in short order, too.
On the Max lumens setting you have 220 lumens, and on the minimum output you have 40 lumens. At the maximum lumen output the light is good for about 60 meters, and on the lower setting it's good for about 20 meters. However, in my testing I found the light went quite a bit farther than advertised.
On the max output the batteries are good for about 3 hours. On the minimum output they are good for about 50 hours! The soft touch button in the butt of the P7QC is easy to operate. One touch turns the light on to the maximum setting. Touch it a second time for low-power 40 lumens, and a third touch gives you a strobe mode for signaling or defensive use. Nice!
Where does the P7QC fit into things? Well first of all, with the different colored lights you can save your night vision if you're on a night op in the military and you need to look at a map. Or if you're a police officer sitting in your patrol car doing paperwork or on a stakeout, the different colored lights won't give away your position, especially on the minimum brightness. If you happen to be a hunter or a camper and you've lost your way, you can use the red or green light to signal for help, and to be sure, a red or green flashing light will draw attention to your location faster than a stationary white light.
When one of my dogs needs to go out at night, I can grab the P7QC, put it on blue, and work my way through the house without turning any other lights on so I don't disturb my wife.
Once I reach the back door, I'll switch to the red light when I let the dog out in the kennel. I can easily see the dog with the red light. The green light works almost as well, the blue light not so much (the dark-colored dogs are harder to see with the blue light). If need be I can turn on the white light should I hear something suspicious or alarming.
Once again, keep in mind that this is diffused light that doesn't reach out there like the standard P7 that I also have. Usually, I only need the diffused light to see things in my yard. We also have 6-8 deer in our yard at night, and I can go out on my front deck and turn on the red or green light and watch the deer feeding.
Final Thoughts
The P7QC is housed in a sturdy aircraft-grade aluminum housing for a lifetime of use. LED Lenser offers a 5-year warranty against defects in workmanship. However, with a little bit of care, I don't see this light failing you for a heck of a lot more than 5 years. It's tough!
And don't forget the flashing or strobe function. In any color, it will easily disorient an attacker, making this a dandy defensive light. Blind your attacker and run! I don't know any place where a flashlight is illegal as a defensive weapon against bad guys.
Full retail on the P7QC is $80.00 and I think it's worth it. If you shop around you can probably find it a little cheaper. I have to admit that when I first got my sample, I wasn't quite sure if I was going to like the diffused light instead of focused light. I was wrong!