Review: Auto Ordnance 1911 BKO Semi-Auto Pistol
Pat Cascio 08.10.16

When I received a press release on the
Auto Ordnance 1911 BKO model
(advertised as a "mil-spec" 1911), I placed an order. Two weeks later, I had a sample in hand. But much to my surprise, it wasn't really a 100% mil-spec gun. I was both saddened and happy at the same time, if that makes sense.
Fit and Finish
At first glance, the Auto Ordnance 1911 BKO appears to be a mil-spec 1911A1 pistol. The gun is completely parkerized in a grayish color just like those I used to own and shoot in the military. The itty-bitty sights where there as well. There is the smallish thumb safety and the grip safety, both mil-spec. Brown plastic grips adorn the gun just like the original 1911A1, and the arched mainspring housing has a lanyard on the bottom of it — once again, just like the originals did. And it had a medium length trigger that was heavy and gritty — once more, like the original.
Speaking of old original military guns, I had to completely field strip this handgun to degrease it. It was dripping with preservative oil, and I used up half a can of brake cleaner to remove all this oil.
It was when I field stripped it that I noticed the barrel had been throated and polished. and the feed ramp was also polished. There was the annoying firing pin block, too, which the original 1911s didn't have.
After the gun was degreased and lubed, I took some pictures for this article and then set out to see
what my sample could do. The frame-to-slide fit was surprisingly nice and tight, as was the barrel-to-slide fit. Nicely done.
As mentioned, the trigger pull was heavy–about 6 pounds and gritty–and I wasn't expecting much in the accuracy department, especially with those little sights that my eyes had a hard time focusing on.
Accuracy
From Black Hills Ammunition I had 185-grain and 230-grain JHP ammo and 230-grain FMJ fodder. From Buffalo Bore Ammunition I had their 160-grain TAC-XP HP low recoil, 160-grain TAC-XP HP +P, 200-grain JHP +P, and 230-grain FN FMJ +P.
Spoiler Alert! This 1911 BKO handled everything I fed it without anything resembling a malfunction or hesitation. Everything I fed through it worked perfectly. I will say though, that I was handicapped by the small mil-spec sights and the terrible trigger.
When I did my part, resting the gun over the hood of my SUV, I could put 5 shots of Black Hills 230-grain FMJ inside of 4 inches at 25 yards all day long, but it was no easy task to be sure.
If the lighting conditions weren't just right or I didn't concentrate as hard as I should have, the groups opened up to 6+ inches and sometimes even bigger. But the gun was capable of those smaller groups, when I was on my game.
Features and Function
I knew before the gun arrived that it would have those tiny sights that I despised even as a young man, and the trigger pull was no better nor worse than I had expected.
The grip safety operated smoothly, and about halfway through the proper grip on it was where it released from being safe to ready to fire. The lone 7-round magazine that came with the gun was made by Checkmate, and they are one of the best kept secrets in the 1911 magazine field. They produce some outstanding magazines. I also used a variety of other 7- and 8-round mags, and they all worked just fine in this mil-spec 1911A1. I did notice that the magazine well had been slightly beveled for faster reloads, something not seen on genuine mil-spec 1911s.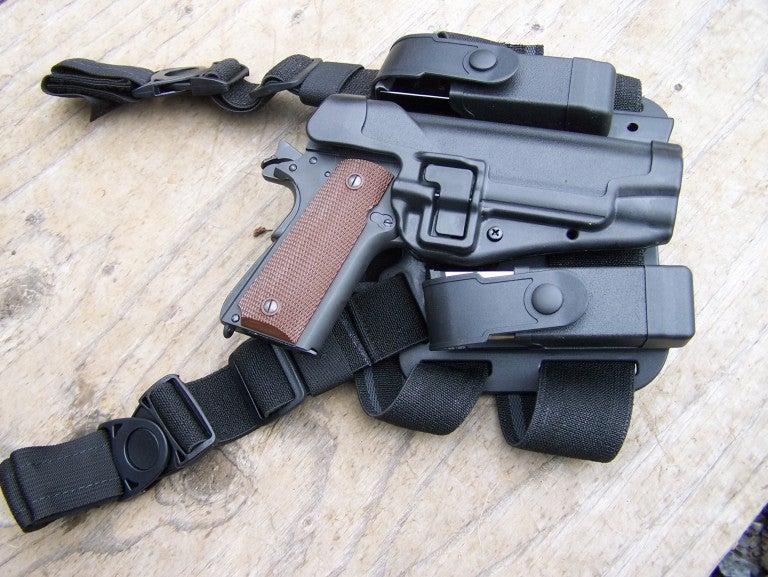 The heavy and gritty trigger pull is easy enough to fix, and I may do it one of these days. It doesn't take a whole lot to improve on a trigger like that. Just tweaking the trigger spring a bit might improve it.
These days, it's getting harder and harder to find true mil-spec 1911s in just about any condition. So many have been customized that a real genuine mil-spec 1911 is just hard to come by. And when you do find one, you'll pay handsomely for it. The folks at Auto Ordnance have given us something close to the original 1911A1 mil-spec gun, with some improvements as already noted. However, just looking at the gun without a close examination, you'd think you were looking at a pristine mil-spec 1911. And for the retail price of $588.00 and completely American-made, this is one heck of a buy in my book.
Final Thoughts
If you just want a good truck gun that you can toss in your rig and not worry about scratching or you want a plain ol' "shooter," then this gun might be just what you are looking for in a new 1911A1 that looks like an "old" 1911A1.
The gun rides nicely in a very modern,
Blackhawk Products
 tactical thigh holster, too. A bit of the past combined with the present. I like it!
Specs
Model: 1911BKO
Caliber: 45 ACP
Barrel: 5″
Weight: 39 oz.
Length: 8.5″ overall
Safeties: Thumb safety, grip safety, firing pin block
Sight: Blade front, rear drift adjustable for windage
Grips: Brown checkered Plastic
Magazine: One 7-round
Warranty: 1 year