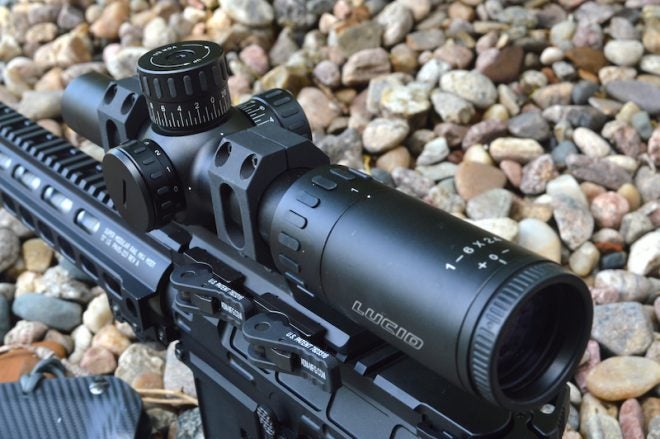 Lucid is a newer brand that grew almost overnight with its immensely popular and affordable HD7 red dot sights. Lucid also began offering a broad line of magnified optics and the hottest optic segment is, without question, the 1x-4x and 1x-6x magnification range. In some circles, the L7 1x-6x has become "the" preferred optic for three-gunners and is also seeing use by hunters, the military, and law enforcement.
Fit, Finish, Feel, Features, and Functions
Like Lucid optics I have previously reviewed, the L7 1-6×24 is well made with quality on par with top end Nikon, Burris, and Bushnell optics, but at a price that makes it more attractive. The 30mm tube adds durability and improves light transmission. The L7 delivers a 92% light transmission rate, which is extremely impressive considering its price. The scope is nitrogen purged, waterproof, has multicoated optics, and is shockproof rated to 458 Socom.
Another feature that sets the Lucid P7 apart from other optics is that the reticle is etched on the glass, which makes it less failure-prone than a wire reticle and adds a huge amount of shock resistance to the optic.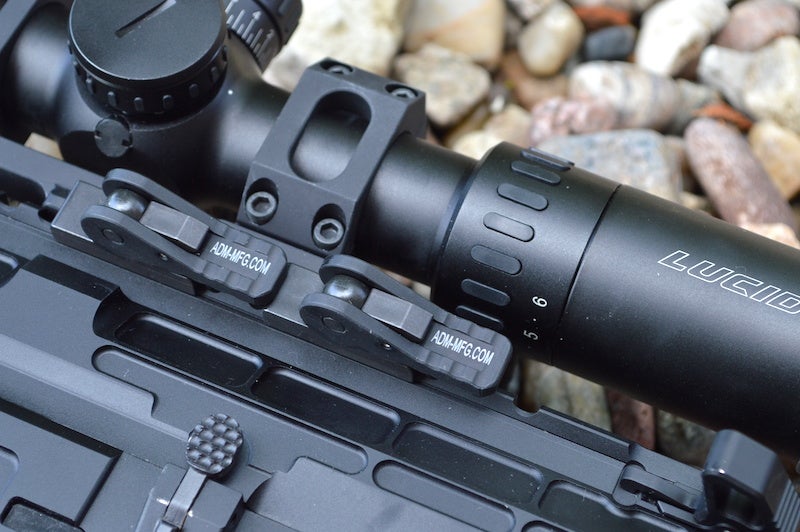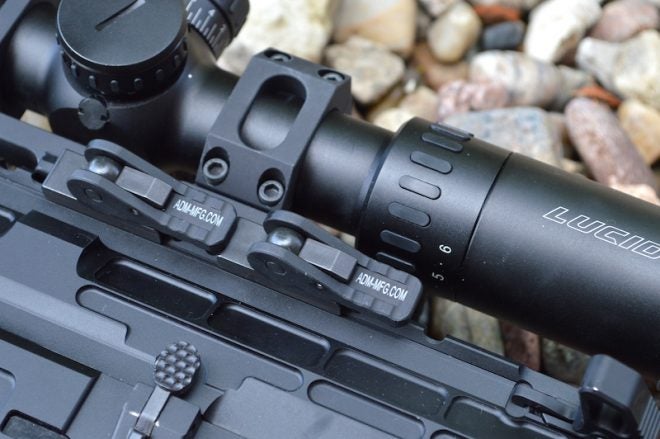 According to Lucid, they had the manufacturing capabilities and technology to build a 1x-4x or 1x-6x optic a lot sooner than 2016, but they wanted to take their time to get the design right. It is important to note that Lucid is not a "me too" manufacturer.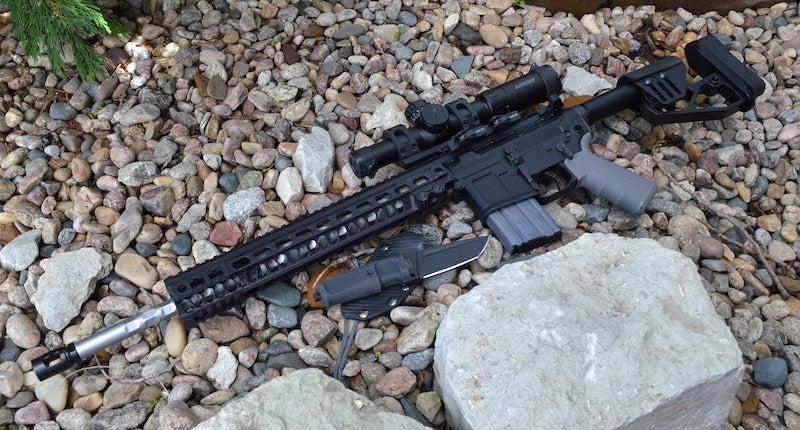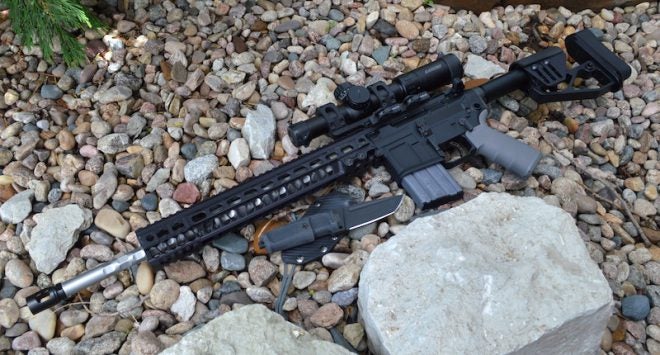 The extra time Lucid used for development is apparent in many features. The eye relief is pretty generous and allows one to shoulder and fire a gun quickly without having the perfect cheek weld. The 1x magnification is truly magnification-free, which means that it is not a 1.1 or 1.2 or 1.3 magnification that kinda works as a fast-shooting red dot. According to Lucid, the L7 is actually has a 1.0x clear and unmagnified setting. This is a pretty significant feat considering the L7 is priced well below $1000.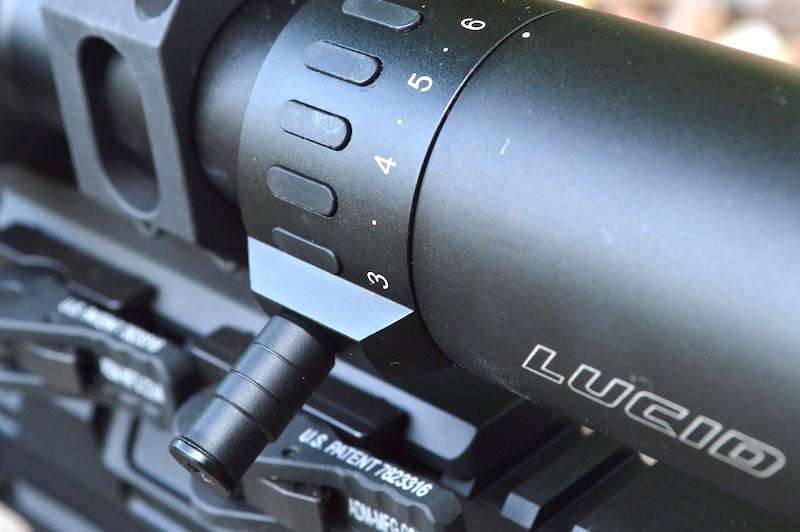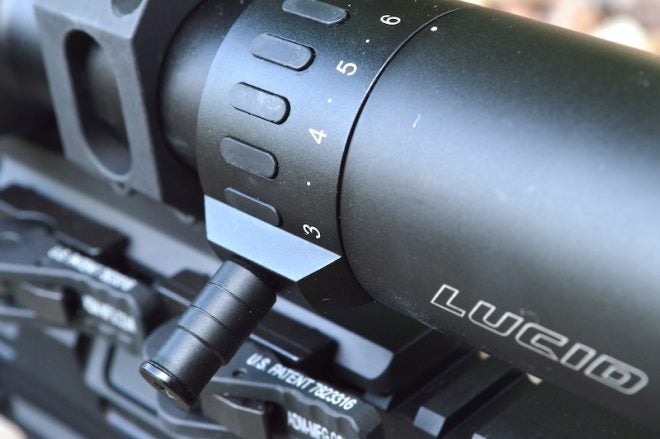 The Lucid L7 1x-6x 24mm features an included quick throw lever for the folks that want to rip from 1x-6x "right now." Other manufacturers are charging extra for this type of lever.
I will admit that BDC reticles are getting ridiculously cluttered in an effort to please CQB, tactical, 3Gun, hunting, and precision shooters. Lucid has done an outstanding job making their reticle clean with simple integrated wind hold overs, small 8 MOA spaced BDC hash marks, and an open circle dot design that is visible enough for fast shots, but fine enough for precision shots. On 6x magnification, the MOA-based reticle can be read just like a measuring tape with 1 MOA representing one inch. For those that want to use a ballistics app on their phone, the L7 Lucid reticle is already on the wildly popular and affordable ballistic STRELOK app.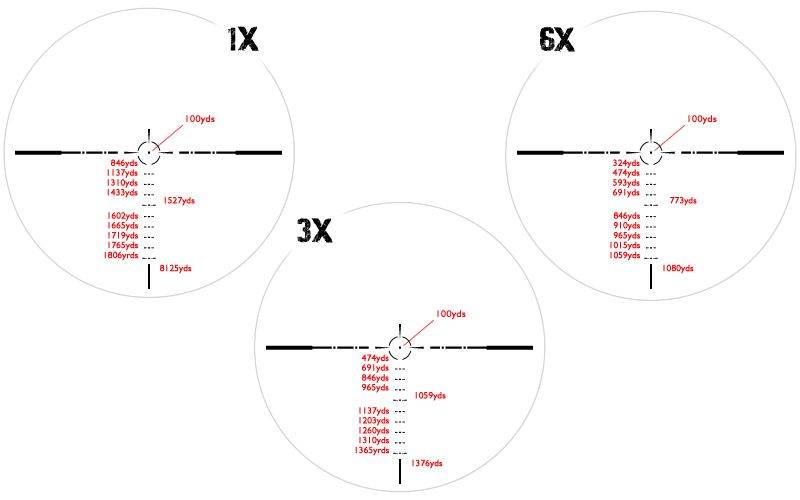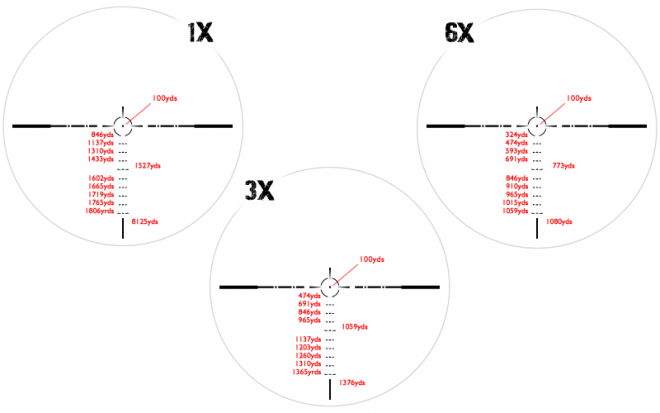 The illumination is well thought out as well. People often think they need the entirety of the reticle illuminated, but the reality is that turns into a crazy distracting Christmas tree as ambient light reduces at nightfall. Lucid illuminates the circle dot, left, right, and top hashes in their "cool Lucid blue." This provides extremely usable illumination without distracting the shooter.
The L7 turrets offer 60 MOA of adjustment on all sides of optical center. Lucid obviously did their homework to understand and resolve the common gripes with turrets on low power scopes, which inherently take a lot of knocks and bangs when mounted to AR15s. These turrets are easily re-zeroed and features a "lift, adjust, and press down to lock in position" design, which works beautifully.
I personally love first focal plane reticles, but a noticeable shortcoming is when you need fast BDC shots at longer distances and the reticle BDC is already maxed out. Second focal plane optics have the option to zoom out to accommodate a longer shot without adjusting the turrets. Lucid used the latter second focal plane design to provide this flexibility that many target and long range shooters utilize.
Featured Build
In order to really get a good comparison of the L7 to a similar and more-expensive optic, my San Tan Tactical Ultimate AR15 build was used. This build features the best of the best, including a San Tan Tactical billet receiver set, lots of cool upgrades from Battle Arms Development, Geissele, XLR, a Hart precision match barrel, and a top and Burris XTR-II FFP optic.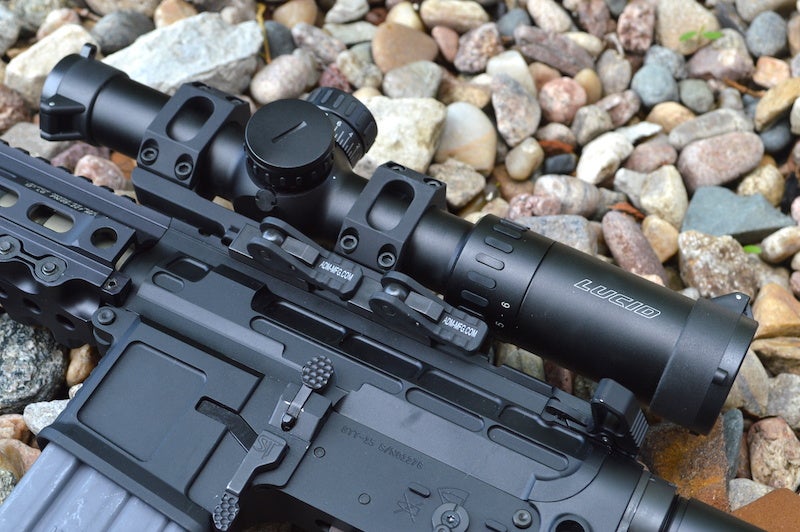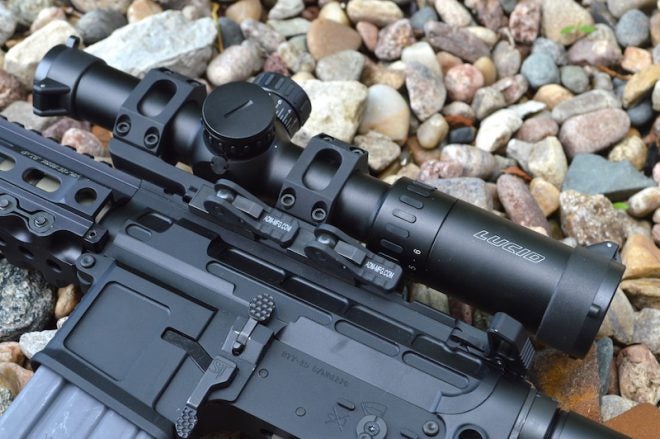 The Lucid L7 1x-6x 24mm was mounted in a quick disconnect ADM (Advanced Design Machine) QD Recon mount which I consider the best QD optics mount available anywhere — really, it is awesome and returns to zero every time. The L7 was also mounted to my well-worn Barnes Precision Machine BPM-15, which is a tack-driver in its own right. I enjoyed the L7 so much that it may remain as a QD option with my Eotech on this heavily-used rifle.
Final Thoughts
The Lucid L7 is a hell of an optic. It is crisp and clear; has an amazing light transmission that is really noticeable as dusk hits; and the the reticle is still clean, fast, and usable. The price is above the fray at a MSRP of $449, and it offers a combination of value and features that is hard to find in optics over $1000.
I have been training myself on Mil-Dot reticles for the last couple of years and there is a learning curve. It was refreshing to just pick up a rifle and be able to shoot the damn thing with no more thought about how many inches I need to hold over. I found the L7's reticle easy to use on shots from one yard all the way out to 600 yards. At night, the illumination was usable and had plenty of settings for even blackout lighting situations. Again, I find myself very impressed with what Lucid is delivering, and the L7 1x-6x 24mm scope is another of their well-thought-out and affordable optics.
Manufacturer Specs
Magnification: 1x-6x


Objective Lens: 24mm

Ocular Lens Diameter: 34mm

Length: 10.75″

Mounting Length: 6 "

Weight: 20.4oz

Tube Diameter: 30mm

Material: One Piece Aluminum (6063)

Color and Finish:

Matte Black

Waterproof: YES (Nitrogen Purged)

Fogproof: YES (submersible)

Shockproof: YES (.458 SOCOM)

Lens Coating: FBMC Multi Coated

Light Transmission: 92%

Ocular Focus: YES

Parallax Adjustment: YES (side)

Parallax: 100yd fixed

Eye Relief" 4″ to 3.75″

Exit Pupil: 15mm to 4mm

Field of View: 1x 56ft -6x, 20ft @ 100yds

Diopter Compensation: (-2.5 to +3)

Reticle Type: P7 Etched Glass

Turret Click Value: 1/2MOA

Windage Adj,: Range 60MOA (Either side of center)

Elevation Adj.: Range  60MOA (Either side of center)

Lockable Turrets: YES

Re-Zeroable Turrets: YES

Warranty:

Limited Lifetime

MSRP $449