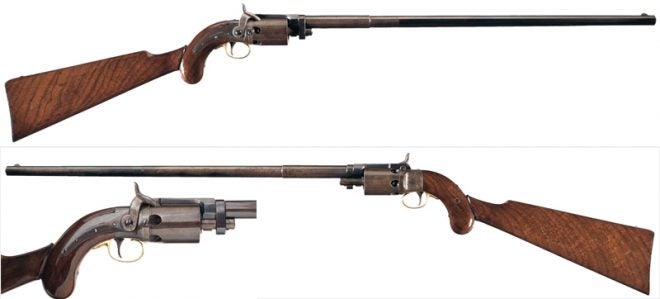 The Wesson in this equation is Edwin Wesson, brother of "the" Daniel Wesson who went on to Smith & Wesson fame.
In the words of Ian from Forgotten Weapons:
The Wesson & Leavitt is one of the scarcest revolving rifles made in the US, with no more than 50 made (some sources say only 16). The reason for this is that the Dragoon revolver which Wesson & Leavitt based the rifle on was found to be in violation of several Colt patents. Most importantly, when the Wesson & Leavitt Dragoon was introduced in 1850, Colt had a patent on the feature of having the cylinder index automatically when the hammer is cocked. They filed suit against Wesson & Leavitt, and won the case in 1851, before very many of the revolvers had been made.
I really love the way this gun works, with the barrel hinging upward to allow removal of the cylinder. Pretty sweet!
What I don't love is that there's no ramrod or other loading mechanism built into the gun, so you have to remove the cylinder to load it.
Other than that, it's pretty dang sweet!