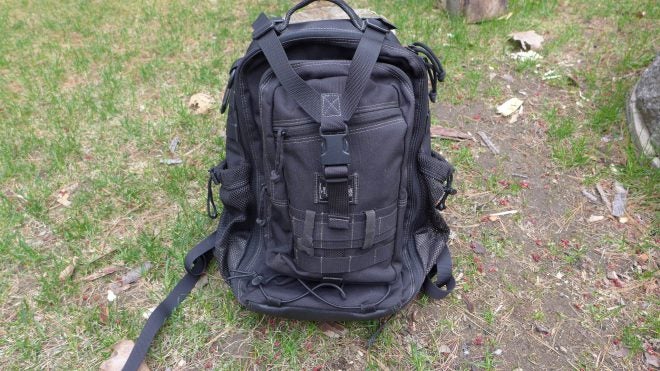 The idea for this installment of the Recommendation series is to go through stuff that is related to knives and flashlights, but not tied in directly. There is a lot of detritus you can accumulate over the years of collecting, buying, and using gear. In the end, most of it is junk. However a few items, like those listed below, rise above the tide.
Best EDC Pen: MaxMadCo Bolt Action Pen
I know this will generate a lot of flak, but after years of studying pen design and using dozens of different models, I think the answer here is clear–the MaxMadCo Bolt Action Pen is the best pen for pure EDC use.
I like fountain pens much better as everyday writers, but they can be a bit finicky for on the road, on the go writing. Sometimes it is just about being able to jot down a note, even on your hand (I do this all of the time). In those situations or in situations where I don't want to worry about the knocks and dings that inevitably happen, the MaxMadCo Bolt Action Pen is my go to writer. It can take Parker style refills, giving you a wide range of options, and it's bolt action is the best on any similar kind of pen. It is also plenty rugged without being built like a tank. In the three years I have owned mine it looks brand new, functions impeccably, and writes well.
Best EDC Backpack: Maxpedition Pygmy Falcon II
Dudes should not make fun of their wife's obsession with a quilted leather bag from Chanel when they readily spend $300-$500 on a bag made of nylon. Packs have gotten a bit crazy–either silly and twee at one end of the spectrum (see: Topo Designs Daypack) or overwrought complexities at the other end (see: TAD Fastpack).
If you want a well-designed, well-made pack that has just the right number of pockets and isn't so big you look like a homeless man going for a hike, try the Pygmy Falcon II. It's size is just right for a man of average height and it is built like a bombshelter. It also has enough pockets to be useful, but not so many that you tuck something away and never see it again. It also happens to retail for under $100. It is a bit overly tacticool looking, but if you can get beyond that it is a great pack for everyday use.
Best Battery Charger: Sysmax Intellicharger 2
There are bigger and more sophisticated chargers out there for sure, but if you need a quick hit for a few cells, this is the charger to buy. It's simple, charges almost every cell chemistry, and charges all but the tiniest of batteries. It is very, very good. Make sure you get the version 2 chargers as they can charge the increasingly more common IMR cells. I have the dual well charger, but the number cells that can be charged at once almost doesn't matter.
Best Wallet: Bellroy Card Sleeve
As a tinkerer and a gear reviewer, lots of stuff passes through my hands. I try to give most of it away as part of one of my two annual charity giveaways. Over the years lots of stuff has come and gone and the thing I miss the most is this brilliant, simple, well-made wallet. I love the Card Sleeve. It gives you easy access to stuff, has great visibility for your ID (allowing you to show it without removing it) and it is thin. If you don't want to fuss over a wallet, just buy this thing. If you store a ton of stuff in your wallet, this isn't for you. For that, I'd recommend one of the bigger Big Skinny or Allett wallets. Their sail material designs can hold a lot of stuff and add almost ZERO bulk.
Best Water Bottle: Hydroflask
It's not perfect, but it is quite good. I have tried tons of water bottles and since I have given up juice and soda, they have become a lynchpin of my EDC. I don't go anywhere without a bottle full of ice water. But all of the Nalgene/Kleen Kanteen/Camel Backs have let me down. Most are too thin to take a fall and some impart flavors. I'd love a glass lined, rubberized stainless steel bottle so that it would really take a hit and never impart flavor, but until that happens, this is as good as it gets.
Best Pocket…err…Knife…err…Thingy: Scout Leatherworks Pocket Protector
This is not strictly necessary in any way, but boy is it nice. The thick pliable leather smells wonderful and works perfectly with a traditional knife, both in terms of looks and size. The fact that it pairs the knife with a small light is just too awesome. It's as if this product was made for me. It can make your pockets bulky (this, plus a wallet, plus a phone can depants you), but if that is not a concern, this is one sweet product that has no real competition and does what it is designed to do very, very well.
Best One Piece Multitool: Gerber Shard
There are few parts of the gear world that are more ridiculous than One Piece Multitools. It used to be Peter Atwood's great designs were being flipped for high three figures. Now, those tools look positively worth it compared to the moku-it tripe that is being offered now as custom knife makers realize that people will pay just as much for a boot that opens beer as they will for a knife that takes hours of labor to make. But if you ignore this insanity and look just at function, the uber cheap Shard is the way to go. It does real utility work, (remember that?), and it does it well, all for less than $10. The 3D Phillips driver is still state of the art, all of these years later.
Best Key Organizer: BladeKey
This is definitely not the most famous of the key organizers, but it is certainly the best. I have no issues with the KeyBar per se, but it is bigger than it needs to be. That not only makes it hard to carry, it also makes it hard to pair with key fobs, which are increasingly common these days. The BladeKey, on the other hand, is dainty in size (though not strength) and it pairs well with fobs thanks to an open hole at one end. I have used one for three years now and once I switched over all of my tinkering on my keychain stopped