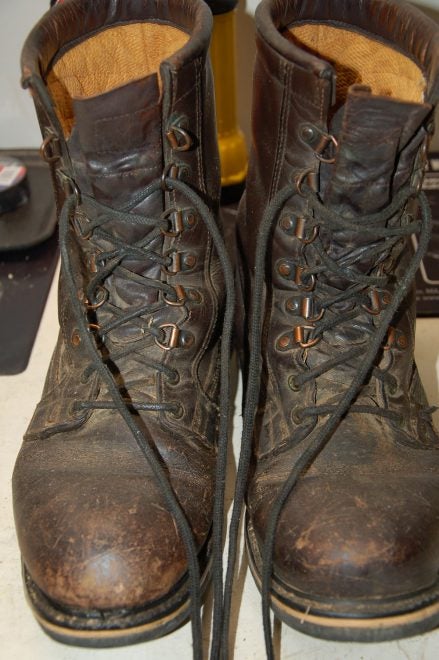 Okay, what? Our editor told me once to pick really narrow topics and well focused issues. To be honest, as a writer now for nearly 40 years, that is something I have never really been very good at. Most of the time while writing my mind works way ahead of my typing and I end up with incomplete thoughts that I have to edit to fill in. Here is a topic that can really tie you up.
One of the main reasons I love slip on Muck boots is simply because there are no shoelaces to tie. More importantly there are no shoelaces to come untied. Still I have several pairs of favorite, heavily insulated, leather, outdoor boots mainly for hunting that have conventional shoelaces to pull tight in their boot eyelets and apply a knot to in hopes they will stay bound for the hike to the hunting stand. Alas, they often do not. Then they get wet and muddy. Yuck.
I am pretty sure that hunters, hikers, preppers, and all outdoors people do not choose their footwear by the type of shoestrings that come with them. I am just as sure that many times you buy shoes or boots that you are quickly unhappy with, and one reason is the lousy shoelaces. Am I right?
There is one particular type of shoelace that I distain and will often quickly replace. These are the pure flat edge leather laces. I suppose if you wore them for a couple years they might finally break in to where they would stay tied. I can't wait.
You can speed up the break in period on leather laces. I do this by one of two methods that involve coating the laces with gun oil or a waterproofing paste like Snow-Seal, Filson waterproofing wax, or a similar product. This seems to soften the material just enough to let it stretch into tying a good knot that stays in place. Don't overdo it though.
One boot lace I have had better luck with is the braided type. When new, these can still come untied after a long hike, but in time they do wear in and stay firmly tied. Other lace types to avoid would be made of cotton or flimsy synthetic materials. After walking in water or mud, these gets super dirty, saturated, and basically rot in due time. So, the next time you buy outdoor boots, be sure you can live with the shoelaces.