Review: Magnum Research 22LR MLR-22ATU Rimfire Rifle
Major Pandemic 08.17.16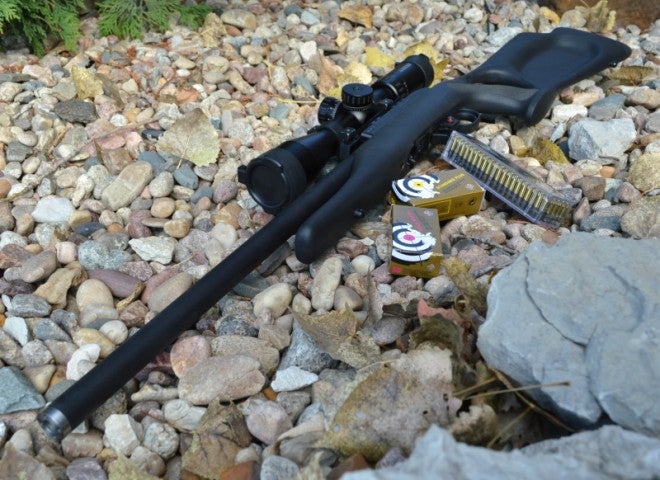 The graphite-barreled MLR22AT rifle I tested about a year before I wrote this review was about half the price of the rifles I tested in my Ultimate 10/22 shootout. It was not only nipping at the heels of high-dollar competition 10/22s, but full on leg-biting competition brands like Kidd and Volquartsen from a performance perspective.
The Magnum Research 10/22 clone rifles are kinda like the guy in the tweaked Nissan 300Z who can keep up and occasionally beat the guys in million-dollar sports cars. These guns offer a lot at a $599+optic MSRP instead of $1000+optic MSRP.
Magnum Research now also offers the MLR22ATU, which has the same specs as the original model but with a lightweight, tensioned, 18" aluminum-sleeved barrel instead of the graphite barrel.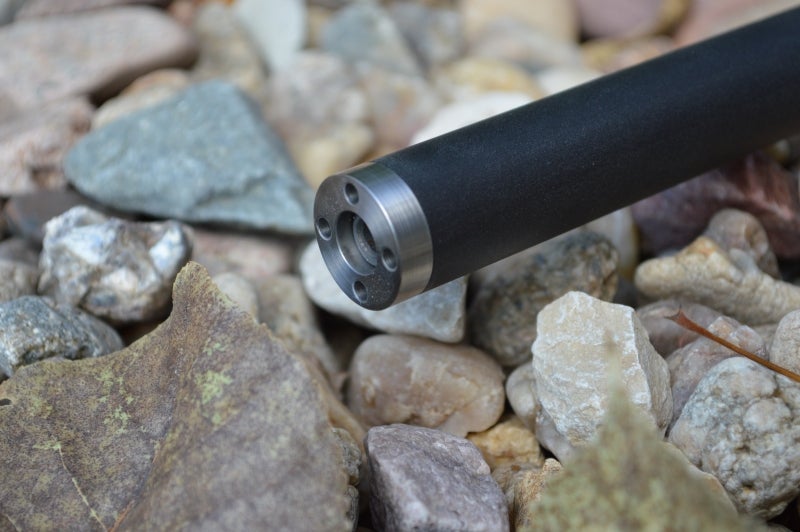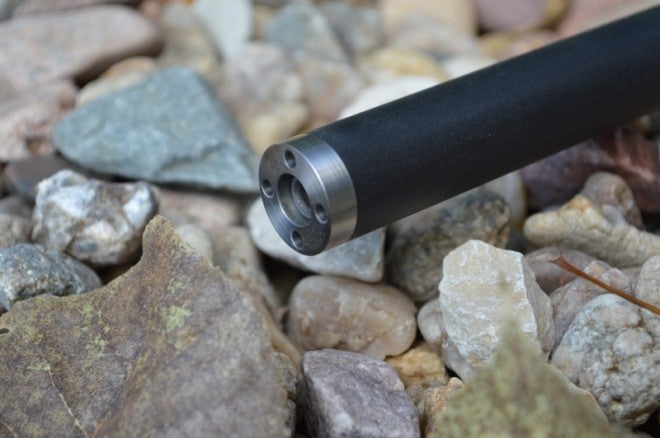 For the price, the Magnum Research MLR-22 line is one hell of a head-turner on the bench and downrange when inspecting the tiny groups. The same buddy who had previously shared a similar comment on the graphite model again asked, "Why would I buy anything else when this is under $600?" The Magnum Research line is a phenomenal deal when it comes to performance and all the extras included.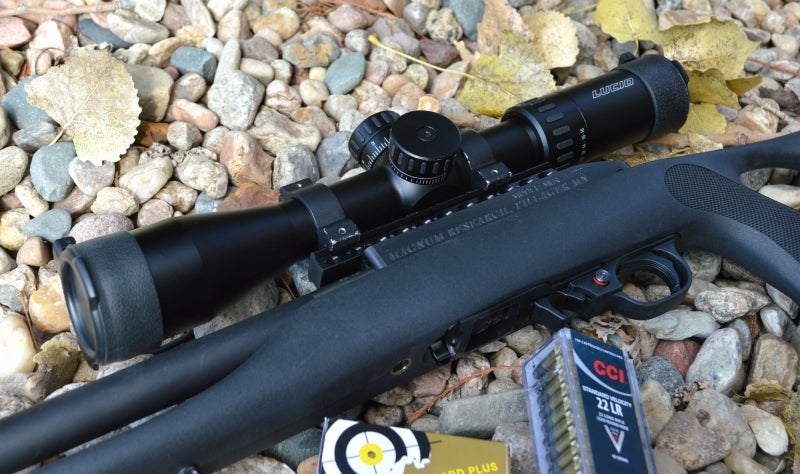 My rifle included a stock Magnum Research MLR22ATU rifle, which comes with CNC billet upper receiver, billet machined match bolt, custom charging handle, lightweight stock, proprietary aluminum-sleeved tensioned barrel with Benz target chamber, and the remainder of the parts are mostly stock Ruger spec.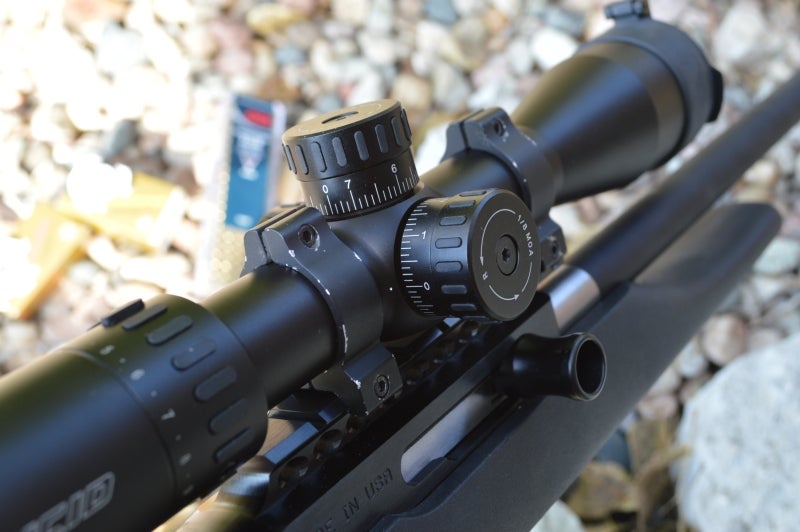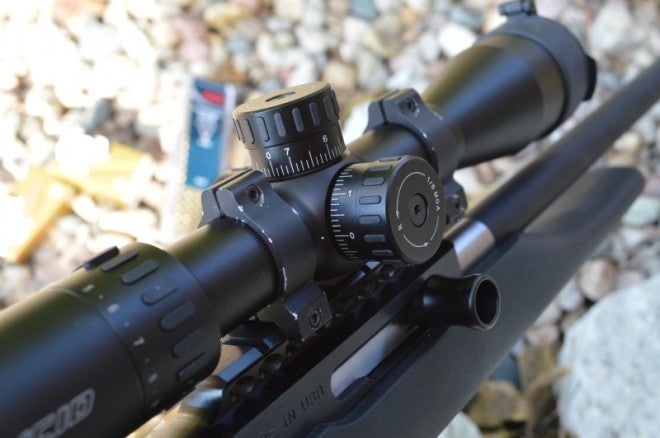 For testing, I added a $420 Lucid 4x-16xx44mm Crossover scope, which allowed me to make accurate shots out to 200 yards, making it well worth the price to me.
Fit, Finish, Feel, and Features
The MLR22AT with 16" graphite barrel and this MLR22ATU with 18″ aluminum sleeve barrel feature roughly the same components with the exception of the barrels. I was impressed with the capabilities of this rifle considering its price and weight, even with the stock Ruger trigger assembly. The rifle is amazingly lightweight, and the 18″ barrel is only about a quarter-pound heavier than the graphite model.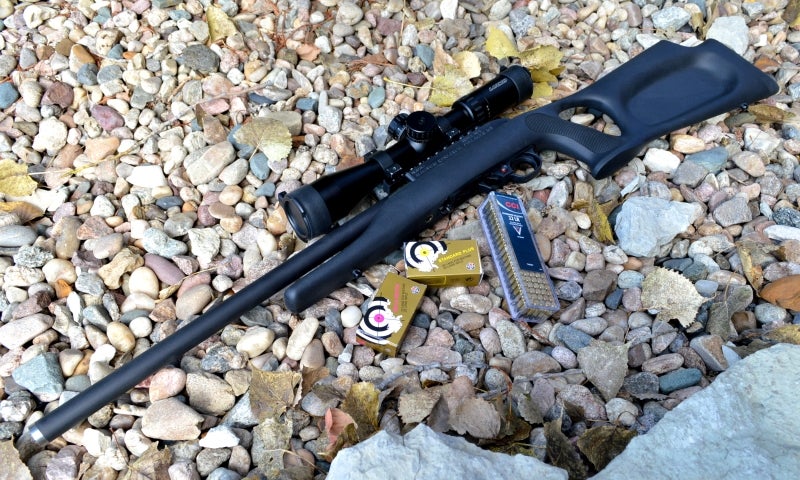 The MLR22ATU is by far one of the lightest production 10/22 rifles made at an insanely light 4.5 pounds. It's also a bit showier than the graphite model due to the beautiful aluminum-sleeved barrel. The billet machined receiver is every bit as nice as the custom receivers I have tested.
The trigger is a stock Ruger 10/22 unit, which means it is far from a premium match trigger, but the "new version" Ruger 10/22 stock trigger is "not bad." Even in stock form, this rig can get shooters consistently into the high .1xx" and low .2xx" sized groups out to 50 yards with a clear optic.
Magnum Research upgraded to a stock Ruger extended magazine release from the earlier model I tested, and also added a pair of sling studs. I also noticed that they now include turned and hardened receiver pins instead of stock Ruger pins. A threaded barrel option is available for a $40 upcharge.
The bolt is not showy, but is an in-house machined part with extra tuning features such as pinned firing pin and correctly-dimensioned face. It is a well-finished part, but it does not include the extra little decorative cuts like you see on some other custom 10/22 bolts.
The charging handle is big, but perfect for a working man's rifle; I love it. You can even work the bolt with big heavy mittens in the bitter cold–or in my case while wearing welding gloves in the garage.
The stock is light and sturdy and an excellent interpretation of a Boyd's Evolution stock, but far lighter. Because of that light weight, I like it better on this rifle although it is designed around a shorter length of pull.
The Magnum Research MLR22AT packs a lot of great components an affordable, ready-to-go rifle. This is an efficient build that puts the upgrades where they matter.
Accuracy
I am fortunate that I can test both the graphite and tensioned barreled models side by side. The graphite model has the edge on accuracy, but not by much. It may be that my older MLR22AT just has a more worn-in trigger, but I consistently see groups several hundredths of an inch smaller with the older graphite barrel. Of course, when you are talking hundredths of an inch it could just be an difference in ammo preference or optic clarity.
Like the older model, this one prefers CCI Standard Velocity, but I also found that the aluminum sleeved version seemed to be more consistent with a variety of ammo than the older graphite barrel.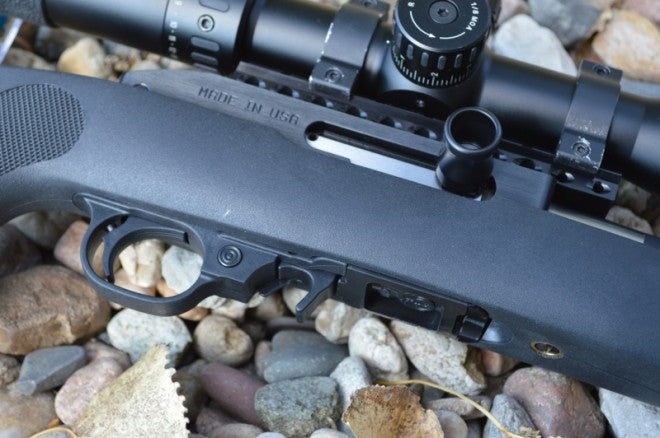 The barrel is not just an aluminum sleeve over a stainless steel barrel; it is a tensioned stainless barrel. Tensioned barrels basically apply tension at each end of the barrel "stretch it" to increase barrel strength, reduce harmonics, and increase accuracy. In theory, the tensioned barrel will deliver better accuracy while the aluminum sleeve helps dissipate heat.
This barrel is pre-tensioned and non-adjustable, so you cannot "tune" the barrel yourself.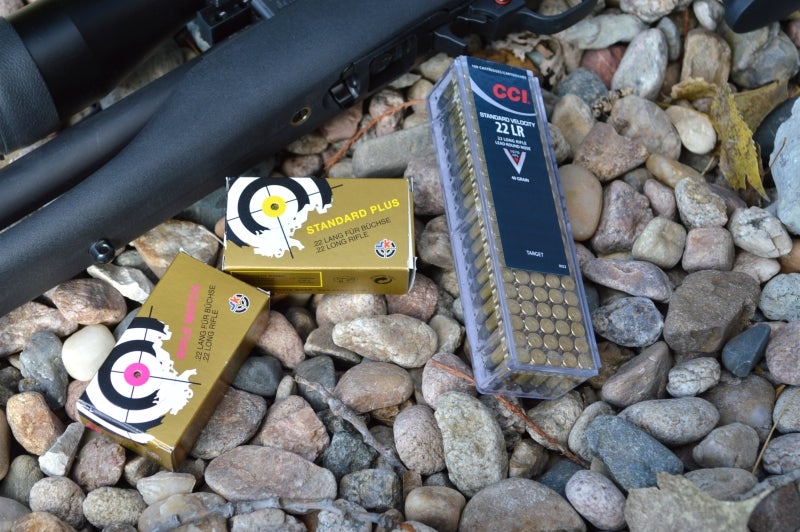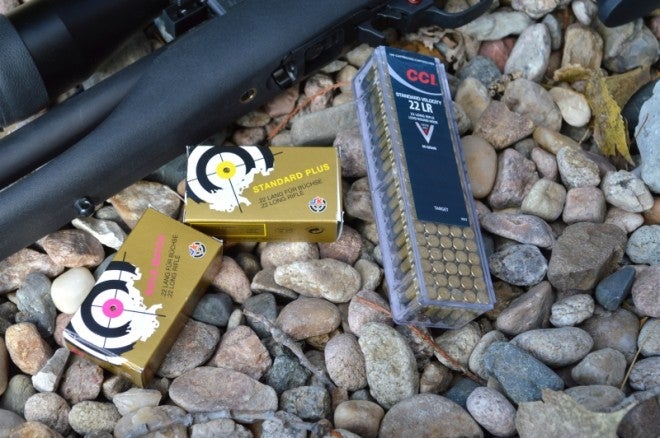 Magnum Research again used a 22LR Benz match chamber for this model. The Benz match chamber is known to allow exceptional accuracy without having the finicky nature usually associated with tight match chambers.
The widely-available CCI Standard Velocity rounds have become my favorite everyday round, as they consistently give me 10-20 shot groups of only .5" at 50 yards, but Lapua Center X, Xact, and SK Standard also delivered exceptional results with some impressive .124" 5-shot 50-yard groups.
I find Magnum Research 10/22 rifles to be extremely reliable, and I had no ammo-related malfunctions with this rifle.
The question you have to ask yourself is whether you want a custom, $1200, showy match rifle that shoots match ammo really well, or for half the price a Magnum Research rifle that's light, includes the most popular features, shoots Mini-Mags and CCI Standard Velocity ammo well, and is ready for the next-level trigger upgrade whenever you are.
Even when adding a top end optic such as this LUCID and a Timney trigger, you'll still drop less than $1000 for a 10/22 rig that almost matches up to rigs that cost $500 more.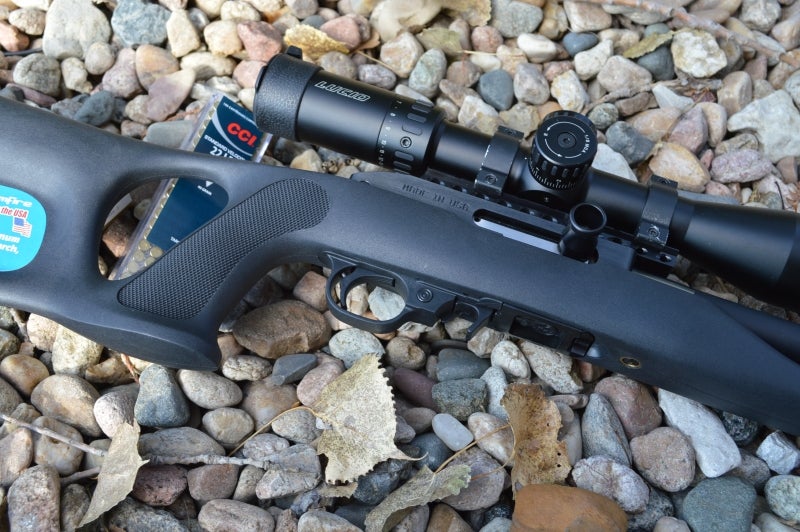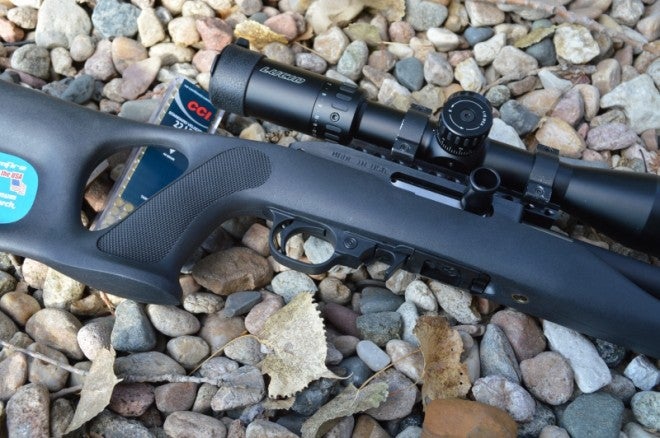 Final Thoughts
This is an accurate and reliable setup, but it does not have the finish quality and refinement of a Force or Kidd custom 10/22. It is clear to me that Magnum Research wanted to produce a good rifle at a competitive price, and they did. It makes you wonder why anyone would buy a heavy, cumbersome, more-expensive rifle.
The MLR22ATU is far from a beginners gun and will hang with top-end rigs almost shot-for-shot–even with less-expensive ammo. It packs in everything on an ultimate 10/22 wish list (with the exception of a match trigger) into a $599 rifle (street price hovers around $500).
I believe Magnum Research has chosen a sweet spot in creating a rifle to be used, scratched, scraped, bumped, and flogged in the field and on the range, and it can even serve as a light training rifle for youngsters.
Manufacturer Specs
Model: MLR22ATU
Caliber: 22LR
Barrel: 18″ stainless steel, tensioned, aluminum sleeve, with 1:16 twist
Weight: 4 lbs 8 oz
Length: 36 1/8" overall
Length of Pull: 13-⅝"
Sights: None (Integral Scope Base)
Stock: Ambidextrous Thumbhole Stock
Magazine: One 10-Round Ruger Rotary 10/22 Magazine