Small Shop Entrepreneur Molds Gun Show Holsters
Dr. John Woods 09.02.16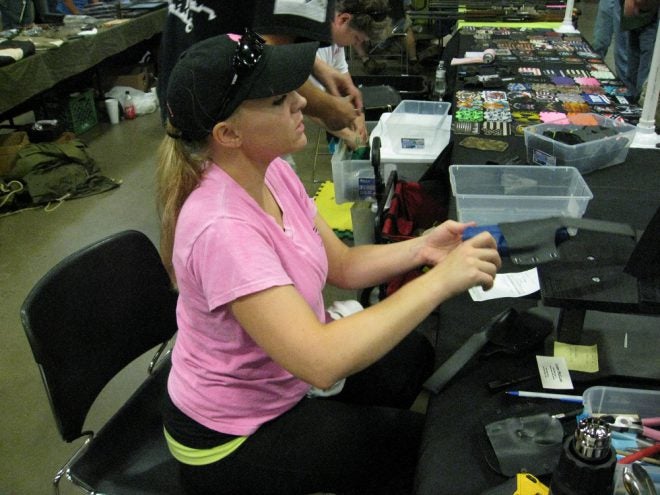 If you thought the spirit of small shop entrepreneurs was drying up across America, you were way wrong. At a recent gun show I watched as a two person team hustled their wares from three tables along a busy aisle of gun and knife buyers. They were making holsters right on site.
The team of Erin Herrington and John Allen work for their outfit they call Tac My Girl, LLC in Mississippi. With one table full of Kydex holster blanks and the other tables set up as a molding station, these guys can produce holsters for just about any pistol on the market. And this is done while the customer stands and waits for the finished product.
On display are over a hundred holster blanks offering a variety of color graphics from the American flag, camouflage patterns, the Punisher face, political remarks, symbols of many descriptions, trademark logos, snake scales, and much more. Also available are holster blanks in universal black and many solid colors for multiple applications, including concealed carry, law enforcement, hunting, security, or just personal preferences.
On the table also are mold guns of nearly every model available today. All the consumer has to do is identify their own personal gun, pick out a color or graphic holster blank, and the team molds the holster right on the spot. The mold gun model is inserted into the blank, which is put into the heated molding "oven" press. The Kydex plastic blank then forms around the exact shape of the pistol mold.
The holster technician then uses a hot blow gun to customize the pistol mold to the holster for a proper fit. This allows enough friction to hold the gun in the holster firmly, but also permits a quick release with appropriate withdrawal pressure.
Once the molding is complete, the technician then attaches the holster carry accessory of choice, which includes a traditional belt slide, an IWB clip, or a spring steel clip to simply slip the holster over the pants belt. Special belt slide leather "wings" can be added to the sides of the holster if the customer wants a wider belt slide set up, popular for bigger pistols.
Prices on site range from $35 to $50 depending on the blank. Plain black is on the least expensive end, and a full color graphic is on the higher side. The cool part is that the buyer gets their custom molded holster right at the show, ready to carry and go. You can contact these guys at [email protected]