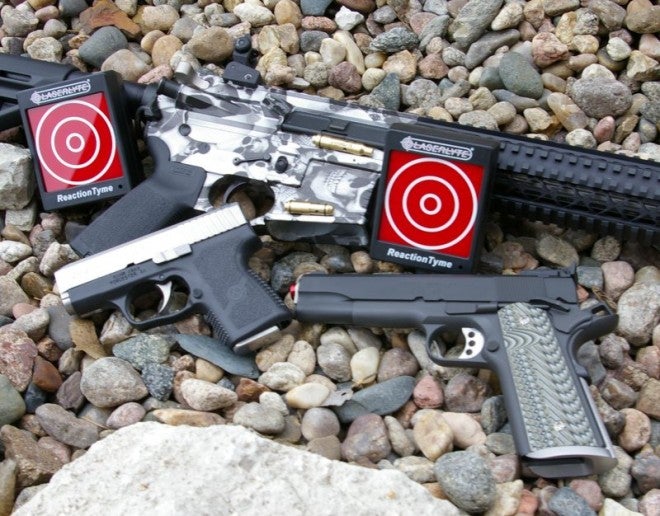 When ammo is in short supply, we hate to even think about going to the range to shoot up what could be the last box of ammo we may see in the next month or longer. What to do, what to do? Pellets are still on the shelf for the most part, but that would not allow you to practice with your real firearms. Amidst the empty ammo shelves, I saw the LaserLyte Reaction Trainer Targets, which allow you to practice anytime, anywhere, all without burning a round of ammo.
About Laserlyte
The company was founded in 1987 as Tach Star then merged in 1996 with Lyte Optics to form LaserLyte. From that point, the company has been creating one innovation after another, which has now evolved to include a vast array of laser gun sights, laser bore sights, and laser training systems. For LaserLyte, bringing together boresighting and laser projection into a training system has been a natural progression.
The technology in the Reaction Tyme Trainer Targets is pretty sophisticated, but LaserLyte presents it in an elegantly simple package. After batteries are installed in the two targets, pop a laser insert into the barrel of an unloaded firearm, and you can start blasting the interactive targets with your real firearm.
Fit, Finish, and Feel
To utilize the LaserLyte training system, you need two products: a Reaction Tyme target set and a laser insert, which are purchased separately. The targets are durable black plastic housings which seem to handle a drop just fine. At approximately 3 x 4 inches, the Reaction Tyme Targets are compact and light enough to stash in a shooting bag for use at the range for ammo-less training.
The universal barrel insert slips into the muzzle and is secured with an expanding plastic plug, which expands somewhat like a drywall anchor, albeit more elegantly. Other inserts are purchased based on the caliber of your firearm and use a single or double O-ring design to hold them in place. Each insert is beautifully turned and hard anodized billet aluminum. I picked up dedicated 9mm and 223 caliber inserts.
Features and Functions
The Reaction Tyme Target system includes two targets that operate in two modes: the Training/Manual Mode, which indicates shots by briefly showing the laser splash on the target and "celebrates" hits with two beeps and a LED flash. The other setting is Reaction Mode, which randomly lights the LED in 3-7 second intervals to work on your reaction shooting.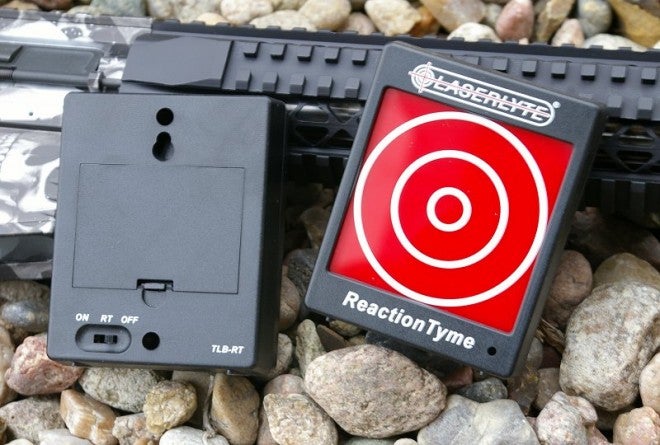 It is important to note that this is a professional-quality training system and not a shooting game–although it only took about four shots before my wife and I were betting nickels on who was the better shot. But if that's what you want, there are far less expensive shooting games out there. This system is designed much more professionally.
I was able to get the targets to record hits all the way out to about fifteen yards. The targets work independently and do not record or play back shooting hits (LaserLyte has another training target product for that).
The LaserLyte Laser Trainer Cartridges insert into the barrel like any cartridge would, but are held in place with the o-ring(s). The momentary laser is triggered by the firing pin hitting the integrated snap cap in the cartridge. This worked 100% reliably and I found it more closely matched the actual point of aim of the pistol or rifle.
Testing in my Houlding Precision and Black Rain Ordnance, I did need to find the clocking point that aligned with my rifle's zero. For longer shots, I found a need to also clock the 9mm to adjust the point of aim. Both the 9mm and 223 inserts seem to have a longer battery life than the Universal insert.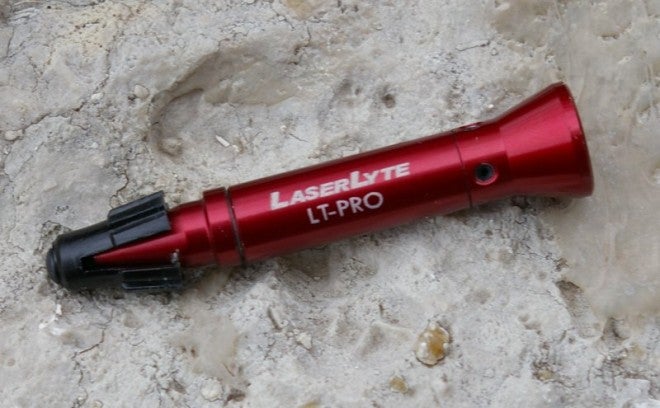 Unfortunately, I did not get the same reliability when using the LT-Pro Universal Pistol Trainer insert, which is recommended for pretty much any handgun caliber. The LT-Pro works on a sound detection and vibration system, which about 25% of the time seems both too sensitive and not sensitive enough.
The LT-PRO triggered just by handling or cocking a revolver, but problems occurred with revolvers having barrels of 6″ and 8″ and tighter 1911 pistols. My Ruger SR1911, pocket pistols, and lightweight snubby revolvers all worked fine, but it seemed that there was just not enough sound or vibration to trigger the unit reliably in tight fitting and/or heavy pistols.
In some cases, I had to fiddle with the LT-Pro to make sure it was not too loose or too tight in the barrel in order to make it record shots. The Universal Pistol Trainer Insert for me seemed to deliver laser strikes about 75% of the time.
One of the somewhat painful procedures of use was that the Universal Model is "always on" until you unscrew the battery compartment and reinstall the tiny little batteries, and getting them installed correctly was frustrating. After discussing this issue with LaserLyte tech support, they swapped out my LT-Pro from another model that has performed better, but not perfectly. Such is the price for universal fit.
Training Any Time, Any Place
The biggest advantage of this sort of target system is that you can use your real firearm for training, which I consider a huge plus and the best feature of the LaserLyte system. With either the universal or a cartridge insert, draws from the holster are possible, but I would buy the dedicated cartridge insert for this activity. Paired with both Reaction Tyme Targets in Random/Reaction mode, this draw and fire drill can keep you hopping.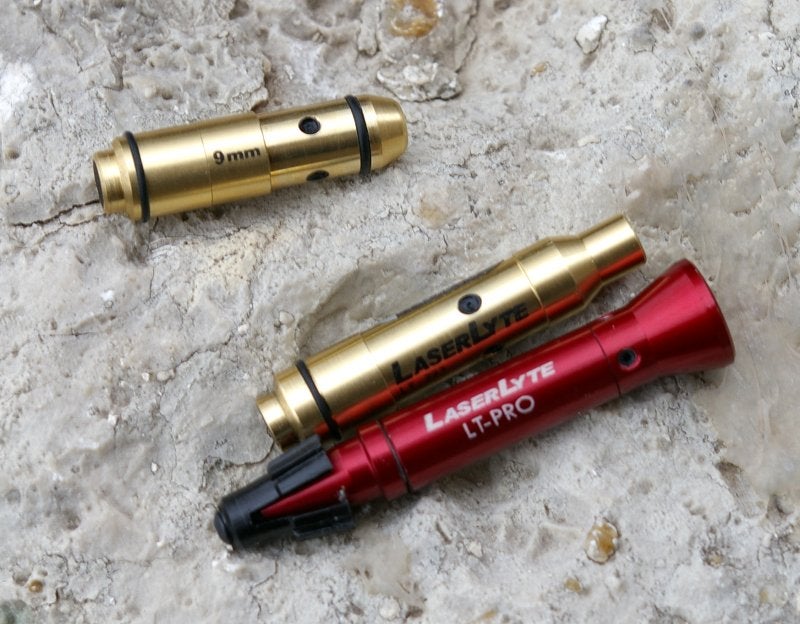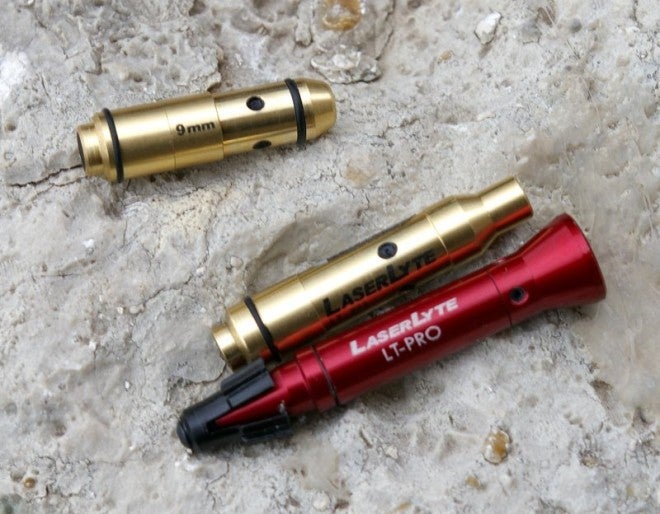 Whether you use the system to train or to have a little fun while watching TV at night, this can be a valuable tool for training in trigger control, to minimize your flinching, to improve sighting and target acquisition, and to practice holster-to-target hits. The system also lets you attempt training that would be potentially unsafe with live ammo or to begin training a new shooter in a safe comfortable environment.
Mrs. Pandemic and I positioned the targets at strategic locations within the house to practice forced entry defensive response scenarios and also used the targets for draw/charge/shoot drills for our concealed carry guns. We of course used them with our feet up, shooting targets in front of the TV as well to practice trigger control.
Final Thoughts
With around $300 invested to start up the LaserLyte training system, is it worth it? A resounding yes, especially at today's ammo prices. Even with the picky nature of the Universal Insert, this is still a great training system that pays for itself quicklky and allows you to safely target practice in your home any time. With the cartridge inserts, practice is blissfully problem-free and much more closely matches the actual point of aim.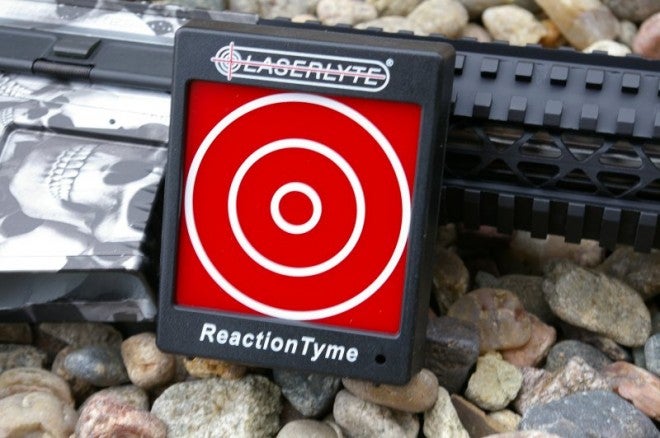 This system paid for itself quickly and kept me from going completely nuts during this US ammo shortage. I have used the system in a number of ways, all of which have helped me develop skill, shoot my beautiful firearms, and fight boredom. For the price of fifteen boxes of ammo, this is a no brainer training system for any shooter and will be a valued firearm training tool for many years.
Manufacturer Specs
LaserLyte Reaction Tyme Targets TLB-RT Specifications:
Works with any of the LaserLyte® Trainers: LT-PRO, LT-223, LT-1, LT-380, LT-9, LT-40, LT-45
Two Targets with 2.5 inch diameter shooting ring
Batteries: 3 x AAA
Battery Life: 6,000 shots
Activation: LaserLyte® Laser Trainer
Weight: 4.25 oz. / 119 gr.
Length: 1.30 inches / 33.43mm
Width: 3.00 inches / 75.96mm
Height: 3.74 inches / 95.00mm
MSRP: $175.95
LTS Universal Pistol Trainer Insert LT-PRO
MSRP $120.95
Fits calibers: 9mm, 40s&w, 357, .45acp, 38sp, .380 Auto, 357sig, 10mm and 45LC
Activation: Sound of striker or hammer
LTS Training Cartridge, 9mm, LT-9
MSRP $115.95
Hammer activated
LTS Training Cartridge, 223, LT-223
MSRP $104.95
Hammer activated
Training Insert General Specs:
Run Time approximately 3,000 shots
Batteries: 3 x 377